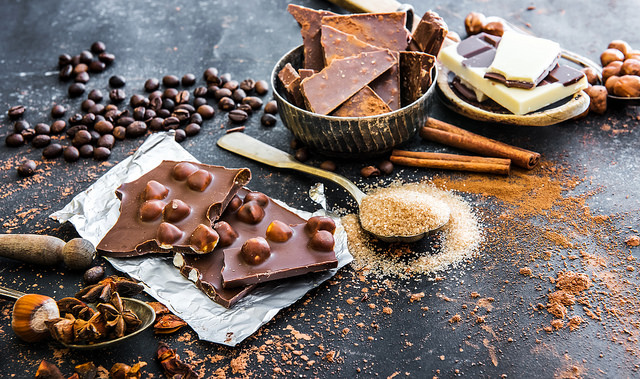 If pleasure is at the center of joie de vivre, it could be argued that chocolate is at the center of pleasure. That's nothing new; chocolate has been a luxurious treat for thousands of years. Now here's the best news: recent studies have proven that dark chocolate is good for you! (Notice the emphasis on dark!) Dark chocolate is not only a rich source of flavonoids and antioxidants–both of which can help reduce high blood pressure and diabetes–but its main ingredient, cocoa, is a good source of magnesium and iron. Cocoa even contains properties that help keep the good cholesterol (HDL) good, which can then keep the bad cholesterol (LDL) at bay. Happily, chocolate is also linked to the release of serotonin, a natural anti-depressant.
Chocolate is not too dissimilar from wine. The origin, ingredients, and bean all play an important role in the taste of the finished product. There are so many different varieties and quality levels to chose from: where is a woman to start?
Rule No 1: Ban milk chocolate and white chocolate. The addition of milk, milk powder, or chocolate liquor (all found in milk and white chocolate) actually nullifies the beneficial properties of the cocoa.
Rule No. 2: Stick with dark. How dark? Choose a bar that is made with at least 60% cocoa. The higher the cocoa percentage, the better the antioxidant properties, and the less room for fillers and preservatives.
Rule No. 3: Read the ingredients, not the nutritional value. Despite chocolate's beneficial health properties, it is still calorie-rich and high in fat. If you enjoy a small square or two, you won't need to worry about the caloric content. It's the ingredients that matter; make sure they are all natural.
Rule No 4: Enjoy! Dark chocolate should be savored slowly and mindfully. Let your taste buds experience the subtle notes of each individual piece.
Now that you know what you should be looking for, here are some of my favorite chocolate-makers.
Theo—One of my recent favorites, Theo is modestly priced, organic, and certified as fairly traded. Try the Venezuelan bar, made of 91% cacao, or the coffee chocolate.
Fran's—Major league chocolatier based in Seattle. Love the dark chocolate caramels with sea salt.
Pierre Marcolini—My favorite chocolatier in Paris, located conveniently down the street from my apartment. I describe the petit carres and coffee dark chocolates as "sometimes difficult to live without."
Patrick Roger—Would you believe his shop is located five minutes from my home? Unfortunately, if you want to taste these chocolates, you will have to visit Paris as Patrick Roger only has 5 shops in the Paris area—or have a friend ship you some.
Valrhona—A classic favorite chocolatier of mine. Unfortunately, the Valrhona Web site does not offer products online, and the shops are only available in Europe, but make sure to keep it in mind for your next trip! In the meantime, keep your eyes peeled in stores such as Whole Foods, Wild Oats, and other gourmet grocers. It's worth the hunt to find the Grand Crus Squares, the perfect afternoon coffee break pick-me-up.
Vosges—Exotic truffles infused with rare spices and flowers, this 'haute chocolate' boutique offers beautifully wrapped packages and gifts for any chocolate lover who is looking for a little zest. Purists, Beware!
Julia Baker Confections—I discovered Julia Baker while on my book tour for French Women Don't Get Fat. She was freelancing at the time and made me an incredible selection of chocolates. I was happy to find out recently that she's opened her own shop in Scottsdale, AZ.
Noka—Described as the "true connoisseur's delight", Noka offers only pure, single-origin dark chocolate, made from the rarest of cacao. I personally recommend the Carmeñago.
Scharffen Berger — This artisanal chocolate maker is extremely affordable and the Web site offers dozens of mouth-watering desserts.
Recchiuti Confections— When posed the question, "If you had one chocolatier to recommend . . . for example, if you were on a desert island and could only have three pieces?" my response is: "It would have to be the San Francisco-based Recchiuti Confections." My three favorites pieces (in no particular order) are the force noire, kona coffee and piedmont hazelnut.
Dagoba—"Chocolate alchemy" creates Dagoba's organic dark chocolate bars. The company is extremely environmentally conscious and its Web site offers a handy chocolate tasting guide. Among their choice of infusions: lavender, lime, and chile.
Image by andrzej kowalski.