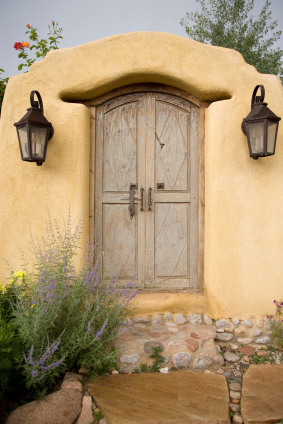 [Note: this article by Mireille and Edward first appeared in Quarterly Review of Wines, Spring 2010]
It had been over a decade since we had spent four or five days in Santa Fe, and befitting America's oldest European settlement where time is perhaps best measured in generations not years, the changes we noted were measured in small not big things.  In fact, we experienced a charming "déjà vu all over again" sojourn.
The colors and Pueblo architecture were as distinctive as ever, and the Native Americans were seated at the sunny end of the Plaza selling their handmade pottery and jewelry laid out on blanket after blanket—far superior in art and execution to the junk usually found at street markets in tourist centers.  There we saw the same silver bookmarks we had bought long ago and forgotten about.  And in Santa Fe were many of the very same restaurants we had eaten at and enjoyed years ago and still at the top of the local where-to-wine-and-dine choices vintage 2010.
It seems to us, the 1980s and back into the 1970s were the most recent significant transformational years in Santa Fe.  That's when the summer Opera gained a national following, when the real estate market of secondary or retirement homes took off (Sotheby's real estate office is in the same place we remembered still proffering high-end dreams), and that's when the proliferation of art galleries took off and gave this relatively small town a second identity.  The 1980s are also when Santa Fe developed a restaurant culture and cuisine.
The cuisine of Northern New Mexico is, of course, flavored by chiles.  Red or green peppers.  The locals advise asking for "Christmas on the side," so you can test your preference and tolerance.  Mark Miller was pre-eminent among a new generation of chefs and restaurateurs who married established New American bistro cuisine with chiles.  His Coyote Café (132 W. Water St., 505-983-1615), opened in 1988, became an award-winning destination restaurant.  Today, with ex-Geronimo's Eric DeStefano as the executive chef/owner, it lacks the breakthrough character of two decades ago, and its menu is far less chile-and-corn-in-your-face and more global—as evidenced, for example, in a characteristic opener of white truffle, leek. spinach and potato soup served with fried ricotta Boursin cheese—but it strikes us in ambiance and quality as very much the same as in our previous visits: great name, good food, and that iconic rooftop cantina (known for margaritas and bar food).  Santacafé (231 Washington St., 505-984-1788), which opened in 1983, falls into the same timeless and pleasing category.  Casual but elegant (in a Santa Fe ladies-who-lunch way), it is cozy and comforting and boasts nice outdoor seating in season.  We enjoyed the linguine with scallops, a sushi-like cactus salad, and an excellent crème brûlée.
How High is High End?
So, you can eat and drink well in Santa Fe.  None of the top restaurants rise to the destination status Coyote Café once had or would they merit anything beyond a Michelin one-star, if that.  But they are real restaurants, trying hard, and creating a comfortable and comforting dining experience.
Arguably, the first among equals these days is The Compound (633 Canyon Road, 505-982-4353).  But it is not equal in disposition with the other good eateries.  Without being grand, it oozes an upscale self-confidence and is a bit self-possessed, set down a long drive off and isolated from galley row Canyon Road, it is a white modern and relatively large (several dining rooms) restaurant not quite beckoning diners but awaiting a well-healed clientele of almost a country club demeanor.  The wine list is good if pricey as is the creative American cuisine.  Chef-owner Mark Kiffin brings a solid level of consistency to the offerings, which include such house specialties as grilled Black Angus tenderloin of beef with cepe O'Brien potatoes, and foie gras Hollandaise; and for an over-the-top finish with memorable black pepper zing, the warm bittersweet liquid chocolate cake with Pinot Noir Amarena cherries, chestnut chocolate toile and crème fraîche.  Just a little further up the canyon is Geronimo (724 Canyon Road, 505-982-1500), another high-end, fine-dining outpost (dinner only)—this one set in a 250-year-old adobe hacienda.  Chef Martin Rios describes his food as either "contemporary global cuisine" or "global French Asian," and it seems to us if you are craving elk, this is just the place for peppery elk tenderloin with apple wood smoked bacon and a creamy brandy sauce, roasted garlic fork-mashed Yukon gold potatoes, and sugar snap peas.
We had our "best" meal and "our first among equals" where we would return eagerly for another fine meal, at Amavi (221 Shelby St., 505-988-2355).  The Mediterranean cuisine is deftly prepared—we can still taste the duck breast served on a bed of duck risotto.  A surprise side of onion rings signaled both top quality and haute brasserie in a handsome, cozy setting; indeed, mention Amavi among top restaurants and you are apt to hear it is the area's most romantic restaurant.  The well priced wine list is notable in that it does not sport American wines and is filled with little-known European gems.
315 Restaurant and Wine Bar (315 Old Santa Fe Trail, 505-986-9190) we like a lot.  Not because it is a French bistro but because it has good food, good wine and commitment, and it has a distinctive character.  Set in an old home in the oldest section of Santa Fe, it is a rabbit warren of little rooms, all dedicated to providing an enjoyable dining experience, from the tiny bar with high tables where regulars laugh, eat well and have a good time, to the small formal dining room reached by walking through a service area.  This is the place to order French onion soup gratinée or grilled calamari over wilted spinach with anchovy vinaigrette and shaved fennel as a starter, then a classic steak frites or a crispy pork belly with cider glaze served with roasted butternut squash and braised mustard greens for a main course.  And befitting a place with roots as a wine bar, you can drink quite well, not only by the bottle, but by the glass or from a choice of about 50 half bottles.  Just down the street and worth a mention in this state capital is Pink Adobe (406 Old Santa Fe Trail, 505-983-7712).  With a legacy of more than a half-century, this is more a late-night destination or a meeting place for political types than a food destination, but it belongs on the list of options…especially if tequila is on your menu.  The food for lunch or dinner is fine and not inexpensive, but as a bar inside or outside it is a true destination.
La Casa Sena (125 East Palace Ave., 505-988-9232) falls into the déjà vu category, and while its American Southwestern fare may not be as top notch as in previous years, there's a new casualness to go along with its incredible wine list (1,500 selections) and its superb setting near the Plaza.  Outdoor dining for lunch and dinner there under the trees and in a large and historic courtyard is a most pleasant experience.  And north of the historic plaza is your best pick for Italian food (that's if when in Santa Fe your head and stomach insist on pizza or pasta) at Osteria d'Assisi (58 S. Federal Place, 505-986-5858).  The setting is beyond pizzeria and the food offerings are extensive and okay, but the reality is this "good try" is stronger on pizza than on the main course offerings.
Breakfast or Lunch
Sometimes you have to eat lunch, and locals and not-so-locals sing the praises of Saveur (204 Montezuma Ave., 505-989-4200), a breakfast-and-lunch-only bistro known for its top ingredients and high-quality soups, sandwiches and desserts.  A bit more funky Southwestern spot for breakfast, lunch and also dinner where people literally line up to get in is Cafe Pasqual's (121 Don Gaspar Ave., 505-983-9340).  The ambiance and show are distinctive and most people include "the food is good" in their description.  Hugh menu, non-stop serving and eating, and authentic Northern New Mexico family fare here.
But for us, the breakfast choice begins and then begins again at the Inn of the Anasazi (113 Washington Ave., 5050-988-3030).  Where else would you go for blue corn-blueberry pancakes and applewood-smoked bacon?  Okay, hold the bacon.  The Western-themed and decorated restaurant of a top high-end hotel/inn, superbly located just off the plaza, is a safe bet not only for breakfast but for a choice Southwestern lunch.  Solid fare and setting.  It is also more than fine for dinner, but there the options in Santa Fe are more plentiful.
There's something comforting about a location that feels comfortable in its bones, and despite its share of boarded-up stores due to sorry economic times, when it comes to wining and dining, Santa Fe feels very comfortable to us.  So we have to see if we can set up a reminder alert to come up on our smart phones before this new decade is out…much before.