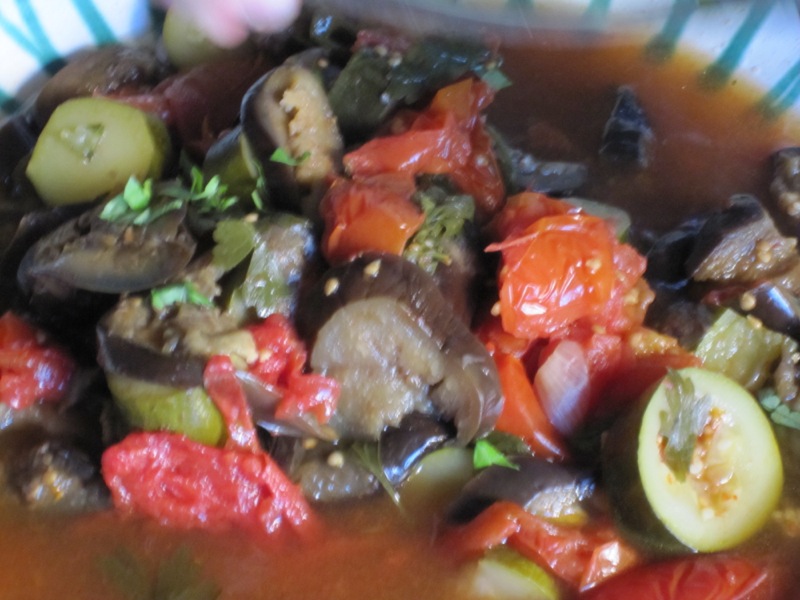 Another French classic as interpreted by my mother (based on a recipe from cousin Andrée in Aix-en-Provence) is still something I make today in the summer when the variety of suitable vegetables is greatest. I can get three meals out of it. With almost no oil or butter, the ratatouille seems rich, with the juice coming from the vegetables themselves. To get the most flavors, slow cooking is a must.
Ingredients
1 pound tomatoes
1 pound zucchini
1 pound eggplant
4 garlic cloves
2 T minced parsley, fresh
Salt and freshly ground pepper

Yield: 6 Servings
Recipe
Use an equal amount of tomatoes, zucchini and eggplant. Wash and cut into thick slices. Using a large pot, make layers starting with the eggplant, then the tomatoes and finally the zucchini, and repeat until the pot is almost filled to the edge. Add some garlic cloves and parsley branches between the layers. Season with salt and pepper. Cover and cook under very low heat until the vegetables are tender, approximately 1-2½ hours. Serve 20 minutes later. Use soup bowls, as it is at that stage more of a soup with the liquid being mostly water from the veggies.