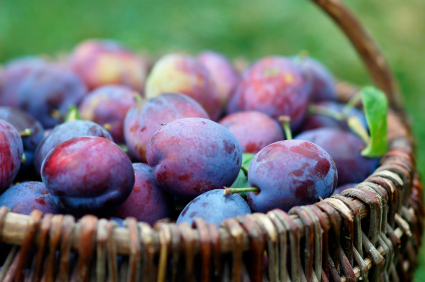 In France there is practically a national obsession, for both taste and health purposes, with the many varieties of plums that appear from late summer into fall each year. From the small yellow Mirabelle to the purple Italian plums (which the French call la quetsche) to la prune d'ente (dried to make the famous pruneaux d'Agen or Agen prunes) and more, each variety is anticipated and then savored in its own way.
Altogether, the French consume about 40 million pounds of plums a year, knowing that this small, humble fruit holds many pleasures. When ripe, plums are wonderfully sweet with a rich, complex flavor and can be eaten raw or cooked in a variety of ways. The Italian plums so abundant at my local farmers' market have the added benefit of freezing well for the winter, and for an even longer shelf life, producers easily dry the fruit into prunes, allowing it to develop a deeper flavor and a pleasant, slightly chewy texture. And then there are the health benefits…
I eat prunes year-round as part of my personal wellness program. For years it would amuse my husband Edward to see me eating two prunes with my breakfast a few times a week. Like many Americans, he had negative associations with prunes and thought they seemed too unglamorous to be French. But aside from being delicious, French women know that these small dried fruits (and their fresh counterparts) are nutritional powerhouses and an essential part of their wellness and weight-management regimes. Rich in beta-carotene, vitamin C, potassium, copper and other trace minerals, they are also high in dietary fiber and, famously, a mild laxative. And did you know prunes have one of the highest antioxidants levels of any food (even higher than blueberries), containing certain compounds that are particularly effective against free radicals in the body? They have even been shown to help the body absorb iron better. French women consider prunes the perfect detox food and understand they help the body maintain a balance of trace elements. They are good for people of all ages, not just old folks.
I eat my fill of plums each autumn and then, in addition to the prunes, keep a supply in my freezer for the cold months. There are many ways to enjoy this fruit. Plum Clafoutis Without Dough is a light yet flavorful dessert by itself or makes a perfect accompaniment to Panna Cotta or a scoop of vanilla ice cream. In recent years, Plums with Ginger has become another favorite of mine. Excellent with duck or as a dessert, this recipe has the added complexity of ginger and pepper that give it a bit of a kick. I've included a new favorite recipe below for a plum soup. Whether fresh, frozen or dried, raw or cooked, I encourage you to make plums a regular part of your own diet.
Plum Soup (serves 4)

Ingredients:
1 pound plums, rinsed, pitted and quartered
1 lemon, rinsed and sliced thinly
4 cloves
2 tablespoons sugar mixed with 1 teaspoon cinnamon
1/2 cup crème fraîche, whipped
1/2 cup plain yogurt
1 TB flour
water
fresh mint
Directions:
In a saucepan mix plums, lemon, cloves and sugar/cinnamon mixture and cover with water. Bring to a boil over medium heat, add whipped cream, yogurt and flour. While stirring (add water if necessary) bring to a boil again. Remove from heat. Refrigerate a few hours before serving cold. Decorate with fresh mint.