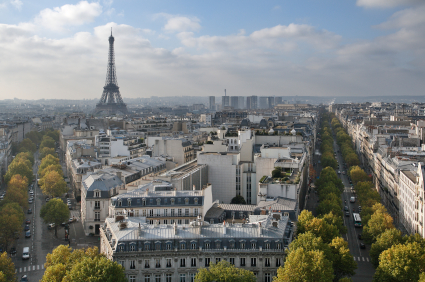 Anyone visiting Paris in early fall should take advantage of some pretty spectacular views (mostly free or just a few euros). There is, of course, la Tour Eiffel but with the hords of tourists unless you go early (you can book day and time on the website) or don't mind walking the 800 stairs to the 2nd floor, there are other grand views all over the City of Light.
If you are a shopper head to Le Printemps, and when you need a break head to their panoramic terrace on the 9th floor: breathtaking. Many museums have amazing views, from the Centre Pompidou to l'Institut du Monde Arabe (facing Notre Dame and Ile St. Louis), Musée d'Orsay (for the Seine and Louvre) and Musée des Arts Décoratifs (for a plunging view of the Tuileries gardens).
And then for a few more euros head for a drink at the bar panoramique at hotel Concorde La Fayette (17th) at sunset while listening to jazz. Top romantic spot. And for 33 euros (no need to stay there or be a member) you can swim in the panoramic swimming pool of the Waou Porte de Sèvres Club Med Gym (15th). Priceless. Finally, my top two restaurants for splendid views are Tour d'Argent (5th) and Maison Blanche (8th), but these are talking about an expensive view so get yourself invited!