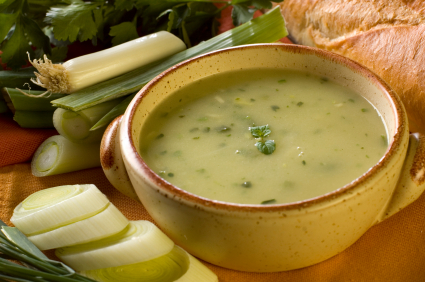 Recently, I went back to Cojean, a Parisian restaurant in the lower level of Le Bon Marché (and next to the fabulous bookstore FNAC).  It's a casual, affordable, modern and delicious restaurant with a few simple items like soups, sandwiches, salads and desserts, all fresh and healthy, newspapers for reading and a wonderful staff.  One specialty is soups using just 3 ingredients, and it inspired me.  In this day and age women are so busy,  my meal at Cojean reminded me that you don't need a fridge full of produce or a lot of time to make a delicious and healthy dinner. A typical French woman prides herself on being débrouillarde (resourceful), particularly in the kitchen, and many a favorite dish has been discovered simply because of what's in the fridge at the end of a long day (necessity is the mother of invention).
What better way to use the odds and ends in the produce drawer than combining them into a soup?  There are so many possibilities and the amount of ingredients doesn't really matter.  Use what you have.  You can experiment and add favorite herbs and spices.  You can also think of colors that might blend well together (such as red and yellow, with touches of green) and choose any 3 ingredients you want.  You can add herbs and spices you enjoy, or if you don't have them, salt and pepper will do.  The recipe is easy: just cut up the vegetables, add to chicken or vegetable stock (or water) along with any herbs and spices and cook until vegetables are soft (anywhere from 15-30 minutes, depending on type).  You can run all or parts, depending on desired thickness, through a food mill at this point, or not.  Then season to taste.
A touch of butter, cream, olive oil, sour cream or yogurt, or a poached egg, grated cheese or even a crisp piece of toasted baguette can all make a delicious garnish.  If you're not using bread or cheese as a garnish, serve the soup with a wedge of cheese and slice of whole wheat bread.  Add some fruit or yogurt for dessert, et voilà…a healthy and delicious (not to mention budget-friendly) meal in almost no time at all.
Here are some ideas to get you started:
Pumpkin, leeks and carrots
Potatoes, carrots and turnips
Cabbage, carrots and onions
Leeks, carrots and potatoes (two parts potatoes to one part leeks and one part carrots)
Potatoes, carrots and onions
Pears, carrots and onions
Oranges, carrots and onions
Broccoli, onions and potatoes
Turnips, leeks and onions
You get the picture…forget formal recipes, look in the fridge and experiment and improvise with what you have on hand.  Be sure to make a big pot so you can have soups all week.
Éclate toi (have fun)!