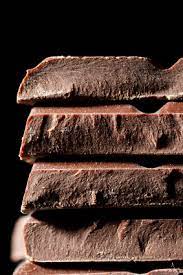 As Valentine's Day draws near, I have chocolate on the brain (though, admittedly, when don't I?).  For anyone lucky enough to be going to Paris for the special day, Jacques Genin is the place to go for your chocolate fix.  He is an unusual chocolatier as he has a salon where one can have an amazing hot chocolate, taste a few pastries (his creations)…and his chocolates, of course.  The Parisians are gaga over the place and rightly so.  (Address: 133, rue de Turenne (3rd), Tél: 01 45 77 29 01)
For those of us who can't be in Paris or somewhere else exotic, perhaps a chocolate fest at home is the best plan.  I always prefer to avoid the Valentine's Day crowds at restaurants—not to mention the inflated charges and often inferior quality due to these crowds—and prepare a romantic dinner à deux instead.  One of my favorite menus (using my beloved ingredient in every course) was highlighted in Women, Work & The Art of Savoir Faire as a business dinner menu, but it makes for a perfect Valentine's Day meal, too, easily prepared and appropriately decadent for the occasion.  I guarantee your sweetheart will savor and remember this meal…talk about an aphrodisiac.
A chocolate menu:
Chestnut soup with chocolate garnish
Duck breasts with apples and chocolate sauce (This is a wonderful dish for someone reluctant to eat duck – what better way to entice them to try it?)
Green peas on the side, to go with the duck (or another favorite vegetable dish)
Mousse au chocolat et gingembre
For those of you looking for additional chocolate recommendations/tips, check my recipes for more delicious information.  Bon appétit et joyeuse St. Valentin!