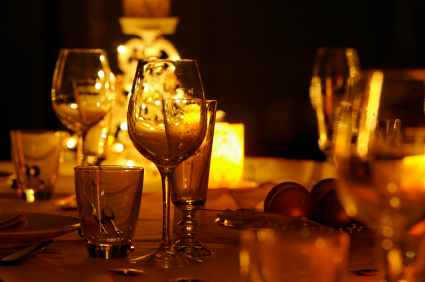 I was delighted to see a blog post by a woman who, inspired by French Women For All Seasons), planned a dinner party with only 30 minutes of cooking time, using healthy, delicious, and simple recipes. In the spirit of her post, I thought it would be fun to do the same with a few of my recipes, and in looking for some good choices I saw that I could, in fact, plan a meal taking no more than 25 minutes. When you can cook a dinner for guests in only 25 or 30 minutes, there are truly no excuses! (And it's worth noting you could easily use this menu for yourself/your family on a regular night, too.) I've laid out what needs to be done in order to prepare before guests come, and what can be done (quickly) between courses so you don't need to take any time away from your guests. As you'll see this is also a budget-friendly meal, using a minimum of ingredients.
Le Dîner:
Appetizer: Cucumber, Prosciutto, and Parmesan Tartines (from The French Women Don't Get Fat Cookbook; see recipe below)
Entrée: John Dory with Tomatoes and Capers (from The French Women Don't Get Fat Cookbook; see recipe below)
Cheese course: Purchase a few ounces each of 3 cheeses of your choice
Dessert: Strawberry Soup with Mascarpone
Le Plan:
Before your guests arrive (about 20-25 minutes of prep/cooking):
1. Take out all ingredients and wash the fruits/veggies/herbs.
2. Cut 4 slices bread and lightly toast in oven/toaster oven; while toasting, slice rest of bread and place in basket for serving with fish and cheese courses.
3. Assemble tartines.
4. Prepare tomato sauce.
5. While sauce is simmering: Preheat oven to 400 degrees. Take cheese out of the fridge, set on cheese plate, and cover. Slice basil. Prepare strawberry "soup" and set aside. Beat mascarpone cheese and set aside in cool place. If you'd like to serve coffee after dessert, add to coffee maker so it will be ready to turn on.
6. When tomato sauce is cooked, cover to keep warm and set aside until guests arrive and you are ready for the first course.

As you are sitting down to the tartines:
Combine fish with sauce and place in pre-heated oven.
After the first course:
Remove fish from oven and plate, spooning sauce over and garnishing with basil and a drizzle of olive oil. Serve with bread slices in basket.
After the main course:
Uncover cheese and serve.
After the cheese course:
Start coffee, if serving. Add strawberry soup to small bowls and add dollop of mascarpone cheese and mint sprig to each. Serve.
By the time people have eaten dessert the coffee will be ready.
Et voilà! A meal with no more than 25 minutes of cooking and preparation. There are many other recipes in The French Women Don't Get Fat Cookbook and the recipe section of my website that you can use, mixing and matching for similar results. If you have time earlier in the day to prepare for dinner, there are even more options (and you will barely need any more time): you can make a soup to serve cold or reheat last-minute, for example, or a dessert that is easily assembled ahead of time (such as panna cotta). For an alternative main course, you can also use my fish/chicken recipes "en papillote" to cook while guests are eating the salad course, and I have many last minute desserts that take only a few minutes to prepare. Entertaining doesn't need to be—shouldn't be—stressful or time consuming. It's the French women's mantra of minimum effort for maximum results.
Amuse-toi bien (have fun)!

RECIPES:
Cucumber, Prosciutto, and Parmesan Tartines (serves 4)
Ingredients:
3 teaspoons unsalted butter, softened
2 teaspoons grainy mustard
4 slices fresh bread or brioche, lightly toasted
4 slices prosciutto
12 thin slices cucumber
1 ½ ounces Parmesan
Freshly ground pepper
Directions:
1. In a small bowl, combine the butter and mustard and stir until smooth. Spread a thin layer on each slice of toast. Cover each with 1 slice of prosciutto and 3 slices of cucumber.
2. Using a vegetable peeler, shave thin slices of parmesan and garnish each tartine with 1 or 2 shavings. Season generously with fresh pepper and serve.
John Dory with Tomatoes and Capers (Serves 4)
Ingredients:
¼ cup olive oil plus additional for garnish
2 (14.5-ounce) cans diced tomatoes
2 tablespoons capers in vinegar, drained
Salt and freshly ground pepper
4 (6-ounce) John Dory fillets (or use cod, monkfish or halibut)
4 tablespoons fresh basil leaves cut into chiffonade (thin strips)
Directions:
1. Preheat the oven to 400 degrees.
2. Heat ¼ cup olive oil in a medium saucepan over medium heat and add the tomatoes and capers. Season to taste and simmer for 5 minutes.
3. Place half of the tomato-caper mixture in a baking dish, add the fillets, and cover with the remaining tomato-caper mixture. Bake until the fish is cooked through, 15-20 minutes.
4. To serve, place 1 fillet on each plate and spoon the sauce over. Garnish with basil and a drizzle of olive oil.