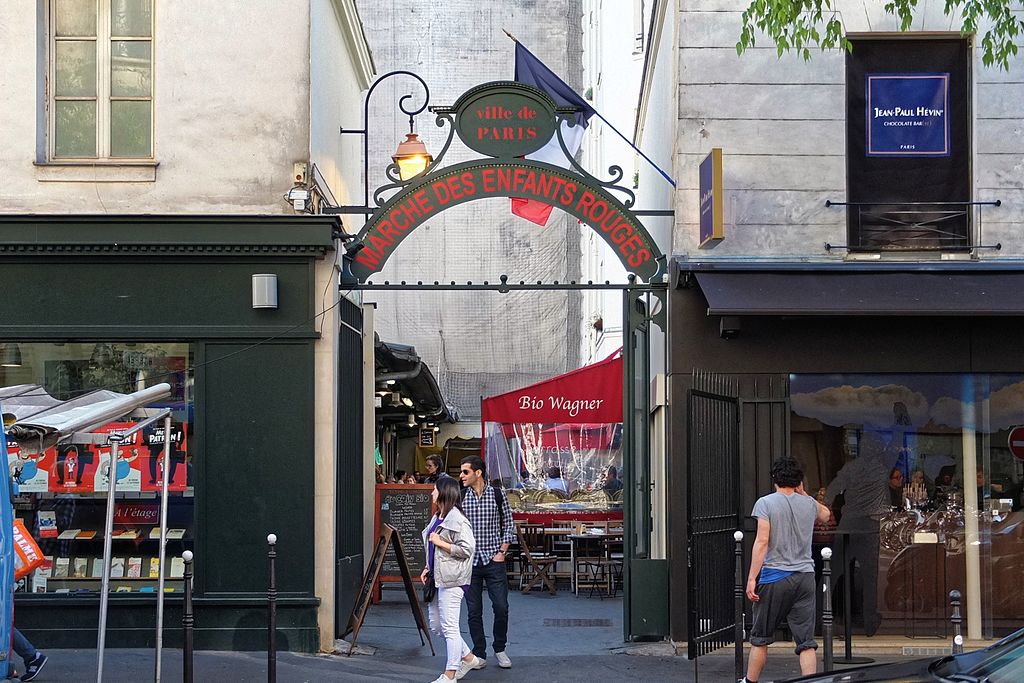 We'll always have Paris when it comes to restaurants, but some of the cutting-edge was dulled after a period of economic malaise in the French capital.  The world press and bec-fins rooted out some truly bizarre 15-course joints around the world as the news and for the highest praise in our era of false news.  (Okay, some of the "best-the-world" are one-time show-stoppers.)
Well, I am delighted to report on a glorious "renaissance" of exciting French cuisine again, led jointly by Japanese chefs in Paris and young French chefs who coming out of the kitchens of France's established masters do not aspire to create new temples of haute cuisine but small, refined eateries where they'd like you to come back again and again next week.
I always get asked "where should I eat in Paris?"  I say experience a few of these solid citizens of the new generation of French cooking and dining rooms where men don't wear ties and English doesn't fill the air.  I am talking about places that might have a Michelin star, but just as many that operate without starry inclinations.
Some of my current favorites still are: Akrame, L'Arôme, Auguste, Septime, Cobea, David Toutain, Kei, Sola, Relais Louis XIII, Les Tablettes de JL Nomicos, Ze Kitchen Galerie, Huîtrerie Régis, Les Enfants Rouges, Claude Colliot, Pottoka, Brasserie Thoumieux, La Régalade St Honoré, Le Pantruche, Sola, Le Timbre, Café Trama, L'Epigramme, l'Ebéniste du Vin and L'Atelier de Robuchon.
And to these I add some delicious newcomers—l'Archeste, Cézembre, Anicia, Le Froufrou, Quinsou, CloverGrill.
Of course, Paris is the city with a pantheon of uber-restaurants with three Michelin stars.  They are easy to find and increasingly easy to get a reservation at.  Go ahead. I do, much less than I used to and only at a select few.
I also find renewed culinary excitement at some great restaurants just a star below the grandest establishments.  Jean-François Piège's Le Grand Restaurant comes to mind and palate.  I keep going back.  And Sylvestre.  The surprise of the year, in many ways, is the venerable La Tour d'Argent, which clearly belongs to a special category (i.e., the most romantic view of a dining room and with food always way above my expectations).  Now with a new chef (an experienced pro), it once again clearly belongs to "la Cour des Grands." A French woman friend and gourmet recently went and keeps rhapsodizing about how everything was top.  I agree.  Some of the new chef's dishes are transcendent.
One caveat about the current dining scene—and I recognize that what I write about is a class of restaurants where one "dines" and beyond the common experience of most people who voted in the last French election—is too many offer only fixed menus (formules) or limited choices (both restrictions that have to do with quality, cost, and staffing for restaurants with perhaps 20-30 seats and one service, so it is an understandable compromise that can force you into a forced selection or two).
Here is my current list:
Akrame, 7 rue Tronchet, 8ème; tel. 01 40 67 11 16
www.akrame.com
What a brilliant move to near the Madeleine.  He deserved way better that his tiny place in a hidden street back of the Arc de Triomphe.  Now he continues to charm us with his inventive dishes and vision.
Anicia, 97 rue du Cherche-Midi, 6ème; tel. 01 43 35 41 50
Contact@anicia-bistrot.com
The place is busy and can be noisy, but the food and service make up for a tasty meal with a good formula and creative presentation (the Puy lentils preparation in a caviar can is stunning and yummy), and many French business people go there for the meat dishes special and superb desserts.
Archeste, 79 rue de la Tour, 16ème; tel. 01 40 71 69 68
www.archeste.com
Coming from Hiramatsu, the chef is a winner with a sober dining experience and a unique menu changing with products and seasons.  Only open for dinner, but once you try it you may be hooked on the top products and French-Japanese mix.  The locals love it.
L'Arôme, 3 r St Philippe-du-Roule, 8ème; tel. 01 42 25 55 98
www.larome.fr
In many ways, this is a model of a good, consistent restaurant.  The menu is inventive, the place chic and lively, intimate and relaxed with a wonderful staff.
Last meal with tourteau, avocado rice and sublime seasoning followed by a classic stuffed pigeon and an unusual almond based dessert was well worth the 59 euros.
l'Atelier de Joel Robuchon, 5 rue Montalembert, 7th; tel. 01 42 22 56 56
www.joel-robuchon.com
This perennial Michelin two-star is still a treat. Great for singles or twosomes at the counters. Sitting around the kitchen and bar on high stools is a fun way to see what the gift kitchen team is concocting. You can't go wrong with the daily specials, but tasting and sharing a few signature dishes is one more reason to go back. Yummy memories of the tomato gazpacho, bass with leeks, quail with truffled mashed potatoes, and Chartreuse soufflé. You can control your costs here, but they won't be modest. The new little room on the side allows for a quiet meal with friends and is more fitting for conversation.
Auguste, 54 rue de Bourgogne, 7ème; tel. 01 45 51 61 09
www.restaurantauguste.fr
It's a favorite for dinner because it's refined, quiet, and I love his food from crayfish to red mullets (fish a quasi specialty here) or chocolate soufflé.  My French friends think his 37 euros business lunch is a bargain.
Brasserie Thoumieux, 79 rue St. Dominique, 7ème; tel. 01 47 05 79 00
www.thoumieux.fr
I enjoy this 1923 brasserie made super comfortable with a few modern touches.
The food is always above average, which can't be said for many old brasseries.
Foie gras, burgers, and tasty fish dishes with good vegetables selection and yummy desserts make for a typical chic Parisien meal and atmosphere.
David Toutain, 29 rue Surcouf, 7ème; tel. 01 45 50 11 10
www.davidtoutain.com
Love this kind of place…unique but everything has been well thought out and works.  The menu is more than inventive.  You'll walk out amazed by so many little pleasures, each course like no other you have ever tasted, and each dish oh so perfectly balanced. His treatment of vegetables is unparallel to the point that he could teach a thing or two to chefs who trained him.  The 55 euros menu is a bargain for the experience.
L'Ebéniste du Vin, 72 rue Boursault, 17ème;
www.lebenisteduvin.fr
Once in a while a wine bar, and this is my favorite, located in the Batignolles area.  So far, local friends who have been agree. Laure, the owner, is friendly, knowledgeable and a sticker for one quality, the finest. Her various platters are presented on grey slates, and one can easily make a meal with the crudités with a secret herb sauce, the charcuterie, the fish (salmon, trout and tuna), the cheese selection (another superb trio) all served with great bread. Don't skip the yummy desserts finale. Trust her for the wine selection, and should you like what you drink you can even buy a bottle at the store within the wine bar. And while in the neighborhood do explore the postcard-like little square and church nearby, a lovely corner of Paris from another era. And now, there is l'Ecailler de l'Ebéniste for oyster and seafood lovers, and recently La Table de l'Ebéniste for meat lovers, all on the same street and by the same Laure and her companion with the same ambiance and service.
Les Enfants Rouges, 9 rue de Beauce, 3ème; tel. 01 48 87 80 61
www.les-enfants-rouges.fr
Another casual-chic bistrot, but trust the ex-Comptoir du Relais Japanese chef, Dai, who took over this tiny place of about a dozen tables behind the Marché des Enfants Rouges. His lovely wife is in the dining room with a young, able and efficient staffer while Dai is in the tiny kitchen concocting dishes like country pâté and rabbit with tarragon and yummy vegetables.  The set menu is a great value.
Café Trama, 83 rue du Cherche-Midi; tel. 01 45 48 33 71
It's a typical little trendy bistrot owned by Michel Trama's niece. The menu is on the "ardoise" board oh so simple and traditional. Foodies, regulars from the area and shoppers at Le Bon Marché all in quest of gourmandise and good value migrate as soon as the dining room opens.
Cézembre, 17 rue Grégoire de Tours, 6ème; tel. 01 42 38 25 08
www.cezembrerestaurant.com
It may be my favorite discovery of the year so far as this young chef's creativity is seductive. The fish arrive straight from the St. Malo area and he has a way of treating them that pleases the palate in search of new savors.  His desserts are as simple and as yummy as the rest.  Go for lunch if you can.
Cobea, 11 rue Raymond Losserand, 14th; 01 43 20 21 39
www.cobea.fr
One of my very favorites for the past couple of years for food, wine, décor, atmosphere, and service. Everything is a class act here. The dining room is small, so it is essential to book for dinner way in advance. The formula of 4, 6 or 8 courses is a good one for appetite and budget. Raviolis with mushroom duxelle, sea scallops with a mix of chestnuts and banana, and the chocolate dessert are all inoubliables.
Clover Grill, 6 rue Bailleul, 1er; tel 01 40 41 59 59
www.clovergrill.com
A place for rôtisserie and cooking over coals not only for meat lovers! When done by JF Piège, it's another league all together, and it starts with the retro-chic room unlike any meat joint you've ever seen. Add to this top quality meat from Kansas to Bavaria cooked on the ashes and fish, veggies and dessert done on the grill.  An unusual Parisian destination.
Colliot, 40 rue Blancs Manteaux, 4éme; tel. 01 42 71 55 45
www.claudecolliot.com
When in the Marais, this is a perfect place on a quiet street. Claude Colliot's cuisine is all about the moment: Asparagus may be married with rhubarb, veal with daikon, and fowl cooked with licorice wood. Whatever inspires the chef any given day, trust me, is worth tasting and discovering. Great sense of pairing and balance in every dish he creates.
L'Epigramme, 9 rue de l'Eperon, 6ème; tel. 01 44 41 00 09
www.lepigrammeparis.fr
Our best kept little secret since opening, we've been back and back and never disappointed.  It's a discreet little place where the chef uses classic dishes and adds his personal touch to add modernity in bistrot/brasserie style. Short selection all well thought out.
Le Froufrou, 45 quai des Grands Augustins, 6ème; tel. 01 42 39 02 59
www.froufroubistrot.com
Trust a brother/sister team especially as Camille (she is the chef) trained with top chefs who introduced her to the love of great products.  She adds simplicity and dishes for the table from a sensational leek millefeuille to gravlax salmon and exceptional meat served with an addictive mashed potato or an unusual rice cake.  And as a Champagne lover, she offers a nice selection that will make for a festive and bubbly meal.
Le Grand Restaurant, 7 rue d'Agueneau, 8ème; tel. 01 53 05 00 00
www.jeanfrancoispiege.com
What a master he is! Technique and taste, modernity and elegance, here's a chef whose dream came true after serving and helping other restaurants gain stars in mostly grand palaces.  Now he looks for small and beautiful. This is his jewel, and the pleasure starts in his intimate and discreet dining room and ends with his version of his grandmother's floating island; in between be ready for lots of small touches in the service and the plates that will make you want to return for any occasion.
Huîtrerie Régis, 3 rue Montfaucon, 6ème; tel. 01 44 41 10 07
www.huitrerieregis.com
The best oysters in town. Merci la famille Papin. What else can I say? Great Sancerre and Meursault to accompany the bivalves or sea urchins or shrimp. The bread and butter ain't bad either, and Régis' famous tarte aux pommes is to die for. Simplicity at its best. The place is tiny but classy. No reservations but open non-stop seven days a week.
Kei, 5 rue du Coq Héron, 1er; tel. 01 42 33 14 74
www.restaurant-kei.fr
Another star who trained intensely with French chefs, he now has a place of its own to offer us well composed surprises that are all about harmony, perfection in cooking methods and meals that keep changing function of his Franco-Japanese inspiration.  A blissful experience.
Relais Louis XIII, 8 rue des Grands Augustins, 6ème; tel. 01 43 26 75 96
www.relaislouis13.com
The place is iconic.  We've been going there forever especially when wanting to show demanding guests what eating in Paris is all about: classic dishes well executed (his duck dish is always top), wonderful atmosphere in a house with beams characterizing the old Paris and affable service. It never disappoints.
Septime, 80 rue de Charonne, 11ème; tel. 01 43 67 38 29
www.septime-charonne.fr
It epitomizes the destination of the moment. It opened a few years back and is still a huge success. Some days, it seems like the whole planet is there, and it clearly symbolizes the new destination for both epicureans and foodies.
The lunch menu is a bargain at 32 euros, and the few happy diners who can catch a table weeks in advance will not mind settling 70 euros for unparalleled "cuisine du marché."
Sola, 12 rue de l'hôtel Colbert, 5ème; tel. 01 43 29 59 04
www.restaurant-sola.com
The amazing chef who trained at Astrance offers some top Franco-Japanese combinations. The setting in an old little house with beams adds charm and the service is exemplary. The food is modern and exotic, from the delicate pumpkin soup to scallops with turnips, quenelles of boeuf tartare, pork served two ways, and sublime desserts.
La Régalade St Honoré, 106 rue Saint Honoré, 1er; tel. 01 42 21 92 40
www.laregalade.paris
It has moved across the street to a slightly bigger space, but some things never change: the terrine du chef offered as amuse is as addictive as ever, and so is the riz au lait maison and everything in between is just great bistro food.
I often find excuses to be in this neighborhood around lunch so I can revisit.
Tablettes de Nomicos, 16 avenue Bugeaud, 16ème; tel. 01 56 28 16 16
www.lestablettesjeanlouisnomicos.com
Left bank citizens are notorious for not visiting the right bank except for special occasions. This is one.  The chef worked with Ducasse and was chef at Lasserre, but what he does here is far superior with three menus presented on iPads, a nice touch for single customers particularly. He cooks with love and opt for a cuisine du soleil i.e., Mediterranean accent with fish, vegetables although his macaroni with truffles are not be missed.
Le Timbre, 3 rue Ste Beuve, 6ème; tel. 01 45 49 10 40
www.restaurantletimbre.com
Another small and friendly bistrot on a quiet street. A local favorite. You do have to trust the chef as there is no carte and a single menu that changes daily. The day we went, the anchovy tartines were awesome, and so was the pork belly dish, and the baba au rhum.
Tour d'Argent, 15 quai de la Tournelle, 5ème; tel. 01 43 54 23 31
www.tourdargent.com
It was my best meal of 2016, and a return a few months later was equally amazing: it took my breath away.  If I had to choose a place for my last meal it may very well be it for its romantic setting, spectacular view and the amazing transformation done by a brilliant chef and a daring young owner.  The result in updating the classics with such precision and bluffing combinations work when
someone is revered enough to inspire its team to blow our mind from beginning to end.  A rare occasion restaurant, but here all the ingredients come together splendidly.
Le Pantruche, 3 rue Victor-Massé, 9th; tel. 01 48 78 55 60
The ratio of quality to price here is first rate. It is not fancy dining, but it is not expensive yet is very good. The bistro classics are all there, from pig to sweetbreads to a fine chicken and, of course, a soufflé Grand Marnier for dessert. What's fun is it is old Paris with a 1940s, 1950s bistro look and feel.
Pottoka, 4 rue de l'Exposition, 7th; tel. 01 45 51 88 38
www.pottoka.fr
Simplicity, southwest/Basque food, super service. The food is inspired with a modern touch. You can tell the care in the service, presentation and cooking of the various dishes. Top. The moist chicken is a treat. A place for foodies. Fun, quiet, convivial and totally unpretentious.
Quinsou, 33 rue de l'Abbé Grégoire, 6ème; tel. 01 42 22 66 09
A cosy place with a chef I have admired from his time at the Sergent Recruteur. Now on his own, he excels with the best produce and his creative menu. His monkfish with curry sauce and exceptional accompanying vegetables makes you want to try his longest formula of four dishes. A must go.
Sylvestre, 79 rue St Dominique, 7ème; tel. 01 47 05 79 00
www.thoumieux.fr
He had won our heart in Provence, where he made the best meals of the area for years at Oustau de Baumanière, so when he moved to Paris we headed there and wow how did he adapt and excel.  We've recommended him ever since, and no one gets less than impressed.  Beside he is one of the humblest and nicest chefs we've ever encountered. The dining room is a small jewel, and so are the dishes and presentation. The meal goes on like a great symphony of savors and flavors. His bass cooked in Himalayn salt with a vin jaune sauce sets you up for greatness.
Ze Kitchen Galerie, 4 rue des Grands Augustins, 6ème; tel. 01 44 32 00 32
www.zekitchengalerie.fr
Hard to book a table since the chef got the best chef award in 2010, but worth trying (lunch is always easier at these places and often better and quieter).
The cooking is creative with Asian influences in dishes, herbs and spices for someone who is passionate for Southeastern Asia more particularly. His lobster Thai, quail with nectarine or beef Wagyu win us over.