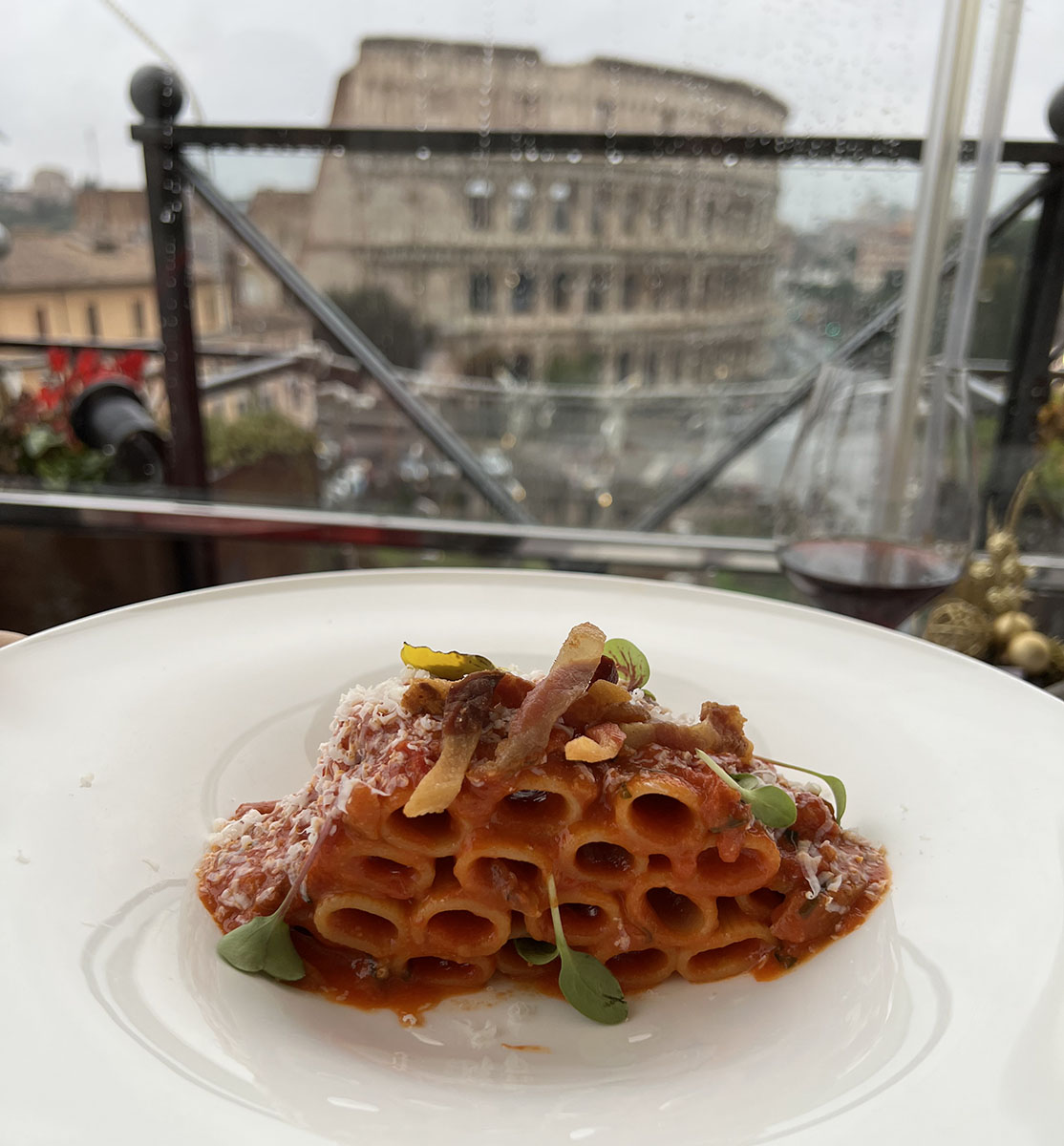 Fine dining in Rome perhaps hasn't been so comparatively fine since Sulla and Mark Antony were walking the cobblestone streets. At least that is how we felt after a few weeks of experiencing some highly regarded of the current crop of eateries. We certainly have not eaten so well in this eternal city over decades of visits.
French food as experienced in Paris may be more diverse and complex. A fine-dining experience in New York is much more international on the plate and palate. But star for star, jewel of a small restaurant after restaurant, we were astonished by the consistency of quality, of the holistic performance that informed our recent experiences during our recent sojourn in the eternal city. We had our share of varied and delicious-to-scrumptious meals, nothing just average, nothing that was overly fancy but did not work, top ingredients everywhere, and wonderful staff taking good care of us. Our recommendations are not comprehensive, but here in alphabetical order are some observations and plates and "addresses" that are guaranteed to put a smile on your face. Our one caveat is that a lot of the finer restaurants offer menus of 5, 7, 9 courses to be taken by everyone around the table. Even though portions are small, there's often too much food to enjoy comfortably, and the parade of magnificent dishes can easily last between two and three hours. Plus, most fine restaurants will offer a little something at the beginning and at the end of the meal gratis. So, we regularly (but not always, haha) opted for à la carte 3 or 4 course meals and went home ready to attack tomorrow's restaurant with gusto.
Acquolina (Via del Vantaggio, 14, in the First Rome Hotel). This luxury eatery is a feast for the eyes as well as the palate. The setting is cool and clean and modern set in an artsy hotel. The specialty is fish, and we returned here for a Christmas Eve feast. And feast we did as we took the special menu. For a restaurant that has held its one Michelin star since 2009, it not easy to single out one or two dishes, especially from a nine-course fish degustation. The risotto with buffalo serum, scampi and white chocolate was both a surprise and a winner. We will go back…again.
Ristorante Aroma (Via Labricana, 125, in the Palazzo Manfredi). Where does one go for lunch on Sunday in Rome? The choices often are limited most Sundays to tourist restaurants or fine-dining restaurants in upscale hotels. Whatever the occasion, Aroma is a fabulous destination, which is why we chose to revisit. From its rooftop dining room, you overlook the Colosseum. Add to the view of the Roman Forum, the Palentine Hill with some signature pines of Rome and even the dome of St. Peter's off in the distance—wow, what a feast for one's eyes, and the food ain't bad either. Indeed, this is a long-standing Michelin-starred restaurant, and the quality is consistent. The pasta presented in picturesque fashion (above) was delicious as were all the desserts.
Casa Bleve, is a must for traditional and classic food well executed and never disappointing, but we admit going there to see la nonna. Priceless. The locals, young and old, are always there so one needs to reserve to get a table. We always enjoy the pasta and this time l'involtino (a roulade) of seabass with sorrel was wonderful and so was the classic tiramisu. The restaurant is large and attractive in an enclosed courtyard, and you are sure to see lots of Italians from courts and offices and companies dining there. For us, this is one of only two eateries where we must go back to each visit.
Ristorante Giulia (on via Giulia, but with the entrance facing the Tiber River on Lungotevere de Tebbaldi, 4/4a) is high-end but not fancy (as in warm industrial old) eatery and wine bar with tables on two levels. It is a repeat favorite of ours where every dish is yummy and innovative, but this time the homemade breads were shockingly good, just extraordinary, and came in a progression that was a meal by bread alone standards. And let's say, you don't find a dish of monkfish, chickpeas, chestnuts and "Monti Lepini" lard just anywhere. This is a destination that is like nowhere else in the world. For dessert, the play on tiramisu (made with small brioche bunches) was utterly so pleasing one didn't want it to end. The wine offerings, service and pairing are extremely informed.
Moma (Via de San Basilio 42, just off the Via Veneto). This is a Michelin one-star ristorante of a different sort: basic, modern, all about what's on the plate and in the glass. The dining room is set upstairs just above its tiny downstairs bistro bar…and with plenty of locals upstairs and down. At lunch, it is certainly less chi-chi than most high-end eateries with flights of amuse and extras. The dinner tasting menus, though, are accompanied with frills. The tables and large and narrowly long dining room is clean and simple. The setting has character but is not at all what earns the restaurant its kudos. The food, however, is complex and contemporary. Wine service and knowledge is special and a match for the wonderfully sourced and presented flavors on the plate. You want to taste eight different cheeses? No problem. For a main course at lunch, try the poached egg with a fondue of parmigiano and black truffle. Comparatively speaking, dining here won't break your bank account.
Il Pagliaccio (Via dei Vanchi Vecchi, 129/a). This hidden seeming storefront eatery boasts two Michelin stars and deserves them and perhaps more. Despite the expectations its stars trigger, inside one is still filled with pleasant surprises that exceed those expectations. The restaurant is creative and elegant (minimalist but gorgeous), where every dish was a first for us and just extraordinarily crafted, both in the kitchen and on the plate. The buckwheat pasta with wild mushrooms, black truffles, and a sauce out of a mysterious mastering of the art will remain in my book one of the top dishes of the year.
Per me (Vicolo del Malpasso), another young chef, Giulio Terrinoni, completely committed to his 21st-century cooking philosophy. It earned him one Michelin star. An exquisite taste of a soup made with rice, potato, a mussel and spices was perfect to open our appetite to a carpaccio of shrimp with dots of foie gras and an extraordinary red mullet with polenta crumbs and vongole sauce. Pasta carbonara was a play of fried eel to replace the pancietta; and the grouper served with brocconcito and artichoke was perfectly roasted. As for dessert, a black forest without any cake was the best black forest I ever had.
Salumeria e Vineria Roscioli (Via dei Giubbonari, 21) is where we have eaten more times than we have fingers and toes. This upscale "deli" and enoteca that evolves into a trattoria is an obligatory experience. All the Roman classics offered are made from excellent ingredients. Sure, at the tables, there are "visitors" like us, but expect to see local foodies as well. We prefer to eat at the back of the street-level shop rather than down in the attractive cellars, though we have done both as you sometimes must take whatever reservation time and space is available. The food is the same. The show is a little different. As an appetizer, try the yummy tiny sardines with baby olives and capers or the fried calamari. Zucchini-flowered dishes are something of a signature. I recommend the caccio e peppe (my favorite in Rome) or the carbonara, but all their pasta dishes are outstanding. And yes, I make sure to always test the classic tiramisu but during the year-end holidays they also make a classic baby panettone that is hard to resist.
Pre-Covid we enjoyed a superb meal in a gorgeous long dining room in an historic palace on one of our favorite streets in Rome. We so very much looked forward to another meal here, we booked a few nights at the splendid boutique 5* hotel (opt for the room with the terrace…what a view). We weren't disappointed by our meal at Verve in the DOM hotel (Via Giulia, 131). The risotto with artichokes and olives is worth a detour. Chef Adriano Magnoli and Pastry Chef Antonella Mascolo are ever-present artists. Among the first-course pastas, try the lingotto of carrot, rabbit and parmigiano with an accent of balsamico. Or the fusilli integrali that comes with chickpeas and sea truffles and accented with lemon and black truffles. Naturally the breads and desserts are all made on the premises, which creates a challenge not to overdose on them. Oh, if you think you've tasted breadsticks before…
Zia (Via Coffredo Mameli, 45, in Trastevere) where we particularly enjoyed sweetbreads, the tortellini, and the guinea fowl wrapped in a vine leaf. Minimalist décor, which I love, and great attention to details. This is a high-end formal dining experience exploding in flavors that earned the chef a Michelin star. Trastevere has its share of lively touristy restaurants turning out classic Roman cuisine along quaint, old streets. Zia is elevated above the neighborhood's eateries in more ways than one.
Now ice cream and pastries…that's another article.