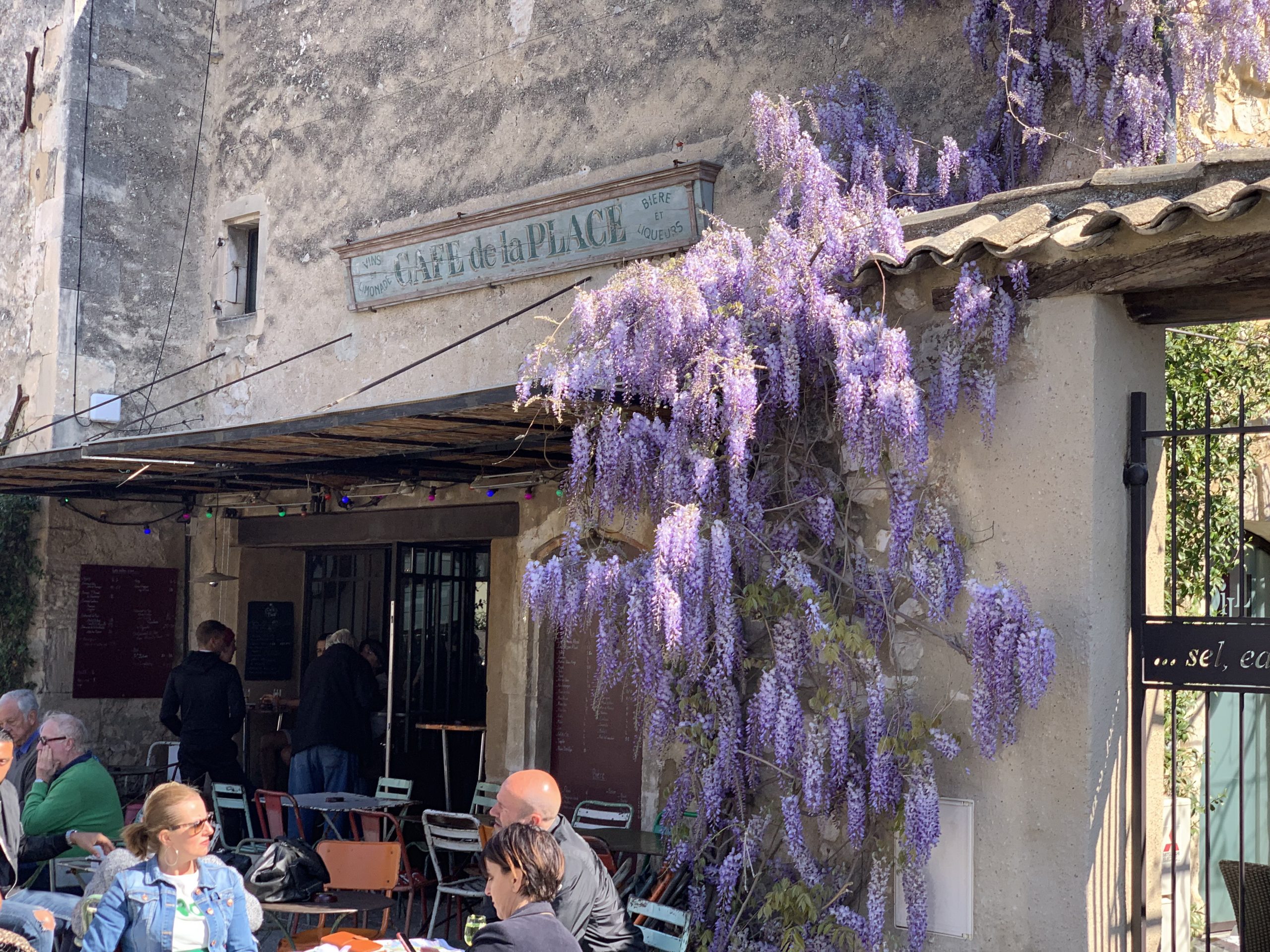 If Easter then Memorial Day 2022, marked the return of Americans and tourists to Paris après le Covid (even though it is still present), then Memorial Day and especially the month of June marked an invasion of Americans in Provence, from where I write this description.
France is expecting a huge tourist season summer 2022. The last two Covid summers, the French stayed home, that is to say in France; but never ones to miss a holiday or vacation, they headed to Provence, the Riviera, Brittany, Bordeaux, Alsace, the Alps and everywhere in between, including Paris. The restaurants were full, full with the French, and choice restaurants were "sold out" for the entire season, turning away regulars after regulars. Some added a table outside here and there to a degree beyond their ability to put food on plates in a timely fashion. With the return of foreign tourists, 2022 will be a summer of extremes, including weather.
Friends of ours from Miami had planned a big family pre-Covid reunion and had rented a home just outside the destination village of Gordes. The grandparents wanted to share their experience of Provence with their children and their children's children. They planned to be twenty-two family members in a ten-bedroom-and-bath villa with swimming pool and panoramic views. Not bad. Then Covid hit and closed down France. They could not get their money back. But they got a credit towards a future visit, which materialized this week. We agreed to meet for a dinner, all twenty-four of us—twelve adults and twelve "children," ages 8 to 22.
We met at the Michelin-one-star restaurant, Hache, on the little main street of the village of Eygalières. As the saying goes, a good time was had by all…and the kids (and some adults) had the experience of a lifetime eating snails (and other things) for the first-time. They loved them, done in a tasty ragoût of cèpes (mushrooms).
So, there we were, twenty-four Americans occupying the entire inside dining room of the restaurant. Of course, being Americans, five were born abroad—two in Cuba, one in Holland, one in Venezuela, and moi. The restaurant has a few storefront tables on the broad sidewalk at its entrance that make for lovely dining in the evening, and a couple of tables were occupied that evening. Halfway through our meal, a peppy and stylish woman came to our table and announced, "I heard your American English and I just had to say hello. I am from Dallas and we're here with our friends from Hawaii. Isn't this place wonderful?" It is, and did I say Americans are back big-time in Provence?
Be prepared for a hot, super-dry summer. Fruit is falling off trees for the lack of water. Fires—always a summer hazard in Provence—are sure to be tragic. A friend of ours with a pal have taken on the task of providing daily fresh water for female foxes that are crazy with thirst for themselves and their young pups. Villages deep in the interior are having tanker trucks of water delivered as other towns have already set water usage restrictions. Farmers are scratching their heads. Climate change or a special summer experience?
Remember, Provence is not the Riviera. Don't think Nice, Monte Carlo, Russian Oligarchs, Cannes—that's the watery Riviera (La Côte d'Azur) and its back hill towns running into Italy. Think Avignon, Aix-en-Provence, St. Rémy-de-Provence, Arles, and, of course, Marseilles. Think the villages of the Alpilles, Luberon and the birds and waters of the Camarque. Don't be disappointed by hotels and restaurants being fully booked. The good ones, from middle-range to ultra-luxurious are fully reserved till mid-September. Take what you can get, but here's a tip. There are always cancellations as Covid has brought about the necessary practice of cancellation without penalty. So, CALL the establishment about availability even if the online reservation system does not show any availability. Also, for hotels some of the online booking services have specially reserved rooms, so while the hotel or, say, Trip Advisor or American Express or their cousins will state no availability, Hotel.com or another service may well have a room available and vice-versa. Also, while in season a lot of hotels have minimum stays of 3-5 nights; by calling you may find a night or two when a room is vacant in between reservations. Plus, if you cannot get a reservation at a top restaurant and that restaurant is in a hotel or has some rooms for rent, if you can score a room reservation, they will usually find a way to feed you at their restaurant.
Best restaurants for an upscale fine-dining oh-so-French indulgence? Selecting only from the eateries where we've indulged ourselves in the past year, Restaurant Alexandre in Garons (near Nîmes and on the outskirts of Provence) remains the finest for us, even though L'Oustau de Beaumanière in Les Baux de Provence has regained its third Michelin star and is a lovely experience, especially dining out on its terrace. Fanny Rey & Jonathan Walid in St. Rémy always pleases us and is always booked solid. The forementioned Hache, is less formal than the others but certainly delivers on the plate. We like Dan B in Ventabren, high in the hills outside Aix-en-Provence. And La Mirande in Avignon, bien sûr, and Christopher Bacquié in the Hôtel du Castellet in Le Castellet in the back hills far up from Bandol is a three-star destination. Finally, in Marseilles it is hard not to eat at one of the bouillabaisse-traditional fish restaurants along the port or the seashore, but at the high end in France's second largest city, as you'd expect, there are at least two rarefied and "experimental" tables, both with three Michelin stars: Le Petit Nice Passédat, and AM par Alexandre Mazzia (closed for a month this summer for work…c'est la France).
Beaches? Here we confess it is hard to beat Pampelonne Plage in St. Tropez on the Riviera, but for a huge sandy stretch in Provence, head for the bottom of the Camargue to the beckoning and celebrated town of Saintes Maries de la Mer. Starting there and heading east are miles of sandy beaches. Also in the Camargue in a zip code that lies just outside official Provence is the spectacular Plage de l'espiguette, five miles of sandy dune beach in a national park. Unlike the Riviera and beyond, the beaches in the Camargue are not lined with amusement parks, hotels, restaurants, concessions…just raw nature. Elsewhere, there are small and rustic greyish sand beaches with plenty of stone along and around the coast west of Marseilles. On Marseille's coast road Corniche heading east are the crowded but sandy and agreeable Plages de Prophètes and Plage des Catalans.
Museums. The light and colors of Provence attracted them "all," headed perhaps by Van Gogh. Cézanne was simply born there. You will need many trips (and perhaps years) to do all of the museums in Provence justice. Here's a start with our top experiences: Musée Granet in Aix-en-Provence (think Cézanne and France), The Caumont Centre d'Art in Aix-en-Provence (add architecture and the decorative arts to the splendid painting collection and exhibitions), Musée Réattu in Arles (and take in the Luma Tower by Frank Gehry and art center across town, and if you are keen on antiquities the Musée Départemental Arles Antique). While not strictly a museum but an experience in art, the Carrières des Lumières in Les Baux de Provence, is a spectacular version of a sound-and-light exhibit of art projected onto the walls of a large stone quarry with changing exhibitions from year to year. Nearby in St. Rémy is our favorite Van Gogh site with multiple intrigues—at the sanitarium where Van Gogh spent a year and where he painted "The Starry Night," the Monastery of Saint-Paul-de-Mausole, you can visit his room and see a small exhibition and reproductions of his paintings in the garden and next follow the route de Van Gogh, an hour-long walk through the landscapes in the village he painted, nineteen are illustrated with reproductions of his paintings with explanations. Finally, there is the Estrine Museum and Van Gogh Interpretation Centre in the heart of town, a museum of paintings and graphic arts of the 20th and 21st centuries with a multimedia presentation on the life and works of Van Gogh. Marseilles is filled with museums of all kinds, though the strength lives in history and civilization rather than painting and design. Still there's plenty of modern art in museums to see, and we've enjoyed the Mucem (Musée des Civilisations de l'Europe et de la Méditerranée) for the art of its building itself more than the permanent collections and exhibitions. No matter where you find yourself throughout Provence there are small museums of all kinds that offer rewarding moments of reflection and pleasure.
Sounds? You will see expressions of them everywhere in Provence, on towels, worked on to jewelry, reproduced in all sizes of pottery, and, no, they do not arrive every seven years. They are not seven-year locusts, they are cicadas, known in French as cigales. And they come out as soon as the temperature hits around 80 degrees (strictly speaking, the cymbaling can begin around 72 Fahrenheit). The reality is the air of Provence is filled with cricket-like chirping all day long in warm weather. It is the universal sound of Provence, resounding in my ears as I write. At night when the temperature drops, there's silence. In perhaps seven or even eight months of the year, there's silence, but summer in Provence, never silence. The hotter it gets, the more they gather, the more "noise" they make…a curious competitor to fans, AC, even lawn mowers to one's ears.
Tourist "musts"? We know there are online lists galore of "what to do in Provence," but sitting in a café early in the evening absorbing the colors of the sky and stone buildings and imagining the past and watching the present is not on many of those lists. Provence has only two speeds: slow and slower. Don't try to do too much, live the experience of where you are. Take in a small village in the Luberon or Alpilles, walk the streets of St. Rémy or Avignon with nothing special in mind. Okay, visit the central square in Avignon and the Palais des Papes, the Port in Marseilles, The Roman arena and theater in Arles, the Cours Mirabeau, the main drag in Aix, the calanques in Cassis. Plus a winery or two. Most villages have one or two, some six or ten. For the overall views and experience, we recommend Chateau Romanin (near St. Rémy). And Domaine de Coyeux (in Beaumes-des-Venise / Gigondas).
Enjoy. You never know.
Mireille