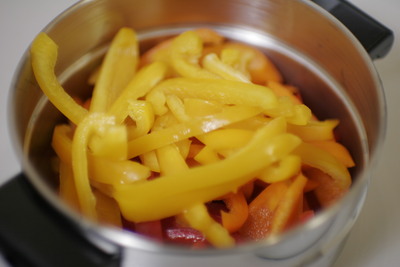 Peppers are another New World plant that has taken root in a big way in the Old. Far more than with asparagus, color counts for peppers' taste. The common green variety, really only a pepper picked unripe, is less subtle and less delicately flavored. The reds and yellows, which appear later, have had more of a chance to soak up the sun, making their skin thinner and more tender and their flesh sweeter. These baubles dazzle the eye and palate alike. They can be enjoyed equally well raw in a salad or stewed or grilled to enhance their extraordinary sweetness. As with strawberries, small ugly specimens are better than airbrushed symmetrical giants. I love the taste and the color and the versatility of this yummy vegetable, but I must confess that I don't understand people who spend the time roasting them to get rid of the skin. I love the skin, which has lots of nutrients I want to keep. Almost every Saturday I buy one or two of each color at the market, and here is one way I consume them.
Ingredients
6 sweet peppers (2 each of red, orange, yellow)

Yield: 4 Servings
Recipe
Cut the peppers in half through the stem. Discard the stems, ribs and seeds. Cut into large strips. Put the red peppers at the bottom of a steamer, followed by the orange and yellow. Steam for 6 to 8 minutes. I serve them hot as a side dish with fish, white meat or pasta dishes. All one needs to add is a drizzle of olive oil and a dash of seasoning. I refrigerate the leftovers, then use them for lunch during the week with a piece of leftover chicken, tuna or salmon; or a few shrimp; or for a salad lunch over some mixed greens and a hard-boiled egg or chunks of feta cheese. Then I add a mustard-vinegar-oil dressing and always lots of chopped parsley. And, of course, the simplest thing is to serve them at room temperature on a tartine (a thick slice of country or sourdough bread) with a few grains of salt, a drizzle of olive oil and parsley.