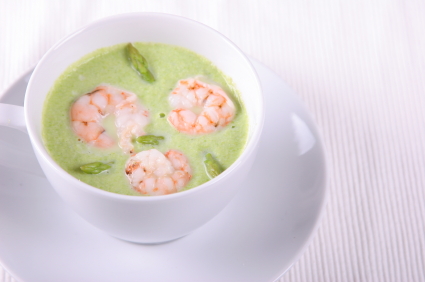 My Provençal friends call this soup Gazpacho á la Mireille, although it lacks the acidity of its Spanish namesake—something of an acquired taste (as we both are). I love to serve it for lunch on hot, dry summer days. Sometimes I purée it before chilling. The cucumber is, like the leek, a mild diuretic, rich in potassium and low in sodium; both help flush out the toxins. The shrimp provides protein; with a slice of baguette or brown bread and some fresh fruit for dessert, the dish makes for a deliciously well-rounded summer lunch in the shade, listening to the cigales (crickets), or your children chatter.
Ingredients
2 8-inch cucumbers (about 1 pound), peeled
Salt and freshly ground pepper
1 cup cold milk (regular or 2 percent)
1 cup yogurt
Juice of 1 lemon
4 tablespoons minced mint leaves
1⁄2 cup shrimp, peeled, deveined and cooked
1⁄3 cup mint leaves for garnish

Yield: 4 Servings
Recipe
Cut the cucumbers in half lengthwise, scoop out the seeds with a teaspoon, and cut into 1 inch pieces. Sprinkle with salt, and let stand 10 minutes. Drain and pat dry. Mix the cucumber with the milk. Add the yogurt, lemon juice and minced mint, and season with salt and pepper to taste. Serve sprinkled with the shrimp and decorated with mint leaves.