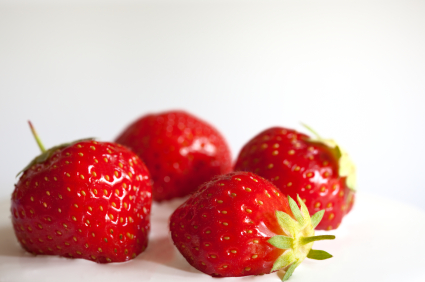 With so many varieties that are locally and freshly picked, the strawberry season in Provence leaves us speechless each year. I recently saw a young chef playing with the odd combination of beets and strawberries.  So I had to experiment myself.  After tasting blind, the beets element surprised us all. None of us would have thought of that combo, yet it works. Feel free to play with the proportions based on your tastes (FYI: fresh beets are much sweeter cooked at home than those sous vide).  The chopping takes a few minutes but it's worthwhile and will surely be a conversation piece:
Ingredients
3/4 cup-1 cup cooked red beets, peeled, sliced and cubed (tartare size)
2 cups strawberries, rinsed, pat dried, sliced and cubed (tartare size)
1 tablespoon sugar, or more according to taste
1 tablespoon basil cut into chiffonade
Recipe
Place beets at bottom of a salad bowl. Sprinkle with sugar. Add strawberries and sprinkle with sugar. Add basil and refrigerate for a few hours before serving. Note: You can eat as is or serve with a scoop of vanilla ...or basil ice cream. Yum!