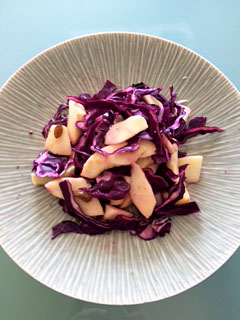 Perfect for spring detox…cuisine quick and "minceur" par excellence. Like beets, red cabbage is a fabulous antioxydant with anthocyanin.
Ingredients
For dressing, mix the following ingredients in a salad bowl:
1/2 teaspoon moustard old style (Maille if possible)
2 tablespoons lemon juice
1 tablespoon walnut oil (or olive oil)
Salt and freshly ground pepper
1 tablespoon chopped parsley (optional)
Add:
6 oz finely sliced red cabbage
1 apple peeled, cored and finely sliced
A teaspoon of golden raisins
Recipe
Mix well and serve. Enjoy eating slowly (the raw cabbage forces you to chew…much better than the quick juices swallowed in a minute).