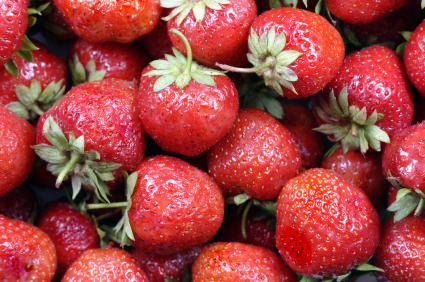 Visiting Provence for a few days late April, the scent of lilac and wisteria is at every corner in the village or along the bike paths. Yes, it is now time to taste the first fresh peas and asparagus but my local foodie friend made me this delicious soup she recently found in one of the many magazines she reads for new ideas. We are after all in strawberryland with nearby Carpentras the town oh so famous for strawberries. She served it with the most delicious homemade buckwheat bread.
Ingredients
Serves 4

1 orange, zest and juice
1 tablespoon of orange blossom water
1 tablespoon honey
1 pound strawberries, rinced, dried, culled and sliced
Recipe
Put 10 ounces of water in a saucepan, add zest and juice of orange, orange flower water and honey and cook under low flame till boiling point. Cover and let cool. Put strawberries in soup bowls (she used jam glass jars for color effect) and add the lukewarm bouillon. Refrigerate for an hour and serve with fresh mint and a slice of buckwheat bread to dip into soup and savor. Childhood memories for me...