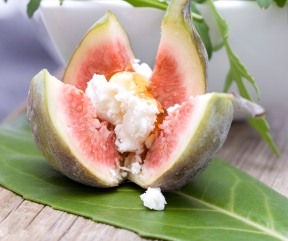 They are in and splendid raw, but a nice and easy dessert Provence-style made everyone happy the other night:
Ingredients

Serves 4

12 ripe figs

2 ounces pine nuts

1 ounce sugar

2 tablespoons olive oil

Zest of a lemon
Recipe
Preheat oven to 350 degrees. Open figs by cutting a cross sign, put in a baking dish and sprinkle the opening with pine nuts. Sprinkle sugar and pour on olive oil. Add lemon zest. Bake for 10 minutes or until light juice is rendered. Serve lukewarm or at room temperature. You may serve with a teaspoon of mascarpone on each fig…or some vanilla ice cream.