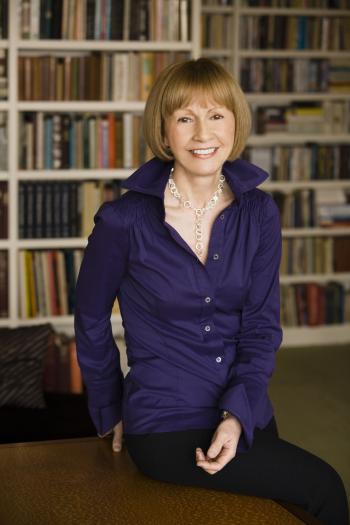 February 4, 2010
I recently had an interview with journalist Cynthia Rose for the Girls' Guide to Paris website, mostly on my recommendations for things to do/places to visit in Paris.  I'm asked all the time for suggestions for restaurants, hotels and activities in Paris so I thought this Q&A would be of interest, especially for those of you planning a trip to Paris anytime soon.  Or for those of you who are just feeling in a Parisian state of mind…
What inspired your latest book?
In terms of mentoring and shared experience, there is a paucity of business books by women for women—I mean everything from packing a suitcase to making a presentation! Whenever I spoke about other books, many women wanted to know more about my professional life, and they encouraged me to answer with a book. Finally I agreed: a "holistic" book on women and work could reach a broad audience and, hopefully, help some women. All of my books are designed to help people.
Was it easier to understand "home"—Paris, France and Europe—because you began working elsewhere?
Definitely. Only when living in another culture does one appreciate the good and bad parts of any culture. Furthermore, it made me realize the fundamental differences between French and American culture. I became more tolerant and less judgmental of others.
What difference does the Internet make in your work?
Men and women from all over the world contact me every day; I never expected to touch so many different lives! Also, websites give me an opportunity to engage with people daily, to observe both their struggles and accomplishments. This helps pinpoint the type of advice and content people look for to improve their lives. It's due to overwhelming requests, for instance, that I wrote my upcoming cookbook!
You travel constantly. What helps you cope?
I fly at off-peak hours and, since I've seen my share of lost luggage ruin a relaxing trip, I never check luggage. Instead, I will FedEx or DHL clothes to my destination. I love Issey Miyake clothes, which fold into the size of a handkerchief, never wrinkle and can be washed and dried in no time. I always bring a cashmere wrap and my iPod—my husband put my favorite music on it, as well as my Italian lessons. Most important, I never eat on the plane. I bring nuts, dried fruits or a banana and maybe some hard cheese. When I arrive, I reward myself with a nice meal.

When you arrive in Paris, what cultural difference strikes you first?
The change of pace! The time and importance given to greetings and small talk—no matter how busy people are or how long the line is. People walking or biking to work and taking time to go out for lunch and eat at a table. Plus, the importance of conversation and laughter.
Let's imagine a businesswoman (of any age) is headed to Paris, treating herself to a short vacation. Where do you suggest she stay?
The 6th Arrondissement has the features for my taste—that's where I chose to live, near St. Sulpice. There are also great small hotels there, like Relais Christine, La Villa, Le Sénat, Le Relais Saint-Sulpice and Millésime.
What things should she be sure to see?
Small museums like the Musée Delacroix or the Musée Zadkine. My favorite bookstore, the Librairie des Femmes. The view from the Pont Neuf and the Luxembourg Gardens—especially near the Fontaine de Médicis or farther up, near rue Vavin.
Where would you tell her to shop?
In the boutiques along rue Jacob, rue Bonaparte and rue de la Cherche-Midi. She should try the treats at patisserie Gérard Mulot or the chocolate at Patrick Roger. There is a great Thai spa on the rue de Vaugirard. There are the great cafés, like Café de Flore and, for restaurants, she has great choices: from Hélène Darroze to La Marlotte, Huîtrerie Régis to Le Bistrot de l'Alycastre to KGB.
What about the day it rains all day?
Go and see a film. There is the Christine, for old movies—or, for current ones, any of the three theatres near Odeon. Or go to the most beautiful bookstore in Paris, Galignani; half of their 50,000 books are in English. Afterward, have tea next door at the splendid Starck-Dali salon of Le Meurice hotel. Plus, of course, it does not rain in department stores, such as Le Bon Marché!
What unique souvenir might a professional woman discover?
Scarves and belts—or interesting vintage and modern jewelry. Rue Bonaparte has nice shops, as does Le Marais. There I particularly like rue du roi de Sicile. Also the small streets around the Place des Vosges and up-and-coming areas on rue Charlot, rue Poitevin and rue de Turenne.

What gifts might she bring her husband, her sister or a friend?
I recommend ties, necklaces and food (from olive oil to chocolates), as well as leather items from wallets to bags. My foreign friends enjoy going to a smaller department store where the French go—like BHV on rue de Rivoli—more than the huge, touristy brand-carriers such as Galeries Lafayette and Printemps.

If you designed a day for introducing Paris to a visitor, how would it unfold?
I'd start with a typical breakfast (croissant and a crème) at an outdoor café on a quiet street, reading a paper. Then walk to a garden (after the Luxembourg, those of the Palais Royal and the Tuileries are ones I love). Wander the small streets in a left bank neighborhood, go to la Cour du Murier (the courtyard inside the Beaux-Arts school ENSBA) and to Musée Cluny.
Lunch would be the main meal. I would pick l'Atelier, which to me offers the best value in Paris for a terrific culinary experience. But it's expensive, so figure $50 to $100 per person. For less, try a small bistro where the French eat home-style meals—the few on rue Lobineau come to mind. In the evening, see a ballet or attend a concert at Sainte Chapelle. Dine light afterward (read: seafood) in a brasserie.
I would not include any touristy shopping or sightseeing; crowds ruin things for me. But definitely include a walk along the Seine—if it's sunny, in late afternoon, when the light and colors are magical.
If Paris were one film, one piece of music or one image for you, what would it be?
Paris is the city of lights and history, so anything from a biography of Madame Curie or Jeanne d'Arc to a daffy comedy. The music would be Offenbach's La Vie parisienne and the photo would be Amoureux aux poireaux (Lovers with Leeks), by Robert Doisneau.
You advise drinking as much water as possible, but toilets are hard to find in Paris! Also, is it true one should never ask to use the toilet at a French dinner party?
When I was growing up, both were true. There was no asking for a WC at a party—and too few public toilets! But "an American" would be excused for asking to use the toilet in a home. As for public restrooms, there has always been a tradition of searching department stores, hotels and cafés. France also now has quite a few modern, high-tech sanisettes (public WCs) on the streets. In terms of that convenience, it probably went from last to first in the world!