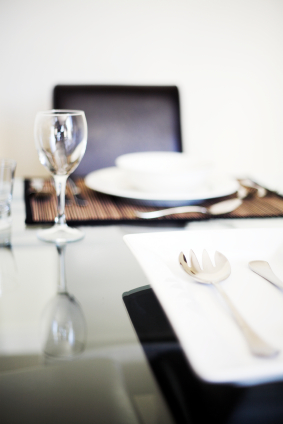 I am fortunate enough to be able to travel around the world for my work, and since food is my passion, I love to seek out the best restaurants in each city I visit. In no particular order, here are a few of my favorites from my travels…
(While I try to keep up with restaurant openings and closings, things change frequently in the dining world and I would recommend calling ahead before you visit.)
BOSTON
A lovely and surprising dinner with friends in the fairly new La Voile brought me to France for a few hours, with charming French staff and owners from Cannes.  Of course, we had to test the leek soup (delicious, but then we are four "leek freaks"), and the scallops from New England were heavenly. Other dishes at La Voille include duck roasted in honey and spices, la "belle" sole meunière, several renditions of foie gras, a cheese course and desserts such as chocolate mousse and mille feuille with raspberries.
WASHINGTON, DC
A quick tour in Georgetown was special as it was already the Indian summer and the Fall colors on those lovely up-and-down-hill streets with gorgeous townhouses and superb tree varieties made me feel good that I'd have to miss a visit to Vermont because of my work schedule.
The one lunch was worth the price of the visit as my local recommendation was go to Central, Michel Richard's 2008 James Beard Award Winner for best new restaurant in North America.  Savvy Michel succeeded in combining great French bistro food with great American produce and dishes in a setting that is also a combo of French bistro and modern American brasserie.  Add to this a wonderful staff, a great chef et voilà.  We had a glass of Gosset bubbly with gougères, shared a spinach torte and a dish of mussels with addictive French fries, and ended with the must-have chocolate bar.  Simply exquisite from beginning to end.  I can't wait to go back to taste more.
SAN FRANCISCO
When in San Francisco, I never tire of going to some of my favorites like Boulevard, Zuni Cafe, and Jardiniere but also love to experiment with the new kids on the block.
Campton Place is great for breakfast and lunch (especially in their café) to taste some Indian dishes prepared by the Indian chef who knows a bit about his spices, although he also makes a pretty good foie gras au torchon with chutney and wonderful cured salmon with brioche.  As for the tiramisu, truly one of the very best I've ever had, both in- and outside of Italy.  Now, who is behind this recipe but a very talented pastry chef?  I'd love to hire her/him–though I better not as I might get fat.
Spruce is the American bistro and more par excellence. The neighborhood is great and so is the building and the feeling of the restaurant with wonderful textures and space design.  But people come here for the food–the best and freshest–and while my guest had a version of a beet salad (more like a sashimi of beets and persimmon, with goat cheese and walnut vinaigrette…lovely, plus beets are so good for you), I couldn't resist the pumpkin soup, so thick and so well-seasoned.  Both the sea bass and the halibut were superbly cooked, but the pièce de résistance was an order of freshly baked palmiers and beignets with crème anglaise and chocolate sauce…to die for.  A glass of Oregon pinot noir was a great accompaniment.
Chouquet's, a small restaurant and wine bar on Fillmore St., was especially nice after a shopping spree in the area, offering dishes such as oysters, goat cheese tartlette, tuna over cucumber salad with meyer lemon dressing and many wines by the glass.
La Boulange…what a treat.  The original is on Pine St. and the savvy and accomplished bordelaise owner/baker has now opened several cafés and bakeries in town where sandwiches, salads and even burgers are served.  For me, the bakery is zee place to visit because the selection and freshness are a plus.  It is, without a doubt, my very favorite bakery (I should say boulangerie-patisserie as they make not only great breads, croissants and brioches but also financiers, madeleines, cannelés, tarts and éclairs, etc.) in the entire USA.  I'm just glad I don't live in San Francisco…

SANTA FE
The Compound, the renowned restaurant of chef Mark Kiffin's, is a favorite of mine.  Though the place has been open since the 1960's, the menu is both modern and delicious.  Choices include a Salad of Endives and Tart Apples with Blue Cheese and Walnut Oil; Cockle Clam Ragu on Bucatini Pasta; Seared Alaskan Halibut with Buttered Bok Choy and Matsutake Mushrooms with Peking Duck Broth; or, for a richer meal, the classic Grilled Beef Tenderloin with Potatoes and Foie Gras Hollandaise.  A well-rounded dessert menu includes such treats as Normandy Apple Tart and Torta Gianduja.

SEATTLE
Rover's is a top pick.  The chef, Thierry Rautureau, is a friend and his food is superb.  Rather than classical French cuisine, he uses French techniques on local ingredients found in the Pacific Northwest.  Dedicated to seasonal foods, his quality is top notch and he sources the best sustainable and organic ingredients.  It's hard to choose from a list of dishes like Black Cod with Spaghetti Squash, Lentils, Bacon and Red Wine, and Braised Pork Belly with Brussels Sprouts, Quail Egg, Leek and Meyer Lemon Confit; for dessert, choices include Preserved Bing Cherry Clafouti and Chocolate Hazelnut Mousse Torte.
NEW YORK
Two favorites this fall/winter in my hometown…
SD26, which I've love (the chef Odette Fada is fantastic), has the same food as the old San Domenico but I love their new option of half portions even for main courses.  Top picks include the Pappardelle with Wild Boar Ragu; Chitarra SD26, Tomato and Basil sauce; Pan-Roasted Guinea Hen, chestnuts and leeks; and Lamb Chops, Mint Couscous, Black Mission Figs and Fennel – all were wonderful.
For good pasta dishes and a super vista on Central Park, A Voce Columbus is a solid choice.  It's a sleek space with a focus on the incredible view, and chef Missy Robbins creates simple but tasty Italian fare to match.