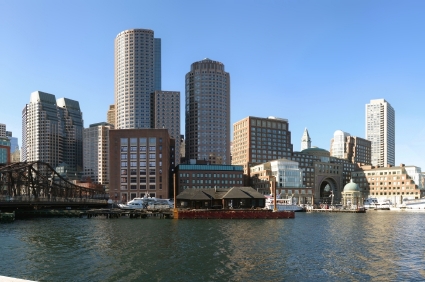 I wrote last week about my meal at O YA. Menton was a totally different experience, and here less is more. The room is understated elegance, and from the welcome onward you know you are in good hands. The staff is super: professional, passionate and perfectionistic, never letting you feel they are around yet ready at any second to cater to your tiniest needs in the most delicate manner. Bravo. It's the kind of service one finds in some of the best restaurants in the world. The wine list was a wonderful selection of some pretty unusual wines that did match well with the food.
The room's colors and décor don't give you any clue you are in Menton, as the joyful colors of the Riviera are not on the wall but on your plates. Perhaps I would have picked a different style of chairs, but that's highly personal as it makes one realize one is in New England and c'est bien.
To start with the heirloom tomatoes with burrata was a risk as it was the very end of tomato season and after a summer in Provence, but the paper thin slices were yummy. The langoustines wrapped in sweet pastry with pumpkinseed oil had a lovely texture, and the dish was just perfectly executed. A "Wow"moment. The duck and the sweetbreads would compete with any of the 3-star Michelin eateries in France. The breads were wonderful, but that mini croissant with honey was something I shall keep in my memory for years. Not only a clever idea but an amazing puff pastry…and the desserts were almost as good. In my next life, I'd like to hire that pastry chef. Meanwhile, I hope to get back soon and taste some more.
A lunch at Sportello, next door to Menton, was in a cozy, lovely and casual diner-like setting. You could tell on the customers' faces they were having a good time. Do try the various pasta dishes and don't skip dessert at this counter-concept restaurant, and enjoy one of the wines by the glass to be transported to modern Italy.
A return to No. 9 was heavenly, but I have already written about it…yes the prune gnocchi is still awesome. A final lunch at B&G Oysters brought me to my real love: the oyster, and the tiny Nova Scotia were the best followed with the Rhode Island selection.
As the two-day weekend stretched to three, I thought I could do this quarterly with gustatory bliss.