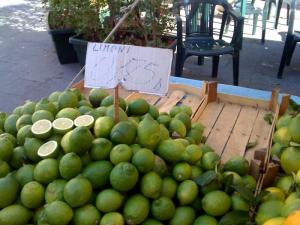 To an art (from Baroque to Greek temples and more…the cathedral in Monreale being a world marvel in my book) and food lover (from blood oranges, pasta, focaccia, cassata, ricotta, almonds, pistachio nuts, fruit ices and the 3 Ms – malvasia, moscato and marsala – just to name a few, any excuse is good enough for a detour from the City of Light to Sicily.
It turned out a New York artist friend of mine was there for inspiration (see www.caroleannerandall.com), and when she invited me to visit I followed Oscar Wilde's motto on temptation. A direct 2½ hour flight from Paris to Catania made the decision even easier.
Upon arrival at the tip of Siracusa, the island of Ortigia is like a pretty postcard. If you plan your visit ahead, I'd recommend you stay at L'Approdo delle Sirene, a charming bed and breakfast overlooking the little port and owned by the charming and passionate Fiora Piccione. I did not have such luck as fall is fully booked early but my friend Carole did, and so Fiora offered a welcome lunch in her home after an exploratory walk around town on the morning of my arrival. What a treat it was: a typical home meal made with the best ingredients and prepared by Fiora herself. Nothing beats simplicity: starting with carpaccio of local fish on toasts, followed with the small (and so correct) Italian portion of spaghetti (recipe below), calamars cooked perfectly and served with zucchini, carrots and a mustard dip, all washed down with a glass of delicious local red and a dessert with chestnut mousse. My kind of food.
Fiona took the opportunity to show me the B&B, which feels like staying at someone's palazzo, and the breakfast room on the roof got me ready for an espresso and a siesta. Fiora also gives cooking classes to guests of the B&B, and on request to people who have heard that she's the most passionate in town and want to learn her tricks. She speaks English.
View from the B&B: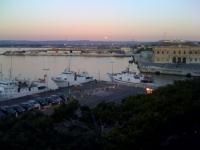 After more walking and touring, seeing the castle, the duomo, the many baroque churches and the village streets filled with artisanal boutiques, and heading across that little bridge to "formal" Siracusa, it was time for a small dinner at PianoB, via Cairoli 18, boasting casual food. We dined on bruschetta, samples of various pizze, fennel salad and the freshly made tiramisu. The place was filled with locals of all ages, families with kids, grandparents, young single couples and a few tourists in the know. The place opened recently, and only people in the know were aware of it. Definitely my top restaurant meal in town.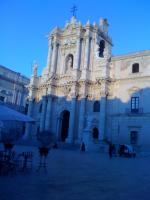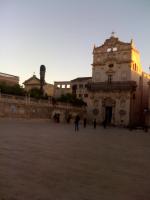 Next day was a "food and art" outing, driving to Ragusa Ibla. Another picture perfect drive and site and walk down the narrow and picturesque streets to find Duomo, considered among the top restaurants in Sicily and boasting two Michelin stars. Considering that the culture of fine dining may have been conceived in Sicily in the 4th century, we were welcomed in one of the three small and cosy dining rooms and were treated like royalty. We started with a small soup made with smoked herring, cream, onion, orange and marjoram served with a selection of freshly baked focaccia and various pizzette. The pasta dish was ravioli stuffed with ricotta and barely covered with a tomato sauce, a broccoli sauce and topped with a meatball tartare. Unusual and outstanding. The fish dish was shaped like California roll and accompanied by a perfectly poached shrimp and an eggplant tian. For dessert, the small cannoli with almond ice cream and prickly pear juice was a beautiful, sweet end to a lovely meal. More walking through the town admiring one little building after another with their wrought iron balconies and wonderful portals with stone decorations everywhere.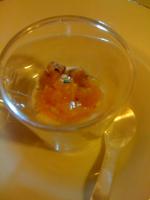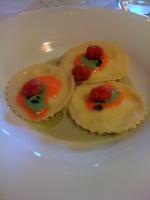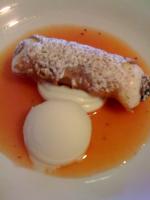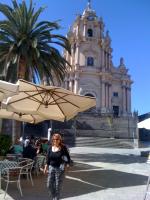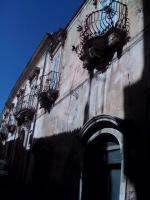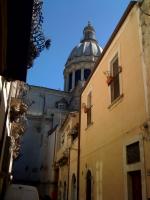 Another day was spent tasting or testing ice cream, and the place near the Duomo is the place to go. The selection alone is impressive, but the ricotta, tiramisu, coffee and dark chocolate were favorites. I didn't even try the fruit sorbets. Next time.
The beach day was a chance to get some sun. Sicily is known for its beautiful small beaches, and at that time of the year it is delightful to be there for swims and walks as only a few tourists are around and the locals do not come during the week. The bus ride gave me a chance to travel with the locals, practice my Italian and see the small resorts and summer villas along the coast owned mostly by wealthy Siracusans and foreigners who have moved to the dolce vita alla siciliana.
Each day the early morning walk all around the island was precious and meditative: the light, the sunrise, the peace and the reward: a wonderful cappuccino at a little gem of a hotel "Algila," a 19th century palazzo recently renovated and located in the heart of the historic center along the promenade with a magnificent view on the sea. If you want to splurge for lodging, this is the place to pick among the half dozen decent hotels in Ortigia.
This little escapade was worth a detour giving me a chance to return to an island I had not visited in over a decade and see the changes, the good ones and the bad ones, but mostly one comes here for the art's sake and the pace of life and neither has not changed.
Here's Fiora's dish for 4:
You'll need ½ lb of spaghetti (cook al dente following package instructions) and about ½ cup of fine bread crumbs. Play with the herbs and spices according to your taste.
First crumb some toasted whole wheat bread in a mixer, then put in an oil coated pan and sauté until crisp and a little brown. Add fresh thyme, orange peel, a teaspoon of pecorino and freshly ground black pepper.
Put 2 TB olive oil and 2 garlic cloves in a skillet. Add 1 oz chopped anchovy fillets, mix and add the drained spaghetti with a little cooking water and mix it all.
Serve on the plate, and at the end sprinkle the bread crumbs.