Since my "retirement" I've had the luxury of summering in Provence, and after spending most of my adult life working through summers in New York, I truly appreciate every moment of my time in the South of France. I walk, swim, eat good food, travel, see friends. I have lots of guests come to stay and enjoyed watching them unwind as they, too, adjusted to the Provençal pace of life. Even my work takes on a more relaxed feel there.
The food is delicious, full of pleasures from the earth. I eaten many simple, homemade meals of tomato salad, ratatouille, fish, duck, local cheese, bread, fruit, and much more. My generous neighbors like to drop off little treats from their gardens, so thanks to them I have a constant supply of tomatoes and other veggies, all bio (organic) though not labeled as such since they're not store-bought. As local as it gets. Most of my guests sample the Magical Breakfast Cream, and I converted a few more people who couldn't believe how easy and delicious this breakfast could be.
I've mentioned before that a talented local chef, Christian Étienne, makes a seven course Menu Tomates (tomato menu) each summer, with all courses centered on the red fruit. I had the pleasure of trying it again this year, and again it was incredible. Each course is surprisingly varied in color, flavor and texture, and one of the best parts is that each course is so light, being tomato-based, that you don't leave feeling weighed down.
Let's also not forget foods of the more decadent type, too, like our local pastries. I once had an Italian friend stay with me who tried a Tropezienne (a brioche pastry filled with a butter-cream) for the first time and liked it so much she ate the whole thing! Here's the "before" photo (the after photo is just an empty plate… None left!).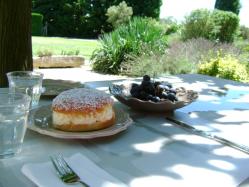 Everyone who wants to see the local farmer's market, a true treat for the eyes. Here's one of the fruit stands, with fragrant donut peaches and melon de cavaillon: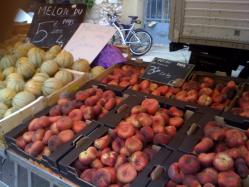 There are other delights for the senses, too, outside of food. At one point in the summer, all over the countryside there are fields of bright yellow sunflowers in bloom, just as Van Gogh famously painted, offset against a brilliant blue sky: