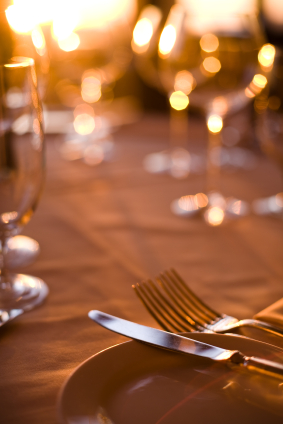 A few months ago, I posted a summertime dinner party menu that could be prepared quickly and easily, in less than half an hour. Here's another menu with the same idea, this time for Fall. I included a soup so the pre-dinner cooking time is slightly longer, but most of us can still easily find 35 minutes of time.
This is intended to be a relaxed cooking and dining experience, leaving you with plenty of time and energy for your guests. It's healthful, easy to prepare and—most importantly—pleasing to the taste buds. Bon appetit!
Le Dîner:
Appetizer: Buttersquash Soup
Main course: Chicken en Croûte Fiona Style (from The French Women Don't Get Fat Cookbook; see recipe below), served with lemon slices and a green salad with olive oil and lemon vinaigrette; place a basket of whole grain bread on the table if you like
Dessert: Baked Apples
Le Plan:
Before your guests arrive (about 30 minutes of prep/cooking):
1. Wash and chop veggies for soup, and start cooking soup
2. As soup is cooking, take out ingredients for the other dishes
3. Toast walnuts for baked apple recipe; while they are toasting, wash and core apples; wash lettuce; slice lemon; combine 4 TB olive oil, 1 TB lemon juice, ½ tsp mustard and a pinch of salt for a light vinaigrette; set aside
4. Fill apple centers with butter, sugar and walnuts, place in baking pan, add water and set aside
5. Preheat oven to 400 degrees; prepare chicken recipe and place on baking sheet (do not put in oven just yet)
6. When soup is ready, purée in food mill or food processer; add to bowls when ready to serve
As you are sitting down to the soup:
Place chicken in pre-heated oven
After the first course (about 3 minutes):
1. Remove chicken from oven, turn temperature down to 375 degrees; dress salad with vinaigrette and plate salad and chicken
2. Place baking pan with apples in oven
After the main course (about 2 minutes):
1. Remove apples from oven (if people are lingering over the main course, remove the apples from oven whenever they are ready; let them cool until people are ready for dessert)
2. Start coffee, if serving
By the time people have eaten dessert the coffee will be ready.
As I've pointed out before, there are many other recipes in The French Women Don't Get Fat Cookbook and the recipe section of my website that you can use. Substitute another soup if you don't love peppers, or try a different chicken dish or fish recipe. There are lots of options.

RECIPE
Chicken en Croûte Fiona Style (Serves 4)
Ingredients:
Zest of 2 lemons
Zest of 2 oranges
3 garlic cloves, peeled and minced
6 tablespoons minced fresh parsley
4 teaspoons minced fresh rosemary
1 cup grated Parmesan
2 teaspoons olive oil
Salt and freshly ground pepper
2 eggs
4 (5- to 6-ounce) skinless, boneless chicken breast halves, pounded to 1/3 inch thickness
Directions:
1. Preheat the oven to 400 degrees. Cover a baking sheet with aluminum foil and set aside.
2. In a shallow bowl or pie plate, combine the zests, garlic, parsley, rosemary, Parmesan, and olive oil and season to taste. In a second shallow bowl, whisk the eggs with a pinch of salt.
3. Dip each chicken breast in the egg, allowing any excess to drip off, and then dip in the citrus-herb-Parmesan mixture, pressing to lightly coat each side. Place the chicken breasts on the prepared baking sheet and transfer to the oven. Bake for 20 minutes or until the chicken is done.
4. Remove from the oven and serve immediately with lemon slices and a green salad.