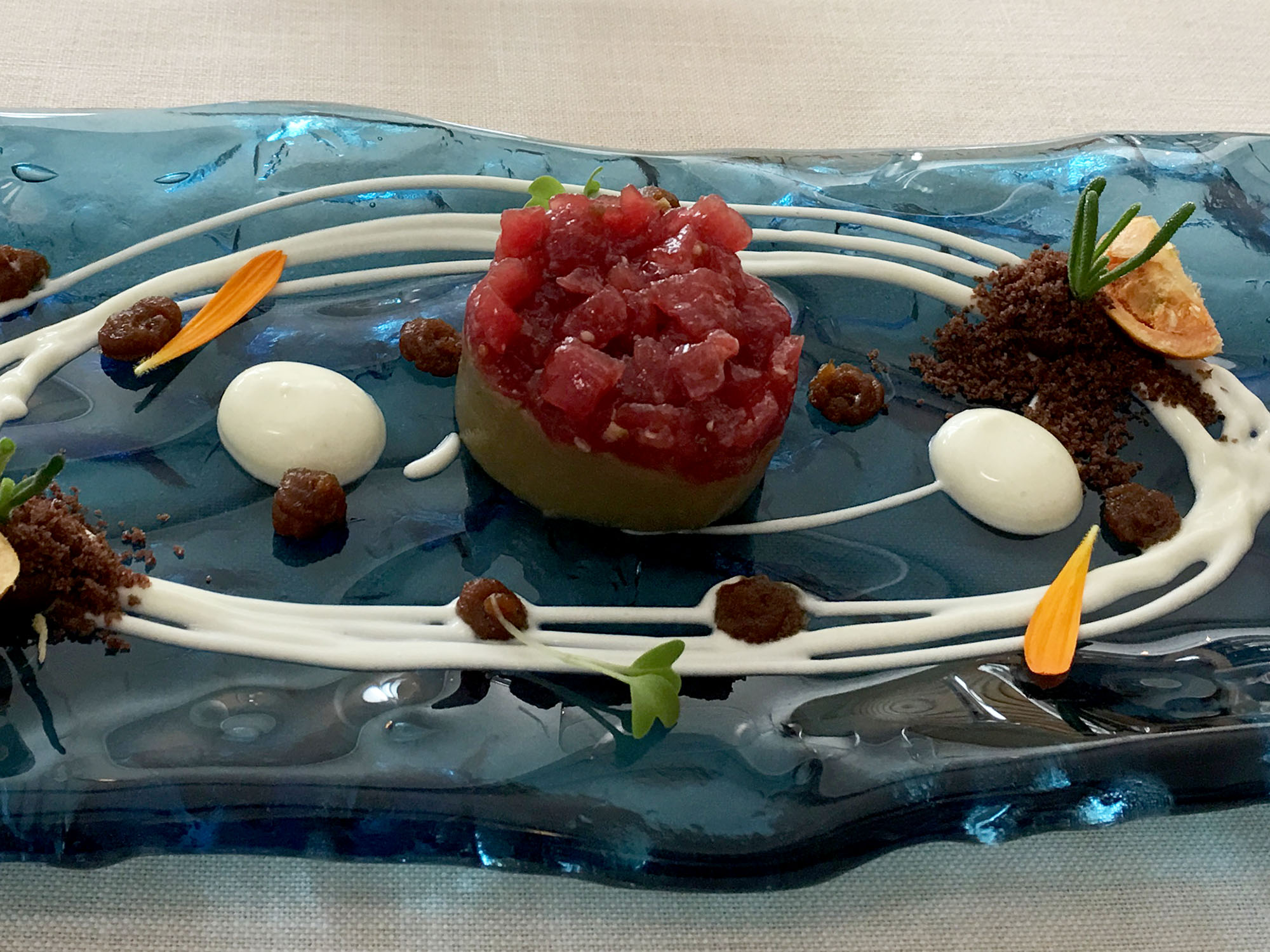 Top 10 Movies of the Year!  Top 100 Wines of the Year!  Top 15 Travel Destinations for 2019!  I suppose with the bombardment of information that comes to us via news sites, social media, search engines and sale sites (think Amazon) on the Internet, we seek and welcome some formula-based sorting of hats or anything we are contemplating paying for, such as restaurant meals. Voilà, top 10 lists.
I confess to having written my share about food, wine and travel.  Often they were written in anticipation of people going to Paris, New York, or the South of France and asking for recommendations. Often they were written in response to a publication asking me for my top whatever.  I realized that I had not shared one in a few years, and that there is value in tips from a reviewer whose tastes and lifestyle you know.  And sometimes even some vicarious pleasures in sharing a glimpse of another's dining experience.  For me, I am somewhat self-conscious about and reluctant to share my special opportunities, but I nevertheless do enjoy sharing tips and inspiration to friends and telling a few stories.
Luckily in the past year I have lived in or traveled to places I love.  And I had to eat, often in restaurants ranging from neighborhood bistros to international pantheons.  The philosophical possibilities and truths as well as our semantic responses to the word "best," I will set aside. If the best is an unachievable concept or reality, I am happy to share news of the meals I enjoyed most, that gave me the most pleasure.  They were rarely at the three-star Michelin eateries, but also rarely at spots below the one-star level, officially awarded or not.  My "best" meals reflect my taste for "real" food and intense taste.  I shun chi-chi places where the look has to impress (thank you Instagram) and the amount of additions to the plate (including even courses "from the chef") and seasonings too that often crush the main ingredients and what you thought you were ordering. Most places I enjoyed have limited and ever-changing menus, which makes for a unique meal with the best and freshest and more often than not local products. The optional wine pairing options can be a gustatory enhancement, a delicious experience, and also offer pain-free relief from often exotic and partly incomprehensible wine lists.
Here in alphabetical order are ten recommendations:
Abantal, Calle Alcalde José de la Bandera 7, Seville, Spain; tel. 34954540000
What a gem this Michelin one-star eatery is and where I enjoyed an early birthday celebration. Lunch was excellent with impeccable service in a dining room with sparse décor oh so zen. What is on the plate commands focus. From Chef Julio Fernández's bean cappuccino to the langoustines and the chocolate ganache with curry, all were explosions of flavor. Bravo.
Armani Ristorante, 149 Blvd. St Germain, Paris 6ème; tel.  0145486215
The adorable and passionate Sicilian chef makes any visit an intense gustatory adventure, which was celebrated with a Michelin star this past year.  Every dish is about savor and flavor.  Pasta and risotto choices and his bouillon de poule are a must.  Chocolate dessert recommended.
Cézembre, 17 rue Grégoire de Tours, Paris 6ème; tel. 0142382508
I could eat there a few times a week.  A little secret of a place for foodies who love the Breton chef's mostly exquisitely prepared fish dishes, although every plate he concocts, including desserts, are delicious. The dining room and mostly open kitchen are small, a veritable upscale store-front eatery on a side street in Paris's St. Germain district. Great value, especially at lunch. The two dinner menus with wine pairings, courtesy of a passionate sommelier, allows for surprising discoveries. Service can be slow…but slow is good.
Chez Bruno, 2350 Route des Arcs, Lorgues; tel. 0494859393
For truffle lovers, this is the place to visit. I'll admit it has been on my bucket list for decades, and it was splendid and well worth the wait, except now I can't wait to go back! A complimentary slice of country bread toasted and covered with salted butter and slices of local truffles was just heavenly as an unexpected plate opener, the rest was not bad either, haha, especially the scrambled eggs and the medium-sized baked potato, both with different truffles shaved with generosity. The various menus feature dishes with truffles from local suppliers who have catered to the restaurant for decades, from Burgundy and Alba to the other side of town in the South of France—all overseen and approved by the inimitable Bruno and his two sons now in charge.  Even the desserts have truffles and the floating island was a more than successful choice. It has long had one Michelin star, and is refined and rustically elegant (got it?) but is really in a class by itself.
Le Coucou, 138 Lafayette St. New York; tel. 1 212 271 4252
Find here an American chef who loves classicl French food for the 21st century served with local ingredients.  I love everything about the relatively big but discrete place—from its downtown vibe to its strong almost industrial décor—and the food brings back lots of childhood memories: who else these days, even in France, makes a perfect salmon coulibiac? Open for breakfast, lunch, and dinner.  At lunch and dinner, expect a wide variety of classic fish and meat dishes expertly prepared.
Gunter Seeger, 641 Hudson St., New York; tel. 646 657 0045
Would love to make this my NY cafeteria. The chef is both creative and highly skilled and experienced emphasizing the best local produce. The four-course dinner is always rewarding, and the quietness of the place is a bonus. Temple dining in a hidden Greenwich Village storefront.  Service is flawless.  His slice of homemade brioche (the only bread served) is to die for.  Only wonderful experiences—pigeon with dates, anyone?—here at this one-Michelin-starred destination. Dinner only.
L'Imbuto, Via della Fratta, Lucca, Italy; tel. 3290843189
Another place where it is impossible to describe the ever-changing menu. Here one day gone the next.  Set inside the entrance and lobby side room of the Center of Contemporary Art, here works another original and creative chef not unlike a young Gunter Seeger with an Italian touch.  Drawing from his travels, his interpretations of pasta, pizza, even oyster dishes are unique and inspired. His tasting menus are long and with small portions are never less than tantalizing to your taste buds.  Twice in a week gave me hope for another star added to its current one Michelin étoile.
Six Senses Douro Valley, Lamego, Portugal; tel. 351 254 660 600
Maybe it was the Valentine's day mood and menu, but dinner was a celebration in the true sense of the word. The verdant valley certainly offers fresh ingredients and optimal flavor. I won't forget the snapper with wild mushrooms and sweet potato gratin. Oh, the oysters with oyster foam and then the veal with roasted carrots with curry. Yum, yum. Everything including the breads is homemade here, and the setting adds to the charm and uniqueness of the place. The ports and still wines aren't bad either.
La Table de Ventabren, 1 rue Frédéric Mistral, Ventabren; tel. 0442287933
Definitely the best meal of the year. High up in the hills near Aix-en-Provence, Ventabren is well worth a visit for the extraordinary views and the food from chef Dan Bessoudo. The zucchini flower stuffed with rabbit meat served with anchovy sauce is a gustatory wonder. Armed with one Michelin star, the chef aims at a second star, which he should already have. The five-course menu was flawless and with a quality of service and décor that make this place ultra-special.
Yoshinori, 18 rue Grégoire de Tours, Paris 6ème; tel. 0984197685
The superb French/Japanese menus here change frequently.  The meals may seem elaborate, but are all about balance and harmony, and the wine pairing from an ex-Astrance manager/sommelier add to the unusual combinations.  The sweetbread dish, a real test for many French foodies, is out of this world.
N.B.  I add that Edward's favorite meal of the year is pretty much the same as it has been for decades now. At La Tour d'Argent in Paris.  "What is better than great duck, great red Burgundy, and one of the greatest views in the world?" he rightly asks.  A dinner last summer was especially dramatic.  Lightening flashed all over Paris against an ominous sky at sunset, and the restaurant's wrap-around glass windows were suddenly pelted with waves of hail. Huge icy particles made machine-gun clatter, and some balls entered the restaurant through a few discretely open windows and sent waiters rushing to secure the fort.  I'll concede it was arguably the most memorable meal of the year, and a good one at that.