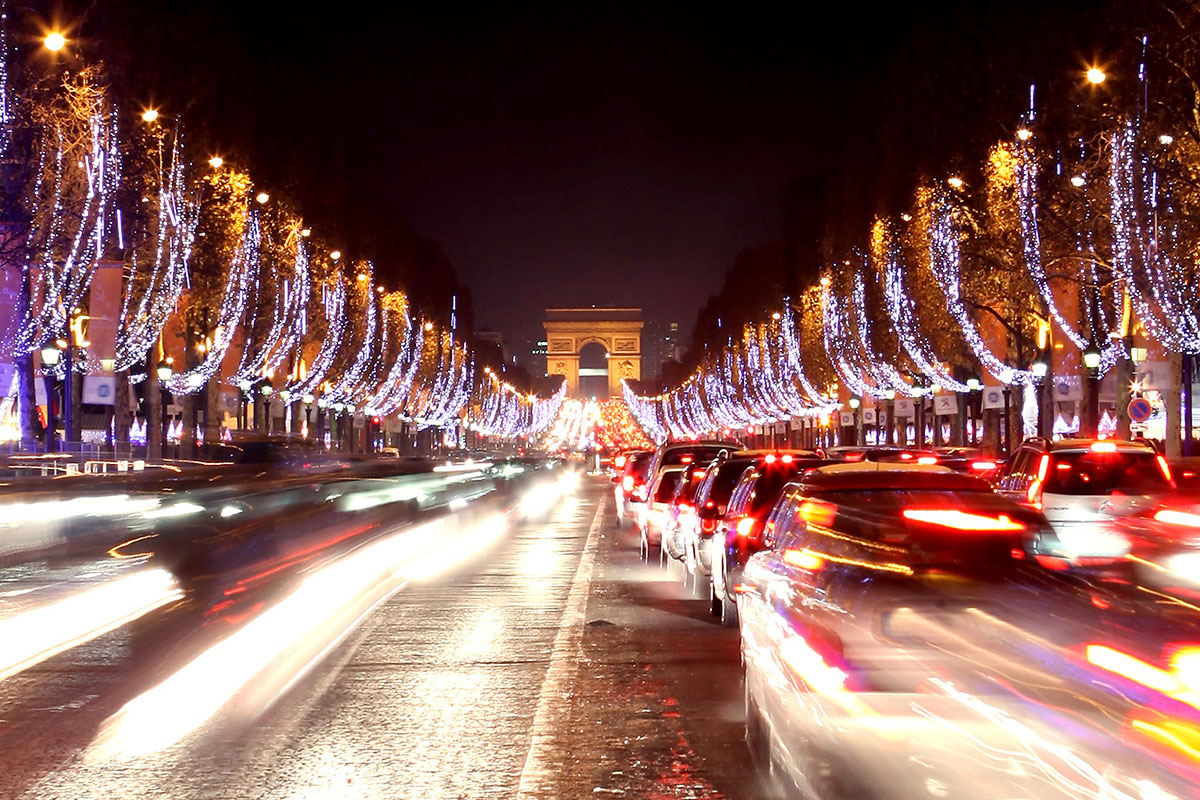 Bonjour! Recently on the fifth week of Gilets-Jaunes (Yellow Vests) Saturday protests in Paris, we found ourselves holiday browsing on the Left Bank in Le Bon Marché department store. Until we were not. Imprisoned is too strong a word, we were detained there is more appropriate. We had avoided much Gilets-Jaunes disruption to our lives the four previous Saturdays, driving in Italy and taking slow but picturesque back roads in the South of France. Avoiding highways with blocked entrances and exits and demonstrations, we marveled at the police chatting with the yellow-jacketed demonstrators, often sharing a cup of hot whatever. After all, in the beginning eighty percent of the French supported this generation-changing people's revolt.
All the violence in Paris had been on the Right Bank with its famous stores and monuments, including the Champs Elysées and the Arc de Triomphe. For the fifth Sunday, the turnout was expected to be modest, after President Macron had capitulated some to the protesters' key demands. Still, the streets were heavily policed, and we were shaken by the sight of armored vehicles driving in procession across central Paris as well as units of twenty or more gendarmes in riot gear with shields and who knows what stationed near key locations, such as Le Bon Marché. "What is the world, at least our world, coming to?" we thought.
With Harry Potter items sold out and clothes not worth fighting crowds for, we headed for the exit. As the major stores were forced to close the previous weekends, there was a pent-up demand for gifts two weeks before Christmas. People were not quite in a panic, but legos were out-of-stock! Alas, the little newsstand near our home, officially un tabac, had for this fifth Saturday bordered its windows with cardboard (go figure?). We were turned back at Le Bon Marché's exit of our choice; it was closed by security. We headed to the exit at the opposite end of the store. Now we were told the entire store was in lock-down. Guards were everywhere and the metal gates were closed.  "Now what?" we thought. "What could be happening outside?"  "How long would we be held inside?"
Twenty minutes, it turned out. We were told to head back to our original exit area and permitted to leave under the eyes of security. Outside, we saw no signs of any disturbance. On the walk home, we heard some sirens and crossed paths with a procession of armored police.
Not pleasant. This is not our Paris. It is not the Paris of the impressionists or the existentialists, or the bright low-rise buildings and clean streets with the smell of freshly baked bread and croissants, or Sofia Coppola's favorite city where as she aptly put it recently, "you don't see people texting in yoga pants on the street."  In this season of "counting your blessings instead of sheep," with so many troubling things all around us that we have no influence over, it is hard to celebrate the good things and be optimistic as one once was used to at the beginning of a new year. Plus, in this world of increasingly haves and have nots, it is hard at times not to feel guilty about our good fortune and ability to extricate ourselves from the quotidian challenges of others.  We do count our blessings.
We've been playing at being vagabonds the past year or two, in part trying to turn some of our minor setbacks—trivial really in our evolving and challenging world—into opportunities. When the fine building in New York that houses our apartment needed a lot of unnecessary, New York City bureaucratic exterior repairs, scaffolds went up, some blocking a few of our windows, and workers camped outside our door. Permits lagged, the six-month project turned into fifteen months, and I write now from New York with the workers and the scaffolds gone. What a world in so many curious ways. The noise of the hammering and repair work made it unpleasant in our apartment during daytime working hours. Our antidote was to hit the road, and happily we wandered over Europe, including France and Italy, of course, also to places in Spain, Portugal and Germany we had not visited before, to London for theater, and to a few other places in the U.S. and beyond.
Art and beauty are palliatives as well as thrills, of course, and we've enjoyed many and varied art exhibitions in mega-doses during our vagabond period. In this instance, quality and quality do not equal over-indulgence. Or, recalling Mae West's philosophy, "Too much of a good thing…can be wonderful!"
The holiday season in New York is special.  But anywhere with year-end holidays and rituals comes a dose of nostalgia and overtones of the inescapability of time. Sitting in a restaurant in Alba, Italy eating truffles (okay, a special indulgence), we wondered if this would be the last time we would ever be there and do that. So many places to go and things to do. Where does the time go?…the days are so full. Again, should we feel guilty? Insensitive? Time's passage suggests uncertainty about the future. We'd like to feel hope; philosophers are split on that one being a virtue. Anyway, be happy. That seems sane.  (Hint: take the sunny side of the street.)
We are thankful our health is good, our days a balance of productivity and indulgence. Edward wrote a number of academic articles and gave talks and finished his book Lewis Carroll and the Worlds of his Alices, which will be out in April. I've been scribbling and painting and something may come of it. And, of course, we've been exercising our taste buds well and with pleasure.
I'd wish you lots of oysters as comfort food in the days to come, but some people don't eat oysters. Imagine that. What a world we now live in.
Bonne Année,
Mireille
Photo: Dimitri Destugues (Wikimedia Commons [CC BY-SA 3.0])