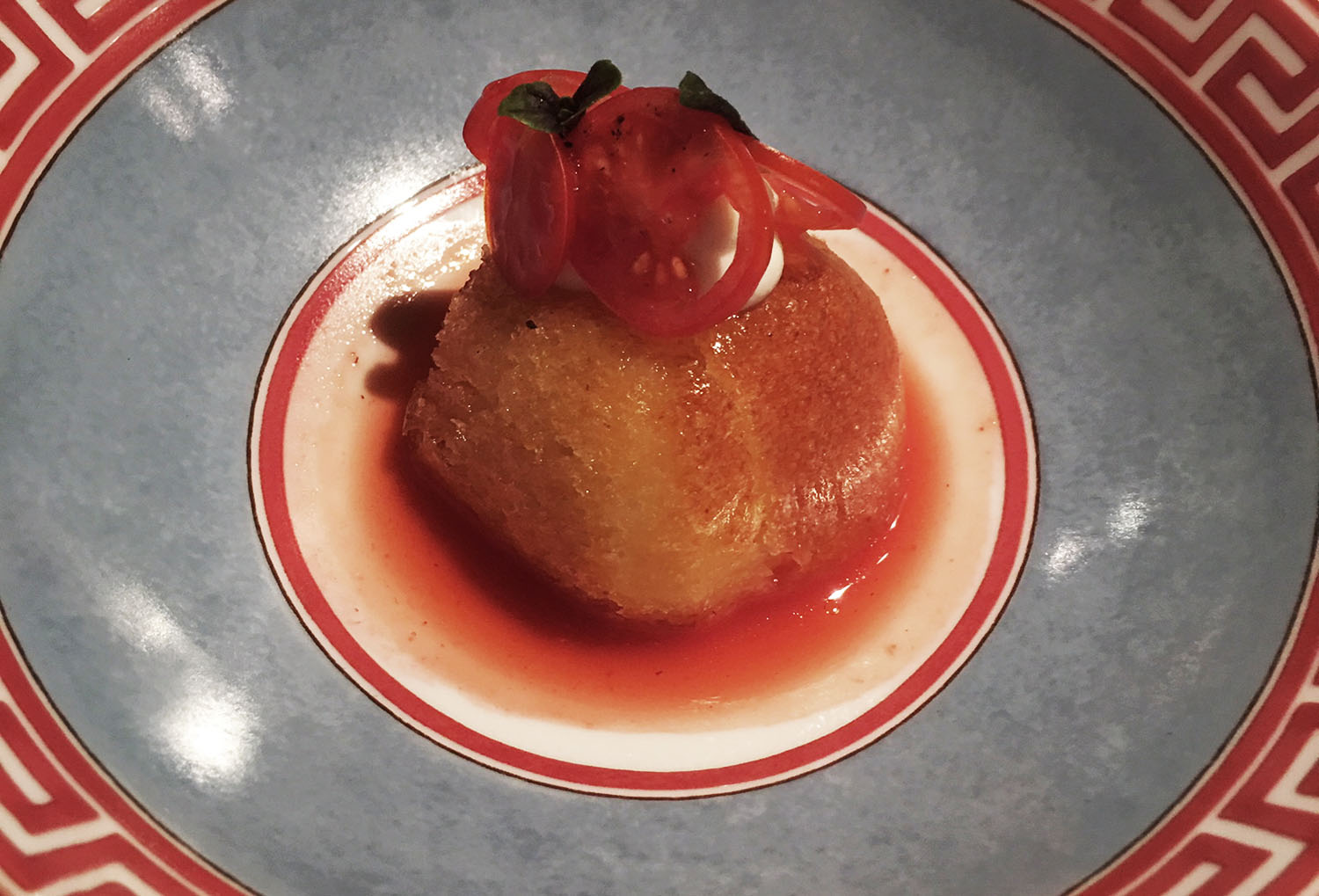 I know, there is no world's best restaurant.  But in our rate-and-rank-everything world, a British media group has announced annually since 2002 "The World's 50 Best Restaurants." Chef Massimo Bottura's Osteria Francescana in Modena, Italy in recent years consistently ranked near the top, securing the number 1 spot in 2016 and again number 1 in 2018 into 2019.  In late June, a new number 1 was announced for July 2019-2020, and new rules were put in place preventing the previous number 1 from appearing on the list, thus preventing a restaurant or two from running the tables year after year as Noma in Copenhagen had done earlier in the decade.
In early June, Edward and I traveled to Modena to share the experience of dining at the world's so-called best restaurant. I had already been there. The restaurant has five tables, and securing one of those tables is just about the toughest ticket in the restaurant world.  A few years ago, a friend in Milan somehow secured a place for me.  She and I had a most memorable experience.  Traveling down by train from Milan in February, we hit snow. Trains slowed, trains stopped. We ran late…and later…we called the restaurant. "No problem, everyone is late, it's snowing…we'll feed you when you get here."  That turned out to be at 2:30, and the restaurant was soon filled. We ate blissfully till about 5:30—a couple of dishes were astonishing—then we had to trek through the snow and across the Romanesque center of Modena to catch the train back.
Securing the reservation this time involved lots of futile phone calls and emails at all hours, but then through an intermediary, who offered to help then failed, a confirmed reservation simply popped up one morning weeks later on our email and calendar.  Now we had to get there—an hour-and-a-half by car from Florence or a half-hour from Bologna.  We flew to Bologna.
I know, so how was the food?  Ah, but the experience of the planned pilgrimage matters.  At least, we could not help wondering about how the people at the other four tables scored their reservations.  There was a table of 30ish New Yorkers, two couples, tech kind-of-people we see all the time in our neighborhood.  Obviously smart and knowledgeable and with disposable income to support their curiosity.  But then they drank Lambrusco throughout the meal. (Curiosity is one thing, drinking local is another, but a second bottle?) There was a mature couple from Holland at the other "deuce." Then there were two tables of three.  One was peopled by three business guys, two Brits and one seemingly English-speaking Italian.  And the other could have been Australians or a mix of continental English—their table was the furthest away from ours, and we could hear one of the women attempting to speak Italian to the waitstaff.  In fact, all the waitstaff spoke English, and every order and request, conversation, and response were conducted in English. Beguiling American jazz played in the background all evening. What a world.
Everyone in the restaurant ate the same thing, and about at the same time.  A la carte offerings exist, but everyone there chose the one tasting menu, and apart from a slight accommodation for individual dietary quirks, the same dishes flowed from the kitchen, small portion after small portion, courses (was that a course?) to thirteen then all stopped.  I remember the mortadella from my first visit as incredibly good—and I do not like mortadella.  The menu is adjusted both seasonally and experimentally here, and, alas, there was no mortadella this time.  Everything was good, sometimes really good, but uncharacteristically, I cannot recall what I ate, not even the next day. Oh, the breadsticks-cum-grissini were wonderful. Funny thing to remember first. And, of course, the signature "Five ages of Parmigiano Reggiano in different textures and temperatures" was presented and is an engaging curiosity. Consulting the menu, I recall the "Wagyu non wagyu" was stellar (and not wagyu). I am not putting down the restaurant. If it is your first or second rodeo, the oohs and aahs on Trip Advisor et. al. will register. It is very good, indeed, and completely unpretentious.  So what that it has three Michelin stars, a celebrity chef (who was not present our evening there), and the number one ranking in the world: It has the feel of something of a top neighborhood or regional restaurant, though not many locals eat there. (If you are ever in the neighborhood, you won't get a reservation…but can hope for a cancellation.)  The entrance is shockingly modest on a side street, the dining room is small and sparse, the walls and tables adorned modestly but with taste and solid art. The fireworks theoretically are on the plate, but the food here is intentionally not showy but precise and flavorful, contemporary but classic, reasonably local, and meticulously sourced. Delicious is not the first thought, though, that crosses one's mind. The dishes are about art, nature, and taste, but the holistic harmony of a twelve or thirteen stage journey is a great and solipsistic challenge—trains do pass in the night.  Naturally, with so few covers and more staff in the dining room than guests it seemed at times, it is not inexpensive, but then again, not as costly as the top places in Paris or New York. And naturally the service is first-rate. If it were not, that would be a story, but one doesn't need to travel to Modena to experience top professional service. We do admire the restaurant's authenticity and assuredness. There is truth in the cliché "interesting experience," and recommended.
We are glad we had the opportunity to go before the changing of the annual ranking. Naturally, we were tuned in on the announcement of the new number 1 ranking, which followed a few weeks later: Mirazur in Menton, France. We laughed. The best restaurant in the world not by a wide margin. Just its turn, I guess. We have eaten there within the past year. Perfectly fine, a bit disappointing for a Michelin three star, but with some lovely dishes, a bit of an attitude supplied by the hostesses, but a superb view of the harbor. We thought so much of the restaurant that last December when we stopped for an overnight in Menton on our way to Alba, we did not even consider dining there but ate blissfully at a port-side family eatery oozing with character and good food.
Who decides Mirazur or even the ultra-respected Osteria Francescana run by Chef Massimo Bottura is the number 1 restaurant in the world?  Well, it turns out the chefs on the list all have an important vote (though they cannot vote for themselves…if that would matter).  Kind of old boys club of a thousand "academy" members, a third being chefs/restaurateurs. The obvious maleness was tempered this year by an increase in the number of women voters but not noticeably women-led restaurants. Since 2013 they have been granting "The World's Best Female Chef" award annually, apparently not even realizing the designation is sexist.  (Best male chef anyone?  Best chef?) With a fraternity of chefs voting, the potential conflict of interest has been pointed out by many, as is the annual musical chairs, and consider that there are more than twenty-five commercial sponsors….  So it goes.  If you want to know what it is like to eat at the world's best restaurant, think of the finest restaurant you've dined at, kick it up a tiny notch in your imagination all around, and you can answer the question for yourself and be close enough to reality to save on a pilgrimage to nowhere.  If you are in the neighborhood and can get into Osteria Francescana, you will certainly eat well and enjoy a few mental and physical takeaways. Ours included a small bottle of balsamic dressing.