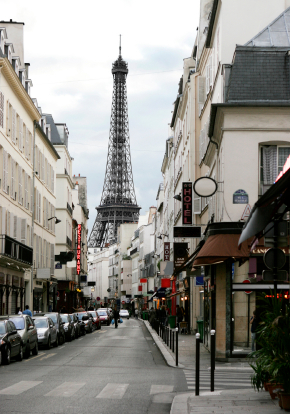 Villa Madame is a one year-old renovated W in St Germain des Prés.  Located on the quiet rue Madame, #44, it's just a few minutes away from the busy (and delicious) Deux Magots and Café Flore.  The 28 rooms are modern and comfortable, and if you can splurge on one of the two suites with a private terrace it's an amazing indulgence.  What I like about this hotel (I'm always looking for good lodging for friends who like the area) is the Zen feeling, the greenery which can be mood enhancing in gray Paris and according to friends who stayed there, the wonderful service in the rooms, lounges and small garden.
Speaking of Zen, a friend picked the new "detox" hotel near Place de la République in the Marais area.  Hotel Gabriel on 25 rue du Grand Prieuré in the 11ème is relaxing with its white walls, light wooden floors and great massages to help you relax and enjoy Paris. With contemporary décor and high tech amenities, it offers a stress free stay.
Have a tea at Jugetsudo Paris: It's the first tea specialty store to open in Paris and Parisians are rushing for initiations to "cha-zen."  The store is located on 95 rue de Seine, a bloc up from boulevard St Germain and its ground floor offers a selection of high quality Japanese teas that one can enjoy at the Japanese cypress counter. In the basement there is a tea room and gallery where cultural activities, such as tea ceremonies, are performed.
Many of my Parisian friends give themselves an occasional beauty treatment and head to L'institut VIP, 13 rue Dupin in the 6ème where the wonderfully gifted Dalila take complete care of them including a tea offering, and some Moroccan pastry.