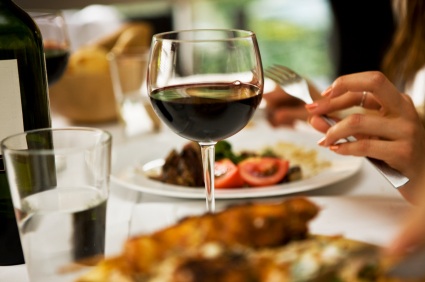 Romance is just one way to celebrate our passions and pleasures. No matter what Valentine's Day means to you, this holiday is the perfect occasion to celebrate love in a setting that is at the heart of the French lifestyle—the table. Whether lovers surround that table—or friends, or family, or children—is less important than the memories you create. Here are a two menus to make this year's Valentine's Day memories absolument délicieux!
MENU #1
A great choice for on-the-go French women who want to create a four-star meal in record time, this menu can be made almost entirely the day before, to help cut down on the time in the kitchen on Valentine's Day. The soup, stuffing, and dessert can be prepped ahead and refrigerated overnight.
APPETIZER: Quick and Easy Carrot Soup
ENTREE: Stuffed Cornish Hens
DESSERT: Chocolate-Espresso Faux Soufflés
Serve with a non-vintage rosé champagne or rosé sparkling wine or a pinot noir (Oregon or Burgundy).
MENU #2
A second option is the very decadent (and romantic) three-course chocolate menu. An all-chocolate menu is not for every day, but Valentine's Day gives us a lovely excuse to enjoy one. Even better, this meal can be prepared in just over an hour—or less if you make the soup the night before.
APPETIZER: Chestnut Soup with Chocolate Garnish
ENTREE: Duck Breasts with Apples and Chocolate Sauce
DESSERT: Chocolate Rice Pudding
If you feel like splurging, serve with a glass of bubbly (use a 375 ml bottle) to start, and a cabernet sauvignon from California or Bordeaux for the meal. Alternatively, you can just serve the cab, a good choice for a chocolate dinner.
Et Voila! You have two options to create a three-course meal that will be perfectly balanced in colors and flavor, and will be a perfectly French way of expressing your love.