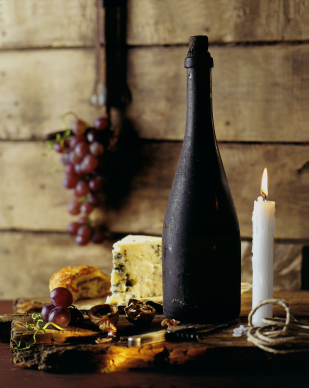 Et bien. So, you've learned about pairing wines with appetizers and main courses. Now, save room for my favorite part of a meal—dessert. This can celebrated with either a savory cheese plate, or a sweet dessert. Luckily, both pair beautifully with many different wines.
Cheeses
In the wine business there's a saying: "Buy on apples, sell on cheese." Cheese makes wine look good. Wine and cheese, acid and base, nice marriage. So almost any wine goes with cheese, though some couplings are better than others. Always try local wines with local cheeses. Most people drink reds with cheese, probably because that's what's left in their glass or bottle at the end of a meal when the cheese is served. I belong to the white-wine-with-cheese school and sometimes, though not invariably, switch back to a white for the cheese course after a red wine. So, for soft goat cheese, a classic or rosé Champagne, a local white or Sauvignon Blanc, Sancerre or Chablis; or if you do prefer a red, a Pinot Noir or Merlot. For a hard goat cheese, a white Burgundy or Chardonnay; or a Pinot Noir, Merlot, Sangiovese, Syrah or Cabernet Sauvignon. For a medium cow's or sheep's milk cheese, Pinot Noir is my pick. For a hard cow's or sheep's milk cheese, Cabernet Sauvignon, Syrah, Merlot, Pinot Noir, Barbaresco, Barolo or Zinfandel is a good match, but so is a great white Burgundy or Chardonnay or a great rosé Champagne. For blue and strong cheeses, sweet wines, such as Sauternes or late-harvest Riesling (vendange tardive), Hungarian Tokaji or Port are ideal.
Desserts
Sometimes a dessert wine is dessert. For apple and other fruit pies and tarts, try a late-harvest Riesling or a demi-sec sparkling wine. A Sauternes, Tokaji or vin santo might aid and abet your sweet tooth, especially with berries. For melon, Muscat is great, especially Muscat Beaumes-de-Venise. I don't fancy wine with other fresh fruits or with ice cream. For creams, custards and puddings, many dessert wines work well, from demi-sec sparkling wines to late-harvest Riesling, Muscat and various ice wines. Those options go for cakes and cookies, as would Sauternes, vin santo and Malvasia di Lipari. Finally there is chocolate. If you are going to have chocolate for dessert, you really have to decide whether the mouth-filling sweet isn't enough by itself. If not, try a vin santo or a Sauternes, a sweet sherry, perhaps a Tokay or Muscat liqueur. And some people like Cabernet Sauvignon. If your last course was with a full-bodied red, you could do worse than to savor the last drops with chocolate.
The Gentle Order of Things
In the normal course of food-and-wine pairing, we pick what we want to eat and then find a wine to go with it. When the menu is set, we consult a wine list, the sommelier or a wine merchant for a suggestion. We might also peruse our stash of bottles to see what's on hand and of an age to marry with what we have in mind to eat. Then there are the wine buffs who, as my husband does occasionally, pick the wine first, then the food. Knowing that great food with a bad wine equals a bad experience, and having suffered the pain of enough meals at great restaurants tarnished by a hasty or inappropriate wine choice, he made his own rule. When we dine out at any restaurant for the first time, he starts by reading the wine list, eyeing it for a few "possibilities" he'd enjoy. Then he reads the menu with an eye to finding food that will pair well with the wine or wines he has in mind. The only problem is that often he reads the wine list cover to cover. So when we are dining tête-à-tête, I have to keep up a monologue until he gets his nose out of the carte. Oh, well, I'd rather be with someone who cares too much than with one who cares too little. Plus I have my own rule to fall back on: when in doubt, drink Champagne.