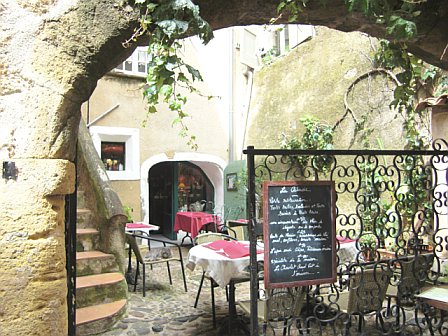 [Note:  this article by Mireille and Edward first appeared in Quarterly Review of Wines Spring 2008. While this list is updated periodically to account for restaurant closings, please call ahead before you visit.
In French and in France, un carnet d'adresses is literally a collection of addresses, but it means one's personal collection of special addresses, references and recommendations. Over the years, we have certainly eaten at more than 150 restaurants in Provence (a fact we did not realize until we wrote this piece), but we have our favorites, our carnet d'adresses, and we are often asked for this list. Here is a selection of our current favorites in Provence.
But first things, first. Nice is not in Provence. Lots of people confuse the Riviera, la Côte D'Azur, with Provence. Provence is further west and extends north to the Southern Rhône. So, first think Avignon, Arles, Aix-en-Provence, the Lubéron, or St. Rémy-de-Provence and all the countryside around them and you'll see sunshine, olive trees, sunflowers, lavender and vineyards. C'est la Provence.
You'll eat very well there on fresh, seasonal produce, and drink deliciously on local wines — from majestic red and white Châteauneuf-du-Pape to Côtes-du-Rhône Villages, such as Cairanne, to some shockingly good red, rosé or white wines from Côtes-de-Provence, Côteaux-des-Baux-de-Provence, Côteaux d'Aix-en-Provence, Côtes-de-Lubéron and Costièresde- Nimes.
Certainly any of the sections below merit their own articles and gastronomic adventures. Marseille, of course, is a large city with a rich and diverse food culture dating not centuries but millennia and we'll save it for a future article. For therest, we've been rigorously selective. If you find yourself in and around these areas and have time for just a meal or two …
IN AND AROUND AVIGNON
Christian Etienne (10 rue Mons; tel. 04 90 86 16 50) is the name of a top restaurant splendidly located next to the Palais des Papes and the name of the chef-owner who is the best known of the city's top toques. The spring menu is succulent, but if in town during June-September, do not miss the "all tomatoes tasting menu," or dining out on the grand terrace.
La Mirande (4 place Amirande; tel. 04 90 85 93 93) is the top hotel in town — simultaneously small, grand and Provençal — and its elegant dining room is a must stop for us in Avignon for quintessential Provençal dishes (the lamb preparation is memorable) in a gorgeously understated palatial décor. An unusual program of cooking classes makes a stay there even more enticing.
La Vieille Fontaine (12 place Crillon; tel. 04 90 14 76 76) in the Hotel D'Europe counts as one of the most prestigious establishments in the Vaucluse. Dining here, whether indoors or out on the patio, in the former home of the marquis de Graveson in a perfect location in a quiet corner of Avignon, can be pure, expensive bliss. Try the local snails served in puff pastry, the skate wings accompanied by baby vegetables and finish off with caramelized pears served on a sablé cookie. Wine lovers will enjoy the cellar and extensive local selection.
La Fourchette (17 rue Racine; tel. 04 90 85 20 93) is a charming little bistrot and a great value for a casual lunch that you can enjoy amid the local regulars all year long. Traditional dishes are made to perfection and served by a delightful staff in rooms decorated with forks, cicadas and cards referring to the Avignon festival.
Le Prieuré (7 place Chapitre; tel 04 90 15 90 15) across the river in Villeneuve-les-Avignon is full of charm and only a few minutes ride into Avignon proper. Although the hillside suburb is known more for its Abbaye St. André and Tour Philippe le Bel, visitors now come to Villeneuve to stay and dine at a 15th-century convent turned into a distinctive hotel and surrounded by a beautiful garden. The rooms have been renovated in exquisite Provençal style with all the modern conveniences. The restaurant with its new chef is back on our regular haunts as his Provençal dishes delight, whether you opt to dine on the formal terrace or in the garden among roses and wisteria and 100-year-old trees.
Auberge de Cassagne (450 allee de la Cassagne; tel. 04 90 31 04 18) in Pontet (Avignon north exit on the highway and perhaps ten minutes from Avignon's center) has been totally redone and its location in a 19th-century country house in a wooded park makes it particularly soothing for a meal and stay during the summer. The pig cheek dish was sensational and an almond financier with currant sorbet prepared us for an afternoon siesta.
Le Pré du Moulin (10 rue du Moulin; tel. 04 90 70 14 55) in Sérignan-du-Comtat (about 20 minutes Northeast of Avignon on route de Sainte-Cécile-les-Vignes) is another example of new luxury in an old setting — in this case in and around a 19th-century mill that is idyllic and soothing. The food is all about lightness without a loss of flavors and savors. Chef Alonzo plays well with seasonal menus built around asparagus, mushrooms, truffles followed with fruit desserts with unusual spices.
IN AND AROUND ST. REMY-DE-PROVENCE 
La Maison Jaune (15 rue Carnot; tel. 04 90 92 56 14) is unquestionably the top place in St. Rémy. Set in an old home in the middle of the village, you can eat here on the lovely terrace overlooking the old town. We've enjoyed their anchovy dishes in the summer and lovely mushroom creations in the fall, but at any time you can't go wrong with the loup de mer (sea bass) or ever so tender lamb dishes.
Le Bistrot de Marie (1 rue Jaume-Roux; tel. 04 90 90 02 18) in the old town is low key and has one of the funkiest dining rooms we've ever seen filled with the owner's collectibles. His passion for food and wine shows on the plates. This is a true bargain for the wonderful, short menus with an emphasis on fresh pasta dishes that will make you want to return. Charming service.
Le Moulin St. Bernard (150 route de Maillane; tel. 04 90 15 47 42) is a new and lovely modern restaurant-pizzeria, attractive both for its setting and menu concept. Opened in 2007 by Sophie (ex-Chez Bru staffer in Eygalières and a dynamic native), in what was once an old mill but now where the excellent pizzas are certainly a big draw, while Sophie's chef-dad also offers some traditional dishes. The clever addition of a grill make this place ideal for the casual chic diners who spend the summer there and like diversity for dining out. Reservations are a must, particularly on weekends.
At Mas du Capoun (27 avenue des Paluds; 04 90 26 07 12) in Mollégès, the food is refined yet the prices are incredibly reasonable for millefeuille with artichokes, deliciously prepared fish and meats and enticing fruit desserts. A husband-and-wife team, former restaurant owners in Brussels, renovated an 18th-century farmhouse and literally turned the barn into a lovely dining room. Celebrating holiday lunches such as Christmas or Easter is a great treat in the formal/indoor dining room where eating truly becomes a celebration. Reserve well in advance, especially in the summer as anyone in the area who loves food knows this address.
Le Croque Chou (place Église; tel. 04 90 95 18 55) in Verquières, is the home (in an old bergerie or sheephold) of a family where mom and dad help in the formal dining room to support their young and talented son who trained in Paris and elsewhere with a few grand masters. The menu changes regularly and the emphasis on quality (including the breads which are sensational) is part of the surprise when one dines here. Clearly, it still is a well kept secret as the village, 15 minutes from St. Rémy, is a bit off the beaten track, but you can't miss the restaurant across the street from the church.
L'Oustalet Maianen (16 rue Lamartine; tel. 04 90 95 74 60) in Maillane is across the street from the house of Mistral, the famous Provençal poet (who also wrote Mireille, the opera by Gounod). The local family at this typical unpretentious little place offers regional cuisine, a natural follow-up after a guided visit to the small museum. You won't be disappointed by either the visit or the meal.
Bistrot d'Eygalières "Chez Bru" (rue République; tel. 04 90 90 60 34) in Eygalières, a small landmark village of the Alpilles, is well known to the world of gourmets since it received its second Michelin star. The décor is refined and the food is bistrot de luxe with dazzling dishes like a millefeuille of tuna and foie gras with wasabi or the famous king crab appetizer; all dishes are treated with care and attention to flavor. Thus a croustillant (crisply grilled fillet) of baby pig with savory and mushrooms or a roasted pigeon with tiny local veggies and desserts with fraises des bois (wild strawberries) or chocolate that simply shouldn't be missed. Dinner reservations are a must, lunch only slightly less so as the dining rooms are filled with people with a second residence (that includes lots of Parisians as well as English, Belgians, Italians and a few Americans) who flock there whenever they are in the area. Open only from May to November.
Sous les Micocouliers (traverse de Montfort; tel. 04 90 95 94 53) in Eygalières around the corner from Bistrot d'Eygalières, is the canvas for young chef-owner, Pierre-Louis Poize. He is passionate, ambitious and after top training in Paris decided to come back home and invest in "less is more." He does not offer the extensive selection of some restaurants, but trust this rising chef who will delight you with his refined cuisine Provençale with a touch of Asian spices and herbs that suit quite well to most of his repertoire. In the summer, the beguiling terrace dining under the plane trees is a delight with a soft jazz group on some nights. We've enjoyed his eggplant cannellonis with watermelon and basil, his millefeuille of marinated sardines, tomatoes and peppers and his mini lemon soufflé or apricots marinated in Ceylan tea. The indoor dining room of this old village home is a sanctum of peace and warmth to cater to his winter regulars.
La Cabro d'Or (route d'Arles; tel. 04 90 54 33 21) is our favorite eatery in spectacular les Baux-de-Provence. We prefer this one Michelin star to the legendary and high-priced two-star up the road under the same ownership, Oustau de Baumanière, though both are quite high quality. La Cabro d'Or offers Provence food at its very best with ingredients from their garden and served by a very friendly staff.
At Bistrot du Paradou (57 avenue de la Vallée des Baux; tel. 04 30 54 32 70), in Le Paradou, Mireille, the daughter of an Arlesian baker, is both the cook and pastry chef. The four-course prix fixe changes daily but is always superb served with a local wine (white, rosé or red) included in the menu price. You have few choices to make except to enjoy an outstanding value and true local cuisine. Regulars call early in the week to find out the menu for the next five days and plan their week accordingly!
IN AND AROUND ARLES  — NIMES
Le Cilantro (31 rue Porte de Laure; tel. 04 90 96 39 85) is our pick for a nice selection of fish cooked á la plancha and a modern, innovative cuisine in Arles, famous for its bullfights in the Arènes as well as its théâtre antique, its museums and a few famous hotels (like Nord Pinus where Picasso and Cocteau used to stay) but boasting a few small, distinguished restaurants such as this one.
L'Atelier de Jean-Luc Rabanel (7 rue des Carmes; tel. 04 90 91 07 69) is relatively new but has already garnered a Michelin star. The chef/owner uses organic produce from his garden to come up with original menus. We tried the "menu création" and were spoiled with a range of tapas portions that made for an unusual taste of Provence, including some overtones of Ferran Adria's El Bulli savors and creativity. The menu changes daily as a function of what is available at the peak of maturity.
Alexandre (2 rue X. Tronc; tel. 04 66 70 08 99) in Garons is quite the destination in more ways than one. Outside Nîmes and across the street from the regional airport, hardly the place to expect a world-class restaurant, but here it is, replete with two Michelin stars. Once we got there we were immediately taken by the beauty of the spot, from the gardens to the dining rooms and the attention to details whether dinnerware, glasses or vases on the tables. When it came to food, it was easily matching the décor, and much more. Classic dishes adapted to the 21st century and paired with wines chosen for value and quality. A great symphony, dish after dish.
IN AND AROUND THE LUBERON
La Prévôté (4 bis rue Jean-Jacques Rousseau; tel. 04 90 38 57 29) in Islesur-la Sorgue is a charming place with a dining room overlooking an underground canal in the center of a landmark little town. The cuisine is at once traditional and imaginative. We've enjoyed the ravioli of foie gras and artichokes as well as the rabbit stuffed with goat cheese and olives. Chef Alloin uses the best products and is a master with spices used subtly. The desserts perfumed with thyme or rosemary are a Southern way to end lunch before going back to the antique market stalls.
Le Jardin du Quai (91 avenue Julien Guigue; tel. 04 90 20 14 98) in Isle-sur-la Sorgue is a deliciously romantic spot where conviviality and joie de vivre seem to explode in the quietness of the garden, a heaven of peace and shade during the hot summer months. The choices are purposefully limited to what chef Hebet finds daily at the market. We've enjoyed crayfish in puff pastry, John Dory with a sweet onion puree and a small meringue with griotte cherries.
Le Carré d'Herbes (13 avenue des Quatre Otages; tel. 04 90 38 23 97) in Islesur-la Sorgue is a preferred destination if antique shopping takes priority, as it is in the midst of the antique market and a favorite of the antiquaires (antique merchants). It is a charming little bistro that serves authentic homecooking. The stuffed tomato was out of this world paired with a glass of Vacqueyras.
Prévôt (353 Avenue de Verdun; tel. 04 90 71 32 43) in Cavaillon, the melon capital of France, is one of the few reasons to stop in this commercial town as it is the one-of-a-kind type of restaurant we enjoy. Forget its kitschy old-fashioned dining room (with melon motifs), but if you are a monomaniac diner, try the exquisite menus following the seasons. For us, it was the all melon (April-September) feast served by a young, dedicated staff. Cooking classes and market visits with the chefs are also available. Passion is key at this place.
Auberge La Fenière (route de Cadenet; tel. 04 90 68 11 79) in the scenic village of Lourmarin is always a treat. The brilliant Reine Sammut is queen of the kitchen and is always coming out with new dishes. She'll delight you with all her fish variations, the most unctuous risotto and a grand wine list to help match her creative cuisine.
At La Petite Maison (Place de l'Étang; tel. 04 90 68 21 99) in Cucuron, a tiny lovely village, Chef Eric Sapet mans the ovens at the corner house around the "pond." Eric has cooked in some of the grandes tables of Provence, thus has his regulars who follow him, and rightly so: he changes his menus weekly and keeps challenging himself.
La Bastide de Capelongue (5 place Carnot; tel. 04 90 75 83 62) in Bonnieux, another highly celebrated and picturesque village, Edouard Loubet (from the Moulin de Lourmarin's fame) has brought all his talent and his two Michelin stars to this new baby. The setting is breathtaking with a romantic terrace and dishes that have achieved true equilibrium with a mélange of recipes from yesterday with techniques of today. His pigeon in aspic infused with chamomile, his poached skate with seasonal veggies and herbs or his rack of lamb infused with lemon and thyme and served with his grandmother's potato gratin are just a few of his culinary delights. One of the top spots in Provence and one of the most expensive.
IN AND AROUND AIX-EN-PROVENCE  
Le Clos de la Violette (10 avenue Violette; tel. 04 42 23 30 71) is an institution. Aix wouldn't be Aix without it, and the new décor with cream and chocolate colors goes with the new chef's approach to modernity. The kitchen excels during the game season but we've also enjoyed tomato tortellini with marjoram, pan-fried tuna with crushed basil, rack of lamb with potato and fresh goat cheese galette and a lemon floating island with limoncello. Expect grand style and grand prices.
L'Amphitryon (2 rue Paul Doumer; tel. 04 42 26 54 10) could be our cafeteria if we lived in Aix. It's a good bistrot/brasserie where regulars flock to taste the market dishes prepared by chef Ungaro. You can't go wrong with his roasted pigeon stuffed with fresh goat cheese, his pork and pitta with vegetables and some of the prettiest desserts in town.
Les Deux Garçons (53 cours Mirabeau; tel. 04 42 26 00 51), or as the locals say "les 2G," gives the concept of institution new meaning. When in Aix you can do like the Aixois do and head immediately to this timeless 1792 brasserie where Zola, Picasso and Cezanne dined. The simple but delicious, traditional fare like sole meunière, lamb confit with thyme and lemon juice served on the terrace along the amazing cours (large avenue) and its long rows of platanes will make you want to spend the afternoon on the shaded terrace gazing, unless you opt for their calm and superb dining rooms for a couple of hours of grazing.
Yamato (21 avenue des Belges; tel. 04 42 38 00 20) takes you to Japan without leaving Provence. Chef Koji Someya trained with Reine Sammut (at La Fenière) before opening her little kingdom. She's the queen of Japanese food in the Southeast. Try her tempura of shrimp and calamari, her soya-tofu soups, her beef galettes and by all means don't skip dessert, particularly her Manju chocolate with pepper ice cream.
L'Auberge Provençale (route Nationale 7; tel. 04 42 58 68 54), in le Canet de Meyreuil a few miles outside Aix along the old national road, is the place to go for a peaceful meal on your way to the Saint Victoire. Homemade gnocchis, sea bass with a pastis sauce and melon with calisson (Aix's almond paste cookie) made for a delightful lunch at the inn. It's simple, it's soigné, it's Provence along the route where you can drink wines from the nearby vineyards.
The great gastronome Waverly Root believed that Provence is "the most magical of all the provinces of France" and that "the variety of Provençal food is endless." Max Skinner, the main character in Peter Mayle's A Good Year (played by Russell Crowe in the movie version) comes to love and indulge in its voluptuous flavors and appeals. We think our carnet d'adresses is the clincher … and that it is fun not to have to do the dishes. Enjoy.