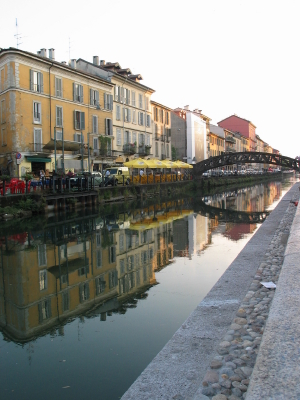 [Note: this article by Mireille and Edward first appeared in Quarterly Review of Wines, Winter 2008/2009. While this list is updated periodically to account for restaurant closings, please call ahead before you visit.]
Two trips to Italy in the past few months reminded us how much we love the food, wine and culture of Italy. Who doesn't? You eat it up, and it tastes like nowhere else. So a ten-day return for Mireille and friends to Milan and Piedmont, a favorite area of ours, was a treat. We always like to stay in "centro" Milan. We've usually stayed at such medium-sized (58-117 rooms) top hotels as The Four Seasons, Bulgari, the Park Hyatt, but this time we called home a small (14 rooms) boutique hotel, Antica Locanda dei Mercanti (Via San Tomaso 8; tel. 02 805 4080), a few minutes walk from La Scala and the Duomo. We knew we were in an enchanting part of the city when with the help of GPS the taxi driver reached the small, narrow street and we saw a building with windows filled with flowers. A good sign. Plus our room was ready at 11:00 a.m. The small-to-medium adequately-sized room was furnished with antiques and a collection of mirrors with various golden frames cleverly placed around a radiator or on the side of an armoire. The floor was dark wood and with bronze paint on the walls, and some golden brush strokes; the room looked antique. Each of the rooms and suites is unique in size, height and decoration. "L'anatra verde" (the green duck room) with half-full moon configuration and two windows, one on each side of the bed, is our first choice.
The quietness of the place was amazing considering the proximity to hordes of tourists visiting the Duomo, but we woke up to the sound of an accordionist playing old Italian songs. The young Milanese/Egyptian woman at the reception (the staff could not be nicer) couldn't tell us where it came from but claimed it was the same music every day. Later on, when we walked down a few blocks to the main avenue, an old man was sitting on the floor playing. We felt transported into another era.
Surely everyone has some repeat "must do's" in various cities, and for us a casual lunch at Café Cova (via Montenapoleone, 8; tel. 02 600 0578) is almost like a pilgrimage. We remember our last lunch there as if it were yesterday: some places never date and stay with us forever. We always like its history (built in 1817 near la Scala, bombed and rebuilt at its present location in 1950) as well as its atmosphere: a small pastry shop in the front and a couple of lovely dining areas which look like period pieces. It's also a place for people watching, such as two local women friends meeting for espresso or a bunch of men discussing business or vacation over lunch, or a young couple making love mid-afternoon as if they alone existed and leaving half of the shared pastry unfinished. One can't get enough of the Italian style, their gestures, looks and a sensuality that makes the place a scene for a good film.
To start, we had to have their centrifugati, and the carrot/celery/fennel of the day was sublime. The place is known for these vegetable juices, and we remember the fennel one we had last time, but they still don't share recipes. Everything is segreto della casa (the secret of the house). Their focaccia farcita (with tapenade, prosciutto and cheese) always tastes better than anybody else's, and we enjoyed the frutti di bosco, a colorful bowl of mixed raspberries, strawberries, blueberries and mulberries with a few delicate wild strawberries thrown in. The good espresso or cappuccino makes one wonder why we can't get that quality anywhere else in the world. It's always served with a tiny square of dark chocolate. What a casual, sublime food oasis.
There are plenty of other nice, casual places for lunch (besides the huge number of café/pasticeria) in the Duomo's area. For dinner, homemade pasta, fresh fish and a short but excellent selection of meats can be enjoyed at any of the top hotel dining spots. For pizza fans, head to Il Faro (via B. Cellini 3; tel. 02 54 62 187) and for an authentic and family style eatery, head to Trattorria Milanese (via Santa Marta 11; tel. 02 86 451 991) for superb risotto, osso bucco and sabayon; and go to Le Boeucc (piazza Belgioioso 2; tel. 02 76 02 0224) for old world gastronomy. At Al Pozzo (Via S. Carpofono; tel. 02 87 77 75), a Tuscan trattoria, the pasta dishes are outstanding, particularly the one with buttarga.
The best meals in Milan today are at the oh so chic Cracco (Via Victor Hugo; tel. 02 87 67 74) if you are looking for inventive dishes which change with whatever arrives that morning. The chef's love for salads such as wild mushrooms with polenta and marrow is expressed in a feast for the eyes and the palate. A carpaccio covered with aspic and garnished with scallops marinated in port wine and cooked à la plancha, a risotto with ginger and anchovies, and a salted baba with marrow and meat juice cry subtlety with sweetness and elegance. Trussardi alla Scala (piazza della Scala, 5; tel. 02 80 6882 01) is a close second with more classic offerings like risotto Milanese or brodo d'anatra con petto arrosto, but in all fairness we would not recommend this spot for an early dinner before an evening at La Scala: It's well worth making dinner the evening event.
WHY NOT THE BEST?
A side trip for lunch on Saturday took us to Dal Pescatore in Canetto sull'Oglio (tel. 03 76 72 30 01), one of Italy's most celebrated restaurants, and over an hour drive from Milan center to this majestic place. The family atmosphere is a plus and the food is seriously good. A dish of local lumache (snails) was astounding, but what was more than extraordinary were the pasta courses (and sharing those tiny portions was not easy). We've never had pasta quite like this before, and it's Chef Nadia's mother-in-law who is at the stove daily to make them. Bravo. Worth the detour. We'd like to go back and make up a menu with pasta dishes only!
TURIN
The next stop was Torino: A captivating though austere city where black and white, forces of the good and the evil, coexisted through history. A city of subtlety, understated elegance and quiet secretiveness that demands to be appreciated. The city, rich in architecture (often French baroque) concentrated its renewal outdoors rather than indoors. Our memories were mostly of the indoor variety starting with chocolate, gianduja, Grom ice cream, white truffles and the famous Piedmontese pasta dishes, especially agnollotti del plin (small meat filled raviolis folded by hand) and raw meat specialties. The 2006 Winter Olympics changed a few things with famous international architects leaving their marks all over town and new, refreshed restaurants expanding the dining out landscape.
To us, staying in the city center still is essential. Though the Meridien hotels (thank you Renzo Piano) are recommended, they were too far and isolated for us. The Victoria (Via Nino Costa 4; tel. 01 15 61 19 09) offers location as well as tradition, good service, lovely lounges and gardens, some rooms with balconies and terraces and a spectacular breakfast buffet indoors or outdoors in season. Another option is the modern and elegant NH Santo Stefano (Via Porta Palatina; tel. 01 15 22 33 11) or the small and luxurious Town House 70 (Via XX Settembre 70; tel. 011 19 70 00 03). Walking is a joy in Torino and the elegant piazzas (San Carlo, Castello, Vittorio Venetto) with no car in view and their grandiose palazzi and lovely arcades are lined with gorgeous little shops and grand café after grand café (the best are Fiorio, Mulassano, Baratti e Milano, Reale and Cavour) all offering the famous specialty bicerin (a mix of coffee, chocolate and cream) as well as exquisite espresso and panino. Along the Po, Murazzi, especially in the summer, there are more bars for night action. The young flock there for dancing and celebrating at the local trendy bars. It has a feel of a small Paris river bank. Instead of the Eiffel Tower, you can now ride the glass elevator of the Mole Antonelliana to the observation desk where the views (with or without clouds) of the surrounding Alps are spectacular.
Take a tram or a taxi to the Lingotto (the former Fiat factory now transformed into a huge mall including hotels), Pathé multiplex, unexciting shops of a mall type but a small canopied glass shoe box of a museum which houses a few great pieces of the Agnelli art collection (Canalettos, Modigliani and Matisses). The complex is also home to Eataly, a gastronomic treasure for foodies where one can buy food and also sit and have a meal at any of the cafés and restaurants all offering high quality food representing the best of Italy and a few other countries.
For serious eating Del Cambio (piazza Carignano 2; tel. 011 54 37 60) is a 250-year-old institution where young and old still come to dine in elegant surroundings. If you are lucky enough, you'll get the table where Cavour used to sit and accompanying story by the headwaiter. The play of baroque mirrors with Bonelli paintings above and a glory of gilt woodwork transport the guests to the period. From the homemade bread sticks to the wonderful carbonara with spring vegetables and veal tartare on a bed of tiny arugula, decadent local cheeses and a wonderful choice of local wines, it still is a place high on our list for its timelessness and pleasures. Other good eateries include Tre Galline (via Bellezia 37; tel. 01 14 36 65 53) for simple Piemontese specialties; La Cloche (strada al Traforo del Pino 106; tel.01 18 99 42 13), a charming little restaurant offering the best of the seasons like spring veggies or truffle dishes in winter; Babette (via Alfieri 16; tel. 011 54 78 82) for fusion cuisine and great wines; 'L Birichin (via Vincenzo Monti 16/A; tel. 011 65 74 57) for fish specialties; and Vintage 199+ (piazza Solferino 16/h; tel. 011 53 59 48) for great risottos and veal tartare.
LAGO D'ORTA
Weekends are for detours, and we next explored Lago d'Orta, less touristy than our previous visit to the bigger and more majestic Lago Maggiore with its stunning Borromees islands. The real reason for the detour was — okay we confess — a Sunday lunch at Villa Crespi in Orta San Giuglio (via Fava 18; tel. 03 32 91 19 02), an amazing 18th-century villa in Mauresque style located along the lake and surrounded by splendid gardens. A sunny Sunday allowed for lunch on the enchanting terrace. One of the things that intrigued us about this place was the chef: a man from Naples with training in France and a love for Piedmont. What a great combination, don't you think? The menu was a farandole of small pleasures, dish after dish bringing out local specialties and lots of creativity. This is a two-star Michelin eatery that certainly has three stars on the plates. We remember Nadia at Dal Pescatore telling us there was no real difference on the plates between a two-starred and a three-starred restaurant. She should know. Maybe once one has reached the top, for some there's a conservative tendency — even responsibility to keep a good portion of the menu and signature dishes that got them there, while at two-stars and aspiring there is more experimentation and creativity, even boldness. Creativity certainly showed up in every dish at Villa Crespi without over complication or too many ingredients. The foie gras morsel was tops, so was the crayfish ravioli, as well as bass prepared with herbs from the garden and exceptional olive oil. We followed our four-hour lunch with a welcome long walk to the little boats taking us to the island of San Giulio where time stopped a couple of centuries ago. The scenery, the abundance of flowers, the quietness of the place and the gorgeous villas along the road made for a glorious day.
ALBA
For any food and wine lover, visiting Milan and Torino may be the precursor to a little extension into the vineyard land of Piedmont, one of the greatest of Italy's gastronomic references thanks to the great red wines Barolo and Barbaresco and the white truffle season each fall. The town of Alba is the choice town and base for a visit of a few days. The villages of Barolo, La Morra, Cherasco, Bra (Slow Food's cradle), and the embracing fog over the Langhe make this area as picturesque as Tuscany or Burgundy. Our only past regret about repeated visits to Alba was the lack of special lodging. That's been remedied with the appearance of Palazzo Finati (via Vernazza 8; tel. 01 73 36 63 24), a small gem of a palazzo near the Piazza Duomo, with only nine rooms and a few wonderful young women who take care of the place and guests with great attention to details. Each room is elegantly decorated with antique furniture, the most sensuous materials (the curtains are sheer luxury) and features small balconies opening on the quiet narrow street. The bathrooms are contemporary and elegant.
For meals in Alba, there are plenty of pleasant places for a delicious lunch including Osteria La Libera (via Elvia Pertinace 24A; tel. 01 73 293 155). Our special treat was a grand dinner at Piazza Duomo (4 piazza Risorgimento; tel. 0173 442 800) in a small minimalist pink dining room. Here Enrico Crippi's avant-garde food, inspired by stellar French Chef Michel Bras, and reflecting his training with top Italian chefs, including, Marchesi and the Spanish Ferran Adria of El Bulli fame, was a revelation and fresh experience. One of the fish courses was raw shrimp (the ones served in Japanese restaurants) in tomato aspic and another an amazing salad made of 41 ingredients (mostly greens, herbs and flowers all locally picked). We accompanied a delicious lamb course with Ceretto's Bricco Rocche Bricco Roche 1982 (one of their top vintages ever and a rarity) and proved a marriage of two food and wine greats that worked. Complexity on the plate in the hands of less than a master is a formula for failure; Senor Crippi is a highly talented chef who manages it well. So well, he has quickly received his first Michelin star, and based on our meal is already delivering at the two-star level. We also appreciated the tremendous focus and service of the tight, dedicated food and wine staff in the dining room. After such a dinner, a walk in Alba that is alive with lots of young people at cafés and families (and dogs) taking their evening walks as is so often seen in Italian towns is a welcome digestivo.
We were privileged to spend the next morning visiting the great Ceretto family, our friends, and their vineyards and village properties. The views from their winery's tasting room are spectacular. We also wanted to go back to the splendid little chapel "The Capella di Sol Lewitt- David Tremlett" located south of La Morra on a dirt road and open to the public. The tiny church was built in 1914 as a chapel and shelter for the vineyard staff during storms. It was in 1999 that Roberta Ceretto asked Sol LeWitt to paint the exterior with vibrant colors while the interior's colors lead more to contemplation. We can just picture a wedding in those surroundings but alas the capella was never consecrated. We love the way it looks: such tiny vibrancy in a huge and calm landscape. We lunched at the Piazza Duomo's downstairs restaurant aptly called La Piola (Piedmontese for restaurant/ trattoria) where locals and tourists flood for the conviviality of the place and tasty regional specialties. We celebrated our visit with a last dish of agnolotti del plin, some risotto with spring vegetables and the first local strawberries before the homemade tiramisu, plus tasted some of the wines Ceretto will put on the market this fall/ winter. La dolce vita, no doubt.
We can't wait for our next return visit when truffles are in season.