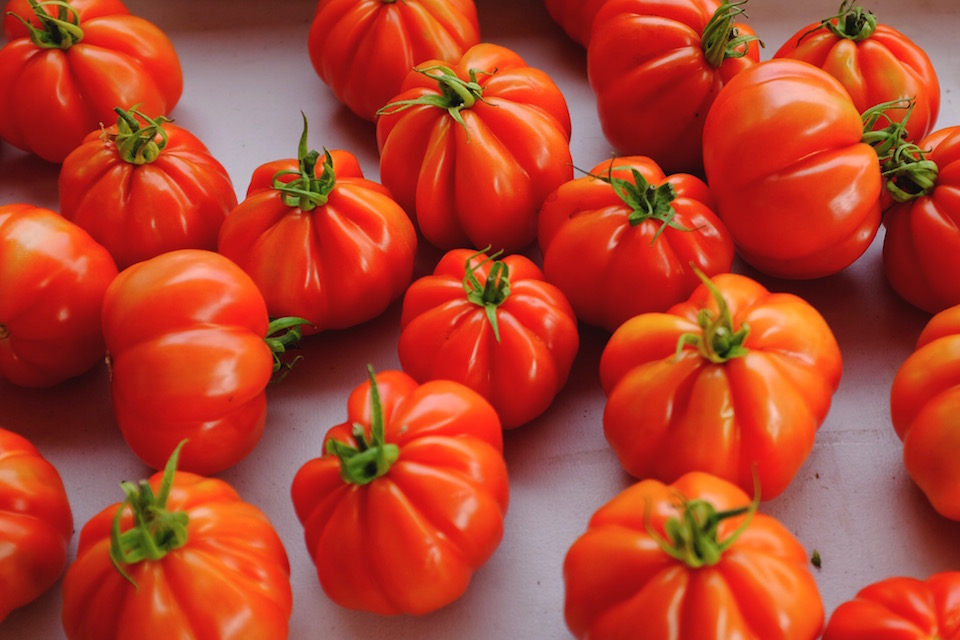 By Susie Quick
Mingle assorted heirloom and beefsteak tomatoes for maximum visual impact. Opal basil has deep-purple leaves; if it's not available, substitute Italian or Thai basil.
Ingredients
Dressing

2 tablespoons sherry vinegar
1 clove garlic, minced or squeezed through a garlic press
1/2 teaspoon sugar
1/2 teaspoon kosher salt
1/8 teaspoon freshly ground black pepper
3 tablespoons extra-virgin olive oil

Salad

4 large ripe heirloom tomatoes (or 4 pounds of smaller heirlooms, mixed varieties)
2 ears fresh corn, kernels cut from ears
1 pound fresh mozzarella, cut into 12 slices
1 cup thinly sliced red onion, rinsed and drained
1/4 cup slivered opal or other basil
3 tablespoons minced chives

Yield: 4 servings
Recipe
Whisk together vinaigrette ingredients in a small bowl. Core and cut each tomato crosswise into 4 thick slices. Steam corn kernels 2 minutes until slightly tender; cool until warm. Assemble salad on four plates: Place a tomato slice on each plate and drizzle with a little vinaigrette. Top with a slice of mozzarella and a slice of onion. Sprinkle with corn and herbs. Continue layering the ingredients, finishing with a tomato slice and remaining vinaigrette. Let marinate at least 15 minutes at room temperature before serving.