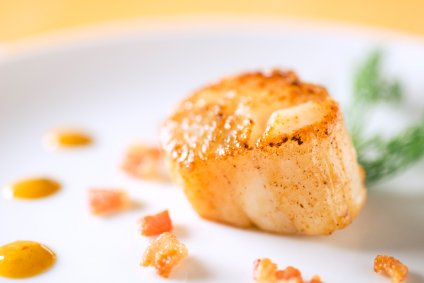 Scallops are another shellfish that intimidates some, but they are amazingly simple to make: the key, in fact, is not to do too much to them. While fresh herbs are still around, I love to sear scallops, adding plenty of fresh sage leaves for flavor. In the dead of winter, though, when there is no sage, but lots of scallops, this preparation is a favorite.
Ingredients
16 sea scallops
Zest and juice of 1⁄2 grapefruit
Zest and juice of 1⁄2 orange
Zest and juice of 1⁄2 lemon
1 tablespoon honey
4 cardamom pods
2 tablespoons olive oil
Salt and freshly ground pepper
2 tablespoons unsalted butter, cut into small pieces
Fleur de sel

Yield: 4 servings
Recipe
Rinse the scallops and pat dry. Blanch them in boiling water for 1 minute. In a bowl, whisk together the fruit zest and juice, honey and cardamom pods. Warm a skillet over medium-high heat. Add the oil to the skillet, season the scallops with salt and pepper, and cook them for 2 minutes on each side. Set the scallops aside on a warm plate and cover with foil. In a saucepan, reduce the juice mixture over medium-high heat for 2 minutes, stirring all the while. Reduce the heat and whisk in the butter a few pieces at a time. Plate the scallops and drizzle with sauce. Sprinkle with a few grains of fleur de sel.