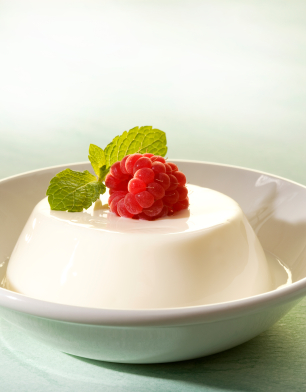 Whether entertaining in the U.S. or in France, I continue not to be surprised that so many women love panna cotta. What surprises me is that so many don't know that panna cotta (in Italian, "cooked cream") is one of the easiest and fastest desserts to make. And, best of all, it always gets rave reviews as a kind of super-light comfort food!
Now that the first fresh berries are appearing in market, it's a perfect time to whip up this creamy treat. From my little village market in Provence I already spotted the first local strawberries–so sweet they need no sugar, and so perfect an accompaniment to panna cotta. Within a few weeks, with raspberries and blueberries appearing, you can mix the three and increase the color palette of your new dessert item.
My Tuscan friend Emiliana first introduced me to this molded chilled dessert ages ago in a small, unpretentious restaurant in Forte dei Marmi near Lucca.
Ingredients
2 tablespoons cold water
1 tablespoon unflavored gelatin
1 cup regular milk
2 cups heavy cream
1/4 cup sugar
1 1/2 teaspoons vanilla extract
Yield
8 servings
Recipe
In a small saucepan sprinkle gelatin over water and let soften for about one minute. Heat the gelatin mixture over low heat until gelatin is dissolved. Remove from heat.
In a large saucepan bring milk, cream and sugar just to a boil over moderately high heat. Stir once in a while. Remove pan from heat and whisk in gelatin mixture and vanilla extract. Divide mixture among eight 1/2-cup ramekins and cool to room temperature.
Cover with plastic film and chill 4 hours or overnight.
To unmold, just before serving, dip ramekins 1 at a time in a bowl of hot water for a few seconds. Run a thin knife around the edge of each ramekin and invert on center of a dessert plate.
Serve with fresh berries when at peak.
Other options:

Serve with Rhubarb-Strawberry Compote in spring, or with Pear-Apple Honey Compote in winter.

Cook figs, plums or any fruit you like with a sprinkle of sugar, cinnamon and lemon juice in a lightly buttered pan and you'll have a variation on the same theme.

For a special occasion or a fancy meal, a thin slice of lemon cake or an almond tuile alongside the panna cotta makes for a sumptuous dessert.