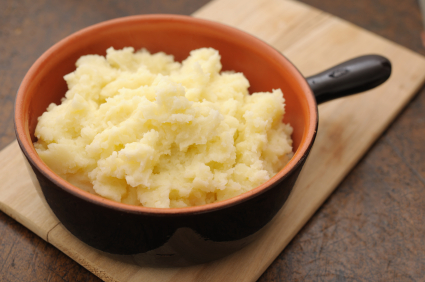 There is much dogma concerning great mashed potatoes. Some famous chefs regard it as essential to have almost equal parts potatoes and butter, but they would have been fired from my mother's kitchen: her customers expected butter when we ordered butter and potatoes when we were served potatoes. In other words, don't overdo the added fat. But do consider texture: it's very important to put the cooked potatoes while hot through a real vegetable mill or a potato ricer (a Cuisinart or blender will give you not a mash but a purée, by my taste buds, that's good only for wallpaper paste). Always add very hot milk first, then add the butter. For variety, you can replace the butter with olive oil (though it should be heated slightly and added at the end). You can also omit the milk by cooking the potatoes unpeeled and using the starchy water to wet the mash. Season with nutmeg, cumin, or curry, adding parsley, tarragon, dill, or basil. Another bit of dogma that I reject outright is the categorical good of a heavy dose of garlic. Much as I love to cook with garlic, which is wonderful for you, it overwhelms the potato flavors. Let the potato be a potato.
Ingredients
2 pounds potatoes (Yukon Gold, russet or Idaho), peeled and cut into 2-inch pieces
Salt and freshly ground pepper
3 tablespoons unsalted butter
3⁄4 cup scalded milk (milk that has been heated to the point where it is almost boiling; regular or 2 percent)

Yield: 4 servings
Recipe
Put the potatoes in a saucepan, and cover them with cold water. Add 1 teaspoon salt. Bring to a boil, cover partially, and cook over medium-low heat until tender, about 20 minutes. Drain the potatoes, and put through a vegetable mill or potato ricer. Add the milk and whisk in the butter, then season with salt and pepper to taste. Serve immediately. Note: If you need to prepare mashed potatoes in advance for a dinner party, you can put them in a glass bowl covered with aluminum foil and set atop of a pot filled with a few inches of simmering water. They will keep at least thirty minutes without drying out. Mamie would store leftovers in the fridge and two days later make patties that she would reheat in a bit of oil with some sautéed shallots. She cooked the patties until they were nicely brown on each side and served them with a good tablespoon of freshly minced parsley--another quick side dish.