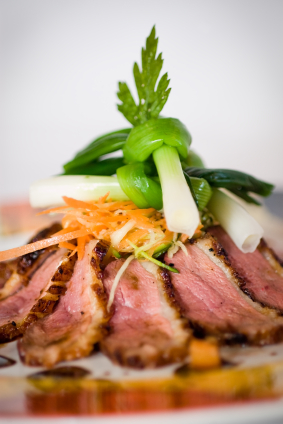 Americans rarely cook a whole duck. Today, duck breasts are available in most supermarkets or on the Internet, making a taste of canard easy and quick. Duck isn't as lean as turkey, but it has less saturated fat than most red meats. Though a rich food, and so not to be overdone, it's very digestible and moelleux (soft).
Ingredients
2 duck breasts (4 magrets), about 1 1⁄2 pounds
4 tablespoons sherry vinegar
2 tablespoons honey
2 tablespoons chicken stock
Salt and freshly ground pepper

Yield: 4 servings
Recipe
Score skin of breasts so that fat can render during cooking. Sear the breasts in a skillet over medium-high heat, about 3 minutes per side with skin side down first. Set aside. Pour the fat off the skillet and reduce the heat to medium. Add the vinegar and scrape up any bits sticking to the bottom of the pan. Stir in the honey and chicken stock. Cut the duck into 1⁄2-inch strips, return to the pan with the sauce, and cook briefly until done, according to taste. Season with salt and pepper to taste, remove, and arrange on plates. Drizzle sauce on top. Note: You can use a similar sauce with pork or chicken. * This is a corrected version of the recipe that appears in French Women for All Seasons.