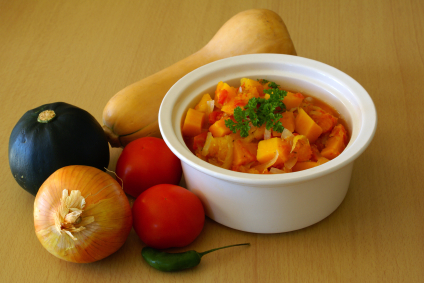 I discovered this dish in St.-Rémy-de-Provence, the village that inspired van Gogh's Starry Night vision. One late fall day, the weather went from T-shirt sunny to earmuff frosty overnight. "It hasn't been this cold this early in years," the locals kept saying. After an unexpected numbing two days, I was ready for something to warm my innards. And I am always ready for vegetables. Walking down Boulevard Victor Hugo, meters from where van Gogh painted Les Paveurs (1889), I saw Cocotte de Légumes Croquants on the blackboard menu outside the Café des Arts, a bistro-style restaurant and bar. A cocotte is a cast-iron covered pot, and just the idea of piping-hot vegetables cooking in one drew me in. The dish was delicious, a heartwarming single course for a wintry day's lunch or as part of dinner.
Ingredients
4 tablespoons olive oil
2 medium shallots, peeled and cut in half
3 pounds of mixed vegetables (carrots, leeks, haricots verts, fennel, celery, broccoli, squash, and beets), peeled, rinsed, and cut into medium pieces
1 pear, peeled and cut in half
1 apple, peeled and cut in half
Juice of 1 lemon
Salt and freshly ground pepper
Recipe
Put the cocotte (or any large heavy-bottomed pot) over medium-low heat. Add the oil and shallots and cook for 2 minutes. Add all the vegetables, fruit, lemon juice, and 1⁄2 cup water. Mix, season with salt and pepper to taste, and cover. Cook for 50 minutes, stirring occasionally. Some of the vegetables will still be a bit firm (al dente) while others will be moelleux (soft). Serve piping hot in a soup bowl or perhaps in individual-sized, warmed cocottes.