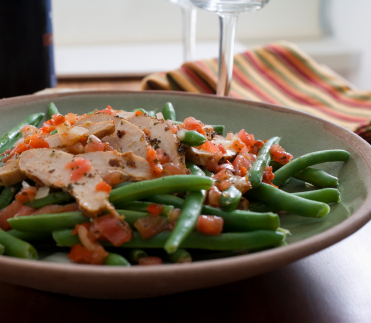 What Americans call string beans are known as French beans elsewhere, and haricots verts (green beans) are recognized as a slim variety of string beans. Before the nineteenth century, the French didn't use them much because they were so expensive. Their wonderful color and snap have always made them seem like a token of springtime enjoyed in fall.
Ingredients
Sprig of parsley
Sprig of tarragon
1 bay leaf
1/2 an onion, peeled
Salt and freshly ground pepper
2 boneless, skinless chicken breasts
2 teaspoons Meaux mustard
2 tablespoons red wine vinegar
6 tablespoons olive oil
3 tablespoons heavy cream
2 tablespoons minced fresh basil
1 pound haricots verts
3/4 pound mushrooms, cleaned and thinly sliced
1 cup Tricolor Peppers
1 tablespoon lemon juice
1 cup coarsely chopped walnuts

Yield: 6 servings
Recipe
Bring 2 cups of water to a boil. Add the parsley, tarragon, bay leaf, onion and salt. Drop the chicken into water, and poach for 12 minutes. Cool and cut the chicken into small pieces. (This step can be done in advance.) For the dressing: Put the mustard and vinegar in a bowl, and mix well. Whisk in the oil, then add the cream and basil. Season with salt and pepper to taste. Steam the beans for 8 minutes. Drain, and place in a bowl with the chicken, the dressing and all the remaining ingredients, and toss gently.