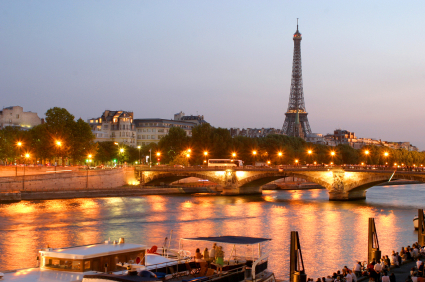 You've seen the Eiffel Tower, cruised the Seine, been to the Louvre, visited Notre-Dame, and walked along the Champs Élysées with the Arc de Triomphe in view, so let me offer some of my local pleasures for living like a French Woman. (I'm a Left Bank, 6th arrondissement girl myself as you'll deduce.)
1. Visit Place Dauphine (enter off the Pont Neuf, 1st arrondissement) for the silence (except for the sounds of the birds), its beauty, history, and perhaps a quiet bistro meal in a tucked away eatery.
2. Walk along the Seine from the Pont Neuf past the timeless bouquinistes with their used books and magazines to Ile St-Louis, the smaller of the two islands in the Seine (4th arr.). Perhaps treat yourself to an ice cream on the island at Berthillon (31 rue de Saint-Louis-en-l'Ile), long celebrated by Parisians and visitors.
3. Watch the ducks at the Fontaine de Médicis in the Luxembourg Garden (6th arr.), and on weekends children sailing toy boats in the larger fountain in the Gardens behind the Sénat. Bring a book and claim a chair.
4. Pick up freshly baked croissants at Carton (6 rue de Buci, 6th arr.) any morning except Monday. The best. And you can always sit down at one of the several near-by cafés for a grand crème (large coffee with steamed milk) with a bite of your croissant.
5. Rent a Smart at Avis and navigate the arrondissements and visual sites on the weekend, especially on Sunday morning when Paris is at its sleepiest.
6. Go to the Raspail Marché Biologique, the lively outdoor organic (bio) food market, held on Sunday (rue Cherche-Midi to rue de Rennes, 6th arr.).
7. Lunch with a girl friend at Ladurée Bonaparte, in the main dining room of the elegant tea salon in Saint-Germain-des-Prés (21 rue Bonaparte at rue Jacob, 6th arr.). The 1862 original Ladurée tea salon at 15 rue Royale in the 8th arr. is an elegant feast for the eye and palate and is a less relaxed but pleasing alternate.
8. Enjoy the towering plateau de fruits de mer, seafood platter, at Le Procope, one of Paris' most historic restaurants—with 18th and 19th-century décor and busts of Voltaire and others who dined there—that always gives somewhat touristy restaurants a good name (13 rue de l'Ancienne-Comédie, 6th arr.).
9. After visiting the Cluny Museum, officially the Musée National du Moyen Âge (the National Museum of the Middle Ages, 6 Place Paul Painlevé, 5th arr.) with its medieval architecture and artifacts and tapestry collection, which includes La Dame à la Licorne (The Lady and the Unicorn), pause across the street in the Square Paul Painlevé, a historic tiny garden square in the Latin Quarter. I spent many an hour there during my college years as I lived on the Square.
10. Enjoy street artists' performances, "artistes de rue," in front of Centre Pompidou (4th arr.) or on the Pont St. Louis behind Notre Dame, where on a Sunday there will be jugglers, musicians, fire eaters and lots of laughs.
11. Walk from rue de Rivoli on the Right Bank through the Cour Carré du Louvre and out onto the Pont des Arts and admire L'Institut de France (my favorite Parisian building with its gold dome) on the Left Bank. Continue up the rue de Seine for some serious gallery hopping.
12. Return to the Pont des Arts after dark for an upper glimpse of a sparkling illuminated Eiffel Tower (20,000 strobes) and an always-impressive night view of the Seine and its bridges.
13. Visit the flower market, Marché aux Fleurs, bordering on the Seine not far from Notre Dame on the Place Louis-Lépine (4th arr.). The shops and stalls are alive with colorful flowers and plants, and on Sundays additional merchants arrive with cages of birds and some small animals.
14. If you speak some French and want to share cooking and eating with Parisians run to L'Atelier des Chefs (10 rue Penthièvre, 8th arr.) created by brothers Nicolas and Francois Bergerault for busy Parisians needing some simple cooking techniques. The least expensive formula is 15 Euros for lunch. In a great setting you'll spend half an hour preparing and the rest tasting. Participation is required under the direction of a chef. Other options include dinner for 2, 4 or take out.
15. Cookbook browse at some of the more than 8,000 cookbooks, mostly in French but some in English, at Librairie Gourmande (4 rue Dante, 5th arr.).
16. For the literary minded, visit two of my favorite little spots on the Right Bank: Maison de Balzac (47 rue Raynouard, 16th arr.), which is a museum displaying not only his manuscripts and first editions but also paintings and drawings of his family and friends, and Musée de la Vie Romantique (16 rue Chaptal, 9th arr.) devoted to George Sand (famous not only as a writer but for her romantic liaison with Chopin).
17. Buy a newspaper, find a sidewalk café (most will do) order a coffee, tea, citron pressé, glass of wine, or whatever, and settle in for some serious people watching and occasional reading, like a vrai French woman. If you want to add the Jean-Paul Sartre and Simone de Beauvoir legend to the experience, head for the famous Café de Flore (172 boulevard Saint-Germain, 6th arr.). Enjoy a drink on the street level, but ask for a table in the upstairs dining room if you want to order a decent, simple meal among regulars.
18. Go to one of the frequent chamber or religious music concerts in the heart of the Latin Quarter at Église St-Julien-le Pauvre (1 rue St-Julien-le-Pauvre 5th arr.), one of the oldest (and smallest) churches in Paris.
19. Take a leisurely stroll along the Canal Saint-Martin, the 2.5 mile canal commissioned by Napoleon to connect the Seine with France's northeast canal system. It starts above ground a few hundred yards from Place de la Republique, where you can stroll along its banks in the 10th arr. in the shade amid artsy boutiques, bars, and in sight of iron footbridges and locks. On Sundays in good weather, the area is alive with pedestrians and bicyclists as the Quai de Valmy and Quai de Jemmapes are closed to traffic. You can have an unusual glimpse of hidden Paris and a special experience if you travel the canal with its eight locks by (very slow) open boat (departures are from either end of the canal several times a day).
20. After you've shopped (perhaps better stated as visited) the chic boutiques and haute-couture emporiums of Faubourg-Saint-Honoré and avenue Montaigne in the 8th arr., shop a bit off track at edgy clothing and designs shops on and around rue Poitou and rue Pastourelle in the 3rd arr.
21. Walk the curved walkways of the centuries-old Park Monceau in the 8th arr. (the main entrance is on boulevard de Courcelles), and admire the white statues of writers and musicians and the lush display of flowers—from beds of seasonal flowers to rose bushes to venerable trees and rare specimens. This is a park enjoyed by local residents (many wealthy) where watching children in the playground and following the adults in partaking of a picnic lunch is experiencing Paris like a French woman of a certain style and class.
22. Rent a velolib, the bicycles available to pick up and drop off at stands all over Paris, and peddle the backstreets of the 4th, 5th, 6th and 7th arrondisements (for starters), especially on the weekend. (You may have to stop now and again at a pastry shop for a little fuel.)
23. Because small is beautiful, visit one or more of the small Left Bank museums, notably Musée du Luxembourg at the Luxembourg Gardens featuring temporary exhibitions; The Musée Rodin in the Hotel Biron (77, rue de Varenne, 7th arr.) in the mansion where Rodin lived, includes some of his best and most famous bronze and marble work, works by Camille Claudel, Van Gogh, Monet; also in the 7th arr. in a townhouse the Musée Maillol (61 rue de Grenelle), where the full range of the works of the sculptor, woodworker and artist, Aristide Maillol are on display as well as a range of mostly 20th-century artists: French naïve art, paintings by Matisse, Degas, Picasso, Ingres, Cézanne,Valadon, Foujita, Dufy, Bonnard, Redon, Gauguin, Rodin, Poliakoff, Kandinsky, Duchamp,Villon, Gilioli, Couturier, Zitman, and Russian artists.
24. Visit the Galerie Vivienne in the 2nd arr. (4 rue des Petits-Champs, 6 rue Vivienne, 3 rue de la Banque), the most luxurious and handsome of the Paris passages, the covered gallery shopping arcades dating from the early 19th century. With its mosaic flooring, period lamps, original glass roof, magnificent rotunda and Empire period decoration, this arcade is a great place to browse exclusive shops for clothes, shoes, jewelry and accessories. Lunch or enjoy afternoon tea inside the gallery at the quiet, chic and delicious A Priori-Thé.
25. Enjoy a single square of divine chocolate (if you can control yourself) at Pierre Marcolini (89 rue de Seine, 6th arr.).