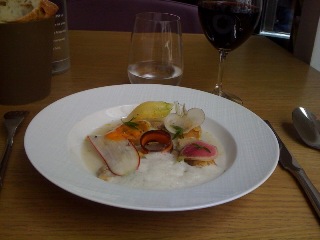 For those of you headed to Paris this summer, here are some of my most recent favorites…
For lovers of black and white Willy Ronis photos…if in Paris before August 22nd do not miss the 150 photos donated to the French state, now on view at La Monnaie de Paris, 11 quai de Conti, 6th Arr. There are five themes: street scenes, working scenes, travels, the human body and the photographer's life. What a way to celebrate Ronis' would-be 100th birthday.
For fashion lovers, go to the Italian Cultural Institute, 73 rue de Grenelle, Paris 7th, where until July 30th you can see how Fernanda Gattinoni, the great Italian designer of the 1950's, dressed the belle donne and actresses like Ingrid Bergman and Audrey Hepburn. Worth a detour especially if you are not familiar with the institute, a little gem of a place.
The new Institut Français de la Mode on 36 quai d'Austerlitz, Paris13th, an industrial design complex in the Cité de la Mode et du Design, is also worth visiting.
An enchanting Parisian bridge, le pont/passerelle Solférino, renamed after the African poet, passerelle Sédar-Senghor, is an enchanting way to cross the Seine from the Musée d'Orsay to the Tuileries and the Louvre.
Et la nourriture…
With so many new cheap and bad eating places opening in Paris (blame globalization, though many don't make it and will be closed next visit, hurray), you'll need to spend 25-35 euros for a superb lunch, but there are plenty of such places and they are worth saving for. Recently, we discovered (the second) La Regalade St-Honoré, 123 rue Saint-Honoré, Paris 1st, just as good as the first. Even better was returning to Claude Colliot, 40 Clos des Blancs-Manteaux, Paris 4th, where Pleasures rhyme with Perfect Portions. Here are a few treasures from my meal…
Yummy clam appetizer
Perfectly cooked rabbit for the entrée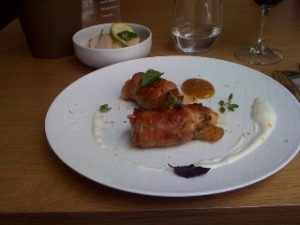 And dessert…"tout rouge" except for the "trace" of mascarpone with pistachio nuts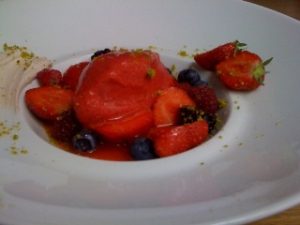 Speaking of desserts…best ice creams in Paris: it used to be Berthillon. Try again. The Italians have arrived! I still like Berthillon (at least the one at the "headquarters," 31 rue Saint-Louis en l'Ile), as well as Le Bac à Glaces, 109 rue du Bac, 7th, but my preferences go to the Italians such as Gelati d'Alberto, 45 rue Mouffetard, 5th, Pozzetto, 39 rue du Roi de Sicile, 4th, though my favorite is Grom, 81 rue de Seine, 6th (or if you can't come to Paris try their one and only in NYC on Bleecker near 6th Avenue)—zee best of all in my book.