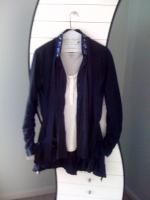 True elegance involves restraint…
We (6 friends…French, US, Italian and Japanese) were sitting at a café in Paris watching people and my friend Anne Laure was stunned: "I can't get over how many people wear things that don't fit. It makes them look shorter and fatter." Hard to deny the fact. We should have taken pictures but felt it would be too much! The proof was in the pudding. A young woman in her twenties who was overweight to start with was wearing shorts (oui, in Paris, like New York, this has become the norm in the "no rules" or "I don't care" world) showing less than attractive legs and the top was this cheap t-shirt with ruffles (yes, we know…trendy this summer, but most of us don't look good in ruffles) and her sneakers (another eye sore) made things worse. Ok, she was probably on vacation and wanted to walk comfortably. Ban the excuse, Akiko said.
Anne Laure kept looking, and it was not a pretty picture. Boxy light sweater with an elastic at the bottom (another trendy item that does not work…or at least does not make women look good). Wrong color. Jeans too tight…and too dirty. Super oversized earrings. Breasts too uncovered. Bag too big, banging into every person coming the other way. And forget the "I am sorry"…no paid attention whatsoever, though most were on their phone while walking so we guessed too much multitasking already! The show went on for over an hour. Anne Laure kept looking and wondering with all the fashion magazines and TV makeover shows, why this? "Do people look at themselves in a mirror before leaving home?" asked Fiona. Probably not, and if they do, maybe they don't know any better. It was a funny show for an hour, but looking back I find it rather depressing in our age and time.
On a positive take:
What's hot this summer?
Blue (at least in France) is the new black. From Klein blue to deep navy to royal to sky, blue is zee color.
Classic shirts are timeless. Go for blue or white…super on white or black pants.
Black and white always do well. An all-white outfit always looks cool and fresh and both colors tend to make us look thinner.
Short dresses in colorful pastel or flowery design. I love my white and various shades of blue one, which can be worn as a top over pants with a belt, or as a summer dress with my high white espadrilles…and my blue hat.
Ballerinas (flats) are still hot. So are loafers for city walking or low heel pumps. Espadrilles are de rigueur, especially at the beach, biking or even walking. They come in colorful shades and patterns. Some are flat but there are some comfortable "high heels" much more attractive than those platform shoes with layers created by high-end designers at obscene prices.
Hats, bags, good sunglasses (please avoid the super-sized ones even though celebrities feature them, as I am sure they cover some extra but they do look ridiculous on most women's faces unless you were born with a large face and oversize features!), fun jewelry and scarves are definitely the summer accessories. Many friends don't buy (can't afford) new clothing so narrow your choice to what makes sense.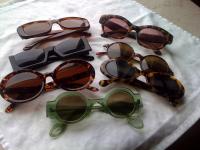 For hats…we favor the panama, usually white/ecru or cream but this year colors are in and hot…you saw my blue one on Twitter late May…never got so many compliments by men and women… for a hat!
For bags, Il Bisonte offers super bags from the Il Bisonte model (double-handled satchel with turn-lock closure is very versatile) to Nine to Sabrina, Amalfi or Lampedusa, the last two for the beach and/or the country.
Jewelry goes natural with a mix of flax and inexpensive pearls.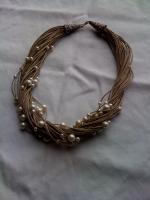 Scarves are long and narrow and can even be worn as head turbans. Cool.
If you need a summer jacket, opt for a light one. Blue and white stripes by Pauw is a winner and again goes with everything and is perfect for the evening.