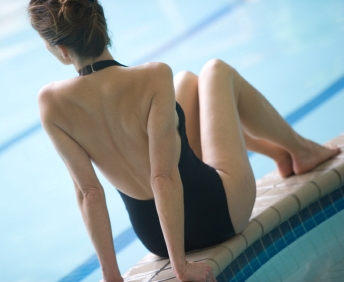 I have to admit I'm looking for a new bathing suit. Never thought it would happen but a few "inexpensive" bikinis are falling apart now that I spend the summers swimming every day sometimes twice. The two I have and love best were purchased some 20 years ago in NYC at Norma Kamali. I remember I couldn't quite afford both but had to have them and they both fitted so perfectly I couldn't pass, and figured I'd save on something else for the summer as I tried to explain to my husband shocked at the receipts that it was a good investment (quality factor and black is timeless!).
Wise girl, it turns out. Both are still in top shape. They actually look pretty new and should last another ten years: the black under-wired bikini is super for swimming and the elegant cleverly draped one-piece is super for the beach and so glam that last year I even wore it as a top with a long narrow black skirt to attend a fancy gallery opening and got lots of compliments on my "chic gown." So, merci, Madame Kamali…I actually saw one of her latest 2011 creations in some fashion magazine…black one-piece but with one shoulder covered, quite stunning. It would be a superb addition to my small collection.
In France this year, one piece is zee choice as designers have added great details, and even young women in their twenties who crave for something more ladylike this summer opt for them. In Paris, Princesse Tam.Tam makes a billiard green one piece in satin stretch that is a big hit. If money is no object, try Lanvin as they make stunning pieces, as well as D&G (if I were in my twenties I'd be tempted with the white one-piece with cherries on it…fun and colorful). Eres makes lovely ones (I particularly like a blue one piece with narrow shoulder straps crossed like in a jumpsuit, thus giving free shoulder movement while swimming), so do Gottex, Diesel, Jantzen, Undrest, Zimmermann, Osklen and Sportmax.
Goyard bags with your own initials anyone? How clever
"When your own initials are enough": ages ago, it used to be a Bottega Veneta ad. I loved it because I have never enjoyed (actually I can't stand it…find it so crass) carrying brands' logos on moi… like free advertising or considered a status thing for many. But nowadays, even Bottega Veneta has succumbed to the logo thing. I applaud Goyard, a company founded in 1853, small and very discreet sleeping beauty of luxury (accessories for cats and dogs originally, as well as suitcases, bags and more) based in the superb city of Carcassonne in the South West.
Wonder if some brands will get the message and imitate.