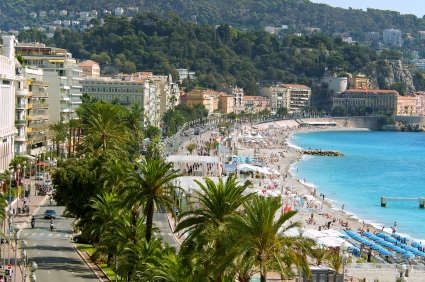 Nice is nice and you can always practice your Italian in Nissa la bella. Actually, it is a glorious city that attracts the entire world. The British still come first (so no use to change the name of Promenade des Anglais yet!) and Americans have now been topped by Chinese, and Russians are coming back—they were there last century—plus more Italians are buying pied-à-terre (the price is still not as high as most places) and a huge range of low cost flights from all over Europe make a visit affordable to many citizens for the first time. I had not been back in a while and was stunned to see the embellishments from the last ten years. It caught me by surprise. No doubt, the ambitious mayor has something to do with it, and as Arles rivals Nimes, Nice rivals Marseille, possibly because Marseille is getting too big with over 850,000 inhabitants versus 344,000 in Nice, which also got a seriously delicate lifting.
The population is a nice mix of retired people (21.95%, one of the highest in France) and young couples with kids as well as lots of singles. Private residences (often in former palazzi) offer parking, pool, tennis and superb views on the Baie. One can walk practically everywhere, and good bus and tram services make it convenient, inexpensive and livable without a car. Personally, I could go along with Matisse ("I decided never to leave Nice, and remained there nearly my entire life," over 20 years in his case). It is easy to succumb to the light of the city, the low blue sky, the famous Baie des Anges and its Promenade des Anglais, its surrounding hills especially the peaceful Cimiez, a microclimate, a luxurious vegetation with magnificent pine trees and exotic colorful flowers that remind one of the Carribean. And, of course, its markets, not only the famous one Cours Seleya with its flower market and on each side rows of cafés, brasseries and restaurants where locals and visitors can rest in the shade watching the action all around. I was also amused to see tourists and locals heading to the beach (no sand, alas, but gray galets, and not much space but girls looking for a June tan were there) and a few hotels setting up lounge chairs and restaurants to make believe and attract guests to spend a lazy day on the most famous stretch of La Côte d'Azur.
To me, Nice is a lovely mix of France and Italy that makes it a very attractive place to live. The best of both worlds in a way. Head to Place Masséna or Place Garibaldi where the colors of the buildings all in ocre or dark red will remind you of Italian cities. The coffee shops and restaurants all around lead for the passagieta concept, ditto the fountains and lots of gorgeous buildings and palazzi (new and less new) that show a French city with an attractive architecture. Great renovation and cleaning and, merci, no sky scrapers.
To visit Nice, one can rent by the week all over the city and especially on the Promenade des Anglais, which is a great location for visitors without a car. Now, the bike lanes allow you to ride all along la Baie des Anges, a treat in the early morning particularly. There are plenty of grand hotels, and the recently redone Negresco is still the top in town (and a meal at the Chantecler still tough to get a table at the last minute) but a few additional modern hotels with character and/or pool on the roof are worth considering. The Windsor and High are hot. This time I wanted to explore Cimiez where a friend used to live as it is in a residential area and feels like a little village on its own. A nice stroll to the center, it is quieter and has magnificent views on all of Nice. A stay at the Petit Palais, once the residence of Sacha Guitry (the man had taste) and now a small "hotel de charme" and silence, I may add. Pick one of the rooms with a terrace (small in 203 and 205 and large in 202, my favorite room) and enjoy the lower terrace for breakfast. The staff is charming and the owner, Didier, present and attentive to ensure your stay is delightful. You will not want to leave.
There are plenty of little places to eat, though for great food head to La Petite Maison where local Nicole runs the show. Pissaladiere, deep fried zucchini flowers as light as air, grilled fish from bar to sole, and if langoustines are available, a treat of six is not to be missed. Don't miss the desserts either. The terrace is lovely and locals invade the place all year long. Other top spots are Les Deux Canailles, L'Univers de Christian Plumail, Flaveur, Les Viviers and Les Epicuriens. Now, there are also plenty of new small bistrots or cafes with take out and some with épiceries (grocery stores with limited offerings) run by young chefs who use fresh ingredients and offer an inspired menu, and I recommend the following: Bistrot d'Antoine, Chez Alberti, Bistro Gourmand, A la Socca d'Or, Au Comptoir du Marché, Chez Cane, Le Local, La Mise au Verre, Rosalina, Au Rendez-vous des Amis, Le Petit Lascaris, Les Deux Palais, In Vino. For fish and seafood head to Les Pecheurs or l' Ecailler near the port.
Two great places for breakfast are LeNotre and DeliBo for excellent brioches and tartes au sucre on a quiet street. And for breakfast, lunch or dinner run to G&Stefan for sweet and sour dishes and delicious pastries. Don't miss Keisuke Matsushima for Japanese flavors with delicate local ingredients and wines. Nice also has a range of good casual Italian restaurants like Arrimi or Acqua where pizza and pasta are as good as across the border. For great bread head to Espuno, for sweets Maison Auer or Mimosa and for chocolate Xocoalt or Canet.
The museum of modern art is worth seeing, there are a few small theaters, an opera house and lots of activities for kids and adults. The plans for more "espace vert," port expansion and much grander projects are function of budget coming through. On an early Sunday morning walk along the port, I witnessed groups of young people heading to diving excursions. My favorite outing was to the Matisse museum, alas not so much for what it offers inside but the walk uphill was a treat and the area around the museum includes the arena, an olive grove, a park and a monastery with museum.
Nice's location is pretty spectacular, too, for nearby to Villefranche, Eze, Roquebrune, La Turbie and Menton on the east side and Vence, Cagnes, Antibes, Mougins, Vallauris, Le Cannet (with its new Bonnard museum) and Cannes on the west. And Cap Ferrat is not bad either!
Nissa la bella, she is indeed a little gem. Can't wait to go back (heard the Carnaval is worth a detour).