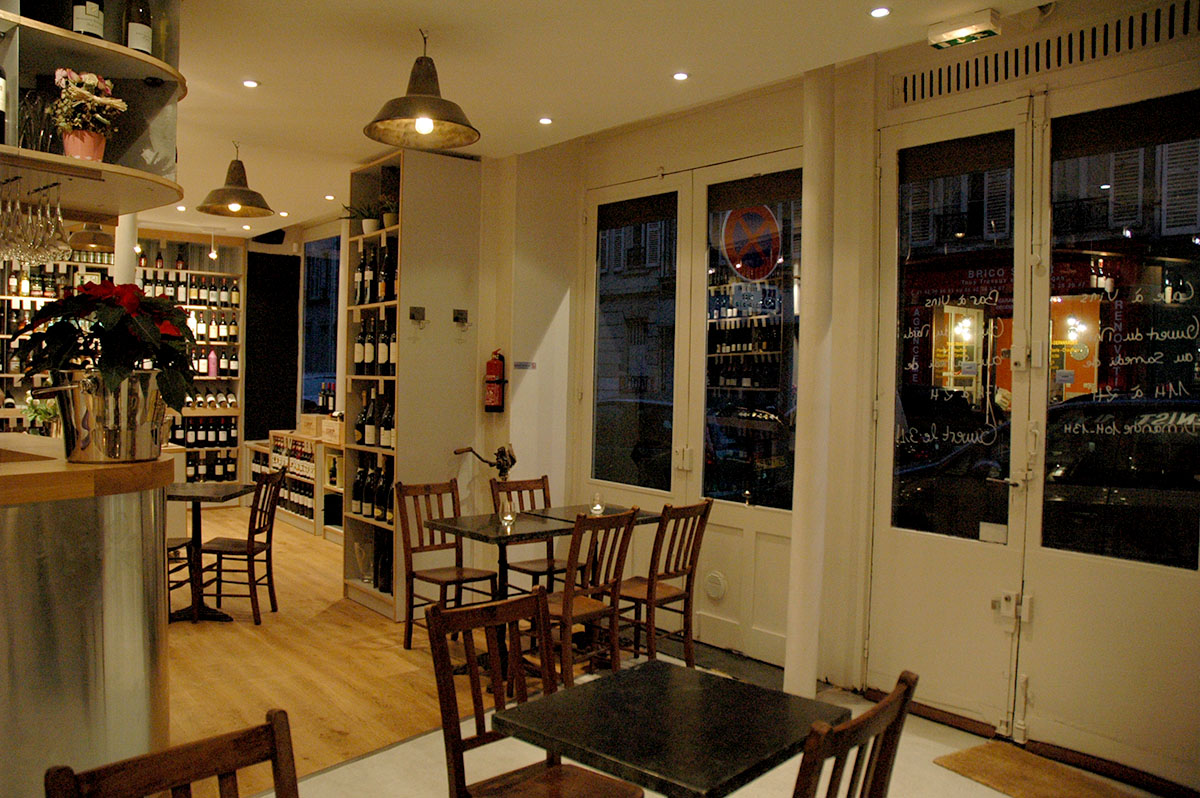 The very best wine bar in Paris in the Batignolles, a fun section of the 17eme: L'Ébéniste du Vin, 72 rue Boursault.
Head to the area, the wine bar, and meet my wonderful Parisian friend Laure. She is French but we met in NYC some 6 years ago. Her uncle, a friend who directed Château la Nerthe in Châteauneuf, gave her my name when she arrived in New York in case she needed help, and she did, and we became friends. I adore her enthusiasm and risk taking.
Here's an example of a young woman following her passion: wine. Although she had studied business, graduating from HEC, a grande école in Paris, she didn't have great interest in pursuing business in a typical company. She came to the US to study the wine business and was not afraid to take all kinds of jobs selling wines to restaurants and retailers, and working first for a distributor and then an importer and gaining good experience.
Then she met a man and decided to return to France and open "un bar à vin," and two years later she made it. What a story…too long to tell here but she found this super space and thus could have both a retail shop and the wine bar (not an easy thing to find in Paris), and then there was a cellar in bad shape which she transformed to use as an extra space and for private parties. Cozy, warm, as we say in French "tres sympathique," and Laure is hands on and you will no doubt meet her and understand how the place reflects who she is.
With her wine knowledge and advice from her father and uncle and a few others, she came up with a very interesting selection. As for the menu, you can make a lovely meal there starting with crudités with a wonderful herb sauce or some saucisson selection from the Basque area; she also has a wonderful charcuterie platter but we opted for "pleine mer" with top ingredients from smoked salmon and trout, sea urchin tarama, sardines and tuna rillettes served with an amazing bread. We also shared a cheese platter, not your average or common one; Laure likes to be different. And for dessert, a friend makes her a trio of rice pudding with caramel, panna cotta with fresh fruits, or milk chocolate mousse. Trust her for the wine selections.
She started in November and never advertised. It was "word of mouth" from the start and she's packed every day. Great experience for foreigners to see French girls, young couples, couples with the baby, families, bunch of guys celebrating—a mix of the neighborhood—and then some NYC visitors like the 3 of us who spent a delicious evening. We'll be back, Laure, and send friends so keep a few seats for us. Bravo and continued success.