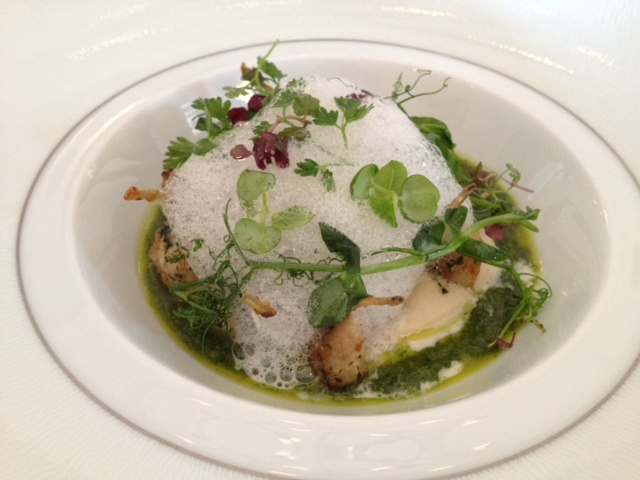 Great meals come in three Michelin one-stars? In Paris Spring 2012 they did (and at a three-star, too):
Sola, near Notre Dame in the 5th, was a revelation. Trust a Japanese chef trained at Astrance, serving the most exquisite dishes in an atmosphere of the old Paris with beams and lovely salons. The staff is wonderful, well-trained and discreet. The food is limited to two menus at $35 and $50, but what a treat this is, from the sweet potato velouté to steak tartare to sea bass, scallops and pork treated à la japonaise with amazing pairings (the scallops with turnips was superb), and two amazing desserts that once again show the care and passion the Japanese put into everything they do.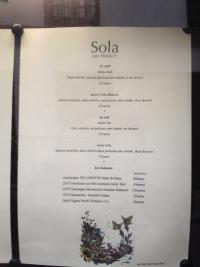 Fish lovers who also like romance in a chic little place can hit 35 Degrés Ouest, at 35 rue de Verneuil. The fritter d'eperlans and tourteau (crab) with granny smith was all taste of the sea and lightness; turbot with artichoke barigoule (pictured above) and the risotto with langoustines were two classics cooked to perfection; and for dessert the chouquettes glacées praline were a clever variation on the rich profiteroles.
Les Tablettes Jean-Louis Nomicos (the ex-chef at Lasserre) could be my cafeteria if it were not on the other bank far in the 16th, but it's well worth a visit. The 58 euros menu club with wine and coffee may well be the best value in town, as the food is easily of 2-3 star level. The dish many come for is his macaroni with black truffles, but for me the spring lamb was like butter. The tapioca dessert is not to be missed. The sarrasin bread is addictive. The service is wonderful with a passionate sommelier and an unusual choice of wines.
A meal for a special occasion: l'Ambroisie on Place des Vosges. I used to go quite a bit for work in my youth…guests and press would often pick it when given a choice of a 3 star restaurant. The place is quite unique: a hotel particulier with exquisite details from floor to curtains, and it's quite magical to sit in one of the 3 small salons. We had not been there for years, and going back now that the son is in full charge was a revelation: even better. Wow. Feuillantine de langoustines with curry, scallops with shaved black truffles (the last day we were told), a verrine of romaine with crème fraîche, sweetbreads with foie gras and chicken with the first morels of the season, and chocolate dessert with extraordinary petits fours make this dinner celebration one of the great meals of a lifetime.