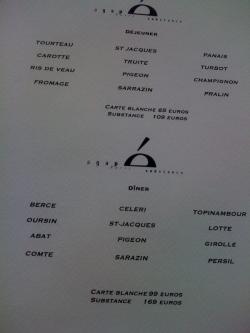 We had something important to celebrate and wanted to do it in a new place. Perfect choice…L'Agape's third place just opened in Paris 6eme and is a treat if you are ready to be surprised (we were), as there is no menu, just a card with a few seasonal ingredients and a choice of courses. We picked the minimum (3…well with the added amuse and pre-dessert it was 5…more than enough), starting with a jura grain transformed into a mousse with some greens and a tiny tulle, a dish of yellow and red carrots cooked oh so slowly; scallops and some variety of broccoli for one, pigeon and beets for the other; a pre-dessert of a dice of pumpkin (wow that was my pre-Thanksgiving…awesome…with a tiny quenelle of ice cream) and a mélange of dark chocolate texture.
Only 20 seats and mostly a long communal table (not my favorite way of eating, I admit) but we lucked out: by calling at the last minute, we got one of the two "isolated" tables. The staff is wonderful. We hear that dinner requires a 3-week wait but lunch is easier. No problem as it is my fave time for main meal. I'll be back to taste the mushroom, sweetbread and sarrazin dessert. The wine list is good, the butter and bread extraordinary. The price of 39 euros for 3 courses is not cheap, but considering the quality of the experience it's worth it. AGAPE means love in Greek.
Agape Substance, 66 rue Mazarine, tel 01 43 29 33 83
The menu:
Best meal of the week…for a romantic dinner head to Cobea, 11 rue Raymond Losserand, Paris 14th
Like many new places with young chefs (ex L'Hotel, rue des Beaux Arts 6th), there is one menu (small kitchen requires it) with a formula of 4, 6 or 8 courses. We picked the 6, but considering all the little extra goodies 4 would have been fine. Cheap it ain't (75 euros per person), but consider the wonderful setting and decor, all in grey and light green and pale, very soft and zen with tables well spread so you have intimacy (plus the French speak in low voices in restaurants, so no disturbance whatsoever), and the clientele was mostly local.
We started with some small boulettes made with goat cheese, pecan nut, honey and sarriette, and with our glass of bubbly came a tiny crab shell filled with the most delicate and fresh crab meat mixed with green apple and mild spices and a dollop of quince of the side. Spectacular. It only got better with the large ravioli stuffed with mushroom duxelle and topped with fresh sautéed little pieces of girolle and pleurottes and a cremeux (thick soup) of mushrooms, so dense and topped with a sliver of parmesan…wow. Two small sea scallops were served on top of a creamy mixture made of chestnuts and banana. Yummy.
Then a small piece of John Dory (baked slowly for sure) with a tablespoonful of cauliflower puree and a dollop of lemon mousse. Another yummy. The chicken breast was cooked in vin jaune and tasted like the best moist chicken you've ever eaten. The cheese course was a few slivers of old comte with a sabayon of jura wine, a pre-dessert was pear sorbet with a tiny, not so sweet meringue filled with raw pear in tiny cubes, and followed with a dark chocolate square served with a milk emulsion with cardamon and cinnamon, and if all this was not enough, with coffee came some passion fruit and little cakes filled with lemon cream.
The type of restaurant we like. The portions were tiny, which we liked considering the palette. A feast for a king and his queen. The tasting wines that went with the meal were all little known names but oh so good and so well paired. The staff is wonderful. Can't wait for another celebration for an excuse to return. A truly wonderful evening.