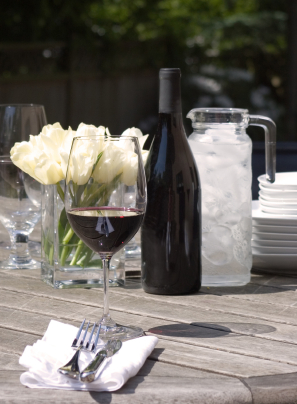 Labor Day is a bittersweet holiday for many of us. It's the final bow of our summertime reverie, marking the end of the relaxed, leisurely summer pace. But it also welcomes in a vibrant new season and offers us a chance to re-awaken our senses and greet the coming pleasures of autumn: renewed energy, cooler temperatures (a blessing after this year's heat), new colors and different foods.
The tradition of a Labor Day cookout is one I have heartily embraced as an American adoptee. What better way to celebrate the closing of the summer than with a feast of the season's fruits? If you're looking to add a French touch to your Labor Day menu this year, here are a few ideas, all simple and flavorful dishes celebrating the bounty of the season.
Menu 1:
Starter: Zucchini bruschettas
Entrée: Barbequed duck with peaches
Vegetable: Haricots verts with tomatoes
Dessert: Plums with ginger, served with a scoop of vanilla ice cream or a spoonful of whipped cream
Menu 2:
Starter: Cucumber verrines
Entrée: Grilled chicken with rosemary marinade, served with potato-olive ragout
Vegetable: Steamed zucchini with basil
Dessert: Figs with ricotta cheese and wildflower honey
Best wishes to all for a Labor Day weekend full of pleasure.