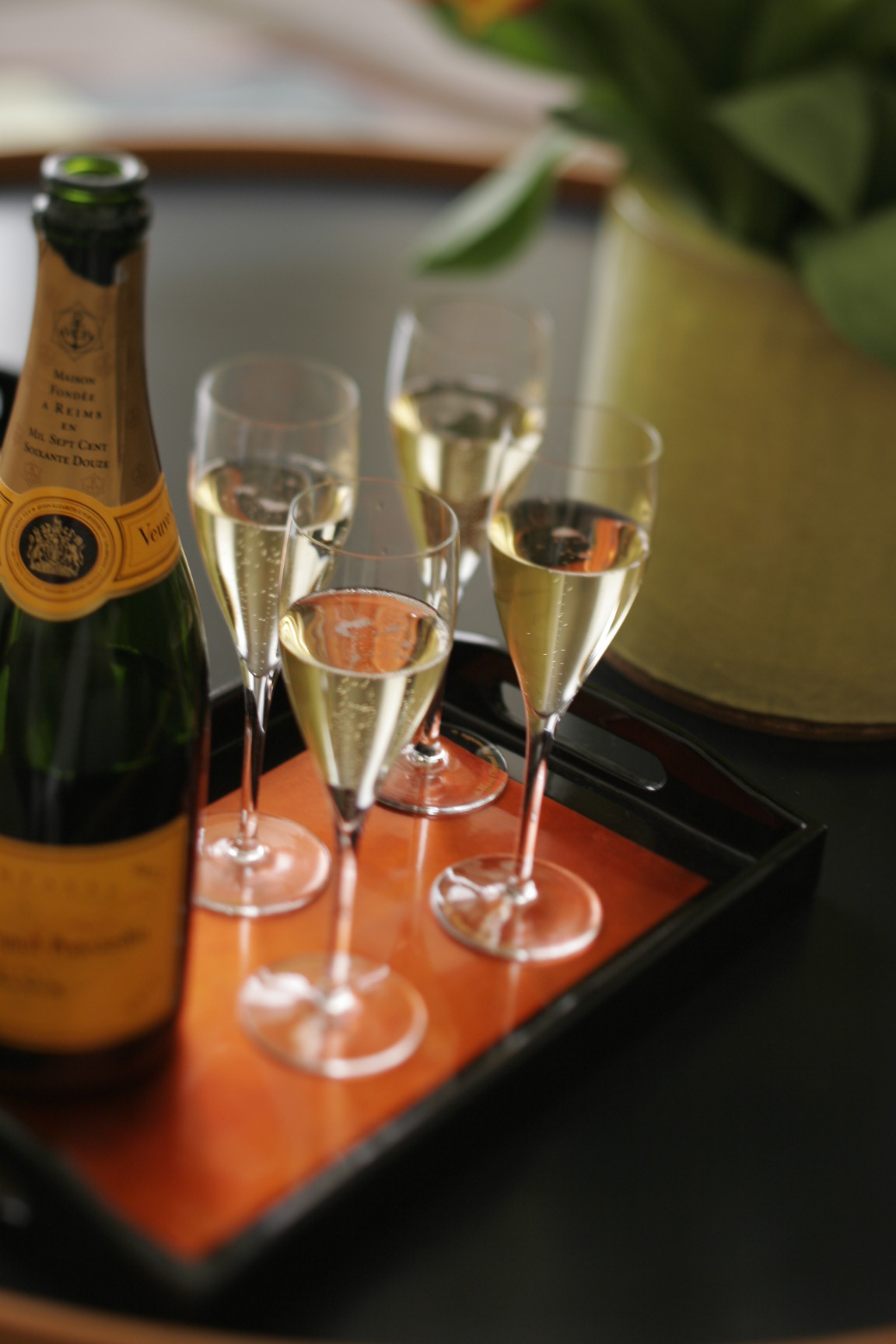 Legend has it that it was on August 4, 1693 the French monk Dom Pérignon discovered the first Champagne. Upon tasting his bubbling concoction he leapt in ecstasy and shouted "Come quickly, I'm drinking the stars!" Though the story is almost definitely fictional, it is a certainly nice to imagine that this was the start to an industry the whole world would come to know and love.
For more than two centuries, the wines of Champagne have been present at happy occasions all over the world. To me, Champagne is magic. It's also a supremely feminine wine. I love everything about it: the seductive honey color, the tiny bubbles (they should dance for you), the scents and tastes (citrus, pear, apple, dried fruit, brioche, the lovely, long, yeasty aftertaste. I love the mood Champagne creates, the feeling no other wine can come close to: celebration, life-affirming joy. I find Champagne a forgiving wine, too. The drama in the glass makes it hard to drink it too quickly, and I've never been drunk from it or had a Champagne hangover. Of course, I drink it in moderation and always with food. As with all good things in life, balance is the word.
Pairing: Bread and Champagne are for me a match made in Heaven, especially when the bread is a tad warm. Another similar ambrosial combination is anything doughy, such as brioche, gougères (an easy to make bite-sized cheese puff) or puff pastry, served with Champagne, not indulgences you want to abuse but as a few bites as an aperitif, which should convince you Mae West was right when she said, "too much of a good thing…is wonderful." Alas, it is necessary portion control that proves that rule. To me, however seafood and fish are what I love best with my glass of bubbly. Fish preparations, as long as they are not heavy on cream, are wonderful with Champagne. White meats are a great match too and as for veggies, mushrooms are the ideal marriage.
Finally, if you are still deciding whether or not to pop a cork with your meal, here's a little expression that may help. It is a favorite of some of the people who sell Champagne: "Burgundy makes us think of naughty things, Bordeaux makes us discuss them, and Champagne makes us do them!" As I said, enjoy.