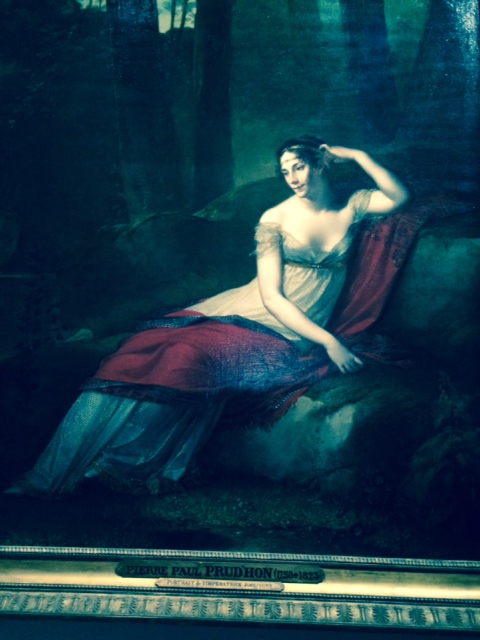 The exhibition at the Paris Musée du Luxembourg gives a good portrait of a modern and passionate woman. What a destiny. What a show, with loans coming from various museums from all over the world to take us into the Empress's world.
Born in Martinique 200 years ago, Marie Joseph Rose Tasher came from a family of plantation owners. After a strict local education, she was sent to Paris at age 16 to wed Viscount Alexandre de Beauharnais. Two kids and a not so happy marriage led to a brief return to Martinique. When she returned to Paris her husband had taken up the Revolutionary cause and soon after was arrested under the reign of terror and died at the guillotine. She was let free. A few years later, in 1796, after settling in a fashionable Parisian district she married the young ambitious general Napoléon Bonaparte. Little did she know what destiny would bring: Napoléon's rise to power and wealth allowed the purchase of the chateau de Malmaison, and when the Empire was proclaimed, a coronation at Notre Dame de Paris shortly followed with Napoléon crowned king of Italy. The marriage lasted 13 years but ended in divorce because Joséphine could not give him a child.
She was nonetheless the quintessential French woman: chic, charming and elegant with lots of interests from jewelry to fashion to furnishing/interior decoration to art to science. The last five years of her life were spent with following all her interests with passion, including caring for her grandchildren. The collection of 120 works gives us a wonderful tableau of her rich but short life.