Love work and play. Lots of media but I always love going to the BBC for live and/or taped interviews. Once again, it was thrilling to have good questions from prepared interviewers. Provocative questions. Refreshing. Stimulating. And oh, British men love French women, love to go to France, love the food and wine, and find women of a certain age stylish and desirable. How much more flattering can they be?
Play time: eating with publishing staff and local friends. Somehow "French" establishements were my hosts' choices…French food tends to be better in London than NYC.
I enjoyed a new/functional/nicely located hotel: The Marylebone on Welbeck St. A nice walk to the Wallace Collection (a treasure of gems), to Bond/Oxford and Regent St and via Mayfair to Hyde Park and Knightsbridge. A sixth floor hotel room was perfect for my "incidental exercises" which consist of using the stairs any time I see them, and going up and down in this renovated joint was pretty cool.
Something else I love in these types of hotels (the last one I tried, the Ampersand, was a notch above with a great location in Knightsbridge) is their splendid breakfast buffets with an amazing selection of high quality food, from breads, homemade yogurt, fresh and tasty fruit and the obvious granola/muesli variations, delicious poached and 'wet' scrambled eggs made to order, and with exemplary service from a young staff well trained and amazingly courteous and passionate, and it shows. Something often missing these days in France or America in the hotel/restaurant business.
There was a lovely dinner, service and ambiance at the charming Galvin Bistrot de Luxe on Baker St where as a small group of ladies we met to celebrate the book launch with bubbly and oysters.
And a wonderful meal at Brasserie Chavot on Conduit St. where the melt-in-your-mouth beef stew was a perfect dish for January.
Last but not least, One Leicester St "Huitres Moules" is actually no longer the classic timeless French bistro it once was but the sign on the facade remains. Now it's a small boutique hotel with 15 zen rooms and a small bar/restaurant with a short menu by British chef Tom Harris who makes daily changes using only what is local, absolutely fresh and delicious. After a few slices of excellent bread and salted butter with rock oysters and ducky oysters (another great item in London restaurants) and a superb small dish of devilled mussels (from Devon) with cider and sea purslane and a side dish of beetroot, childwickury and hazelnuts, I was puzzled by a dessert called brown butter and honey tart made by the lovely and friendly pastry lady Natasha. Not being strong in chemistry, I did not quite understand how it was made (butter solidified, etc.) but the result was a coffee-colored custard of the lightest consistency with a subtle and mild sweetness from the honey. Totally additictive. I was not going to have dessert so I said I'd pay for a full portion but only wanted a sliver (well it was more a half portion and I admit I ate it all), and I left in a jolly good mood. Another case of wonderful service by a professional and charming young staff. We need to attract these young people to France and/or America. The wine accompaniment was a glass of British bubbly that tells me it's getting better and better, ready to compete with bubblyland. The next day I asked the restaurant if they could send some more information about the amazing tart and they kindly sent the following explanation:
"To achieve that beautiful colour and deep flavour, we in fact make plain custard to start; eggs, cream, vanilla. The slow and attentive churning and careful cooling achieves that distinctive texture. Before that, however, butter and cream are cooked together until it splits, and the colour darkens. The milk solids have caramelised at this point. The fat is poured off, and the solids left behind are stirred into the custard, as well as a generous helping of heather honey (bees that have fed on fragrant heather). It is poured into the case, cooled and it sets – wobbly delight follows!"
Delight indeed!
Last but not least, I walked down a few blocks to Trafalgar Studio to see Ibsen's Ghosts with the oh so talented cast (nobody equals the Brits in acting, in my book).
Another high point was an early walk through Hyde Park on my last day (2–5), and although with its winter atmosphere it was not quite as magical as last May, the morning sun trying to pierce through, the horse and carriages going through the wide alleys, and at the end a nice breakfast post along the lake all made for a delightful treat…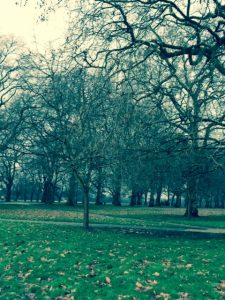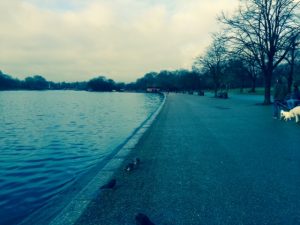 …before discovering yet another charming square…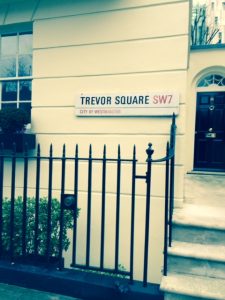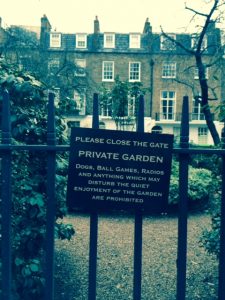 …spotting some nifty shoes…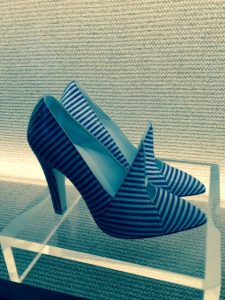 …and making an obligatory stop at Harrods food halls, wetting my appetite for the last six oysters at their oyster bar…making sure I got my dose of the miracle of nutrition before flying back to the Big Apple.